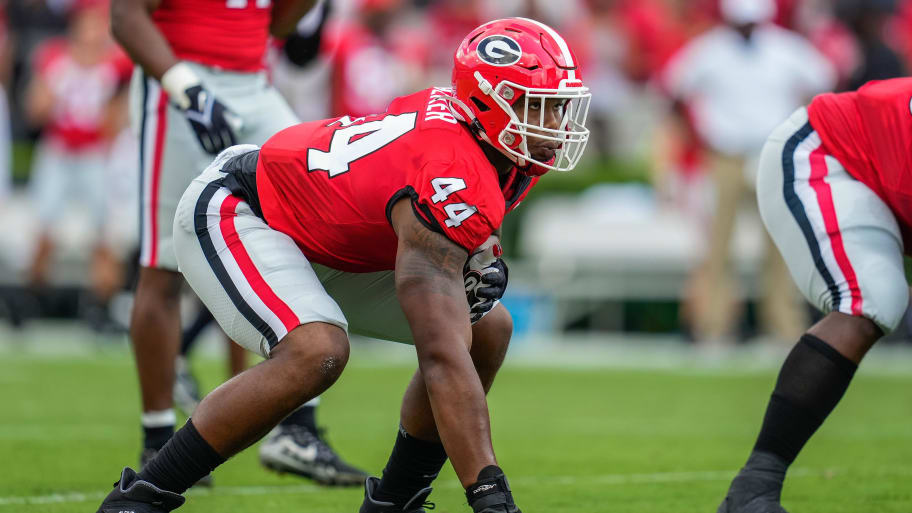 Travon Walker vs. Aidan Hutchinson Who Will Be Drafted No. 1 Overall?
NFL Draft No. 1 pick betting discussion, is Georgia's Travon Walker in pay with the first pick. Doug Pederson also hinted that an offensive lineman is in play.
The NFL Draft is fast approaching with the first round going down on Thursday, April 28th.
After reports of the Jacksonville Jaguars giving offensive lineman Cam Robinson the franchise tag, as well as signing other depth pieces in the trenches during free agency, Michigan's defensive end Aidan Hutchinson became the overwhelming favorite in betting markets to be the No. 1 pick.
However, was that line move an overreaction?
Here are the updated odds for the No. 1 pick at WynnBET Sportsbook before we provide some analysis around the first pick in the draft.
Odds to be the No. 1 pick in 2022 NFL Draft
Aidan Hutchinson: -275
Travon Walker: +200
Ikem Ekwonu: +1000
Evan Neal: +1000
Travon Walker In Play at No. 1?
While Hutchinson has become the center of the No. 1 pick discussion, it may be Walker that is picking up steam.
The Athletic's Dane Brugler reported earlier this week that Walker is very much in play at No. 1 after anchoring the historic Georgia defense. Walker, another pass rusher, who tested through the roof at the NFL Draft Combine, may leapfrog Hutchinson and be the first name called on April 28th.
Ekwonu, Neal Still in Play at No. 1?
The prevailing thought before the combine was that the Jaguars would be picking an offensive lineman, led by Ikem Ekwonu of North Carolina State and Evan Neal of Alabama, but offseason moves have taken many off the scent of the offensive linemen.
However, new Jags head coach Doug Pederson, is still in favor of loading up on blockers for last season's No. 1 pick Trevor Lawrence.
Could this be hinting at the Jags sticking with an offensive lineman at No. 1? Or is this more of a depth play in the later rounds? We shall see, but the betting market hasn't responded all too much to this quote with each prospect hanging at +1000.
As of this writing, it appears that Walker is gaining towards Hutchinson, but the Heisman Trophy runner up is still the consensus favorite.
---
You can find all of Reed's bets HERE!
This article was originally published on www.fansided.com/betsided as Travon Walker vs. Aidan Hutchinson: Who Will Be Drafted No. 1 Overall?.