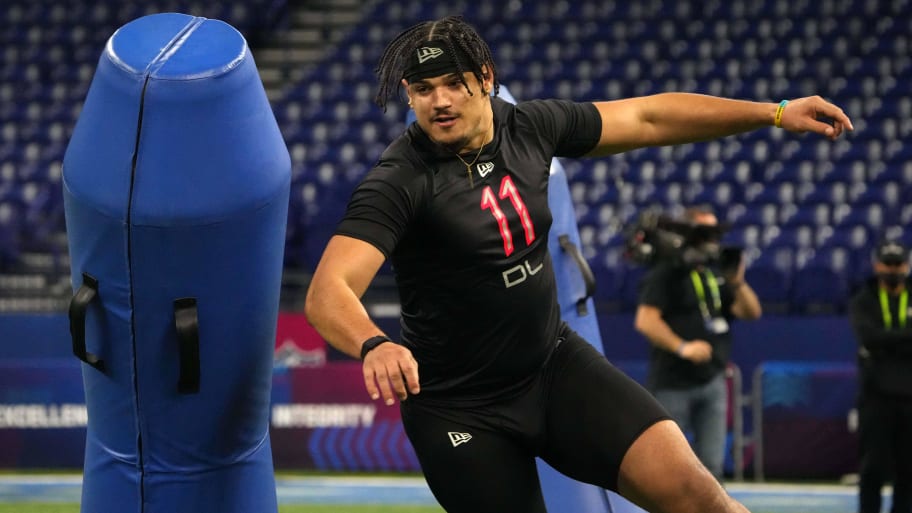 3 Most Likely Picks for Tampa Bay Buccaneers With No. 33 Pick in 2022 NFL Draft
2022 NFL Draft: Who should the Tampa Bay Buccaneers pick at No. 33 with the first pick of the second round? The betting markets say it's Logan Hall from Houston.
The 2022 NFL Draft is back on Friday night with the 2nd and 3rd round. After team's fortified their rosters on Thursday night in the first round, the Tampa Bay Buccaneers make their first selection at the top of Round 2.
The two time defending NFC South champions Tampa Bay Buccaneers make the first pick on Friday night, No. 33 overall, and will look to add some necessary talent on either side of the ball. The Bucs traded with the Jacksonville Jaguars to move out of the first round and have this pick to start Friday night.
This is an interesting spot to be in given Tampa Bay will have close to 24 hours to make this pick, or listen to trade offers, so we can get a good read on how to assess the board and predict who Tampa Bay will select, using this report from Adam Schefter as a guide.
With that in mind, let's look at who is on the board that fits that report.
Logan Hall, DT, Houston
Hall is the betting favorite to be selected by Tampa Bay and he fits the bill of what the Bucs are looking for. A 6'6" Houston product, Hall had 6 sacks last season and can help inject some youth to what is a veteran Tampa Bay defensive front that has Jason Pierre-Paul and Shaq Barrett on hand.
Picking first, the Bucs, can select anyone off the board and it seems like many are preparing for Hall to be the selection. Dane Brugler of The Athletic mocked this selection as well on Friday morning.
Travis Jones, DT, Connecticut
Another defensive tackle that can fit the bill, Jones is an explosive pass rusher that has been a favorite of the NFL Draft community. ESPN's Matt Miller advocated for the Bucs to use No. 33 on Jones on Friday afternoon .
Trey McBride, TE, Colorado State
McBride's draft prop closed in the 50's ahead of the first round, and there were some rumors that he could sneak into the first round as the first tight end on the board, but he is still available at No. 33. Could the Bucs make a move? Schefter's report doesn't hint at it, but McBride can give the un-retired Tom Brady a younger weapon to use in the passing game.
McBride is the overwhelming favorite to be the first TE picked, and may not be around when the team picks again at No. 60.
This article was originally published on www.fansided.com/betsided as 3 Most Likely Picks for Tampa Bay Buccaneers With No. 33 Pick in 2022 NFL Draft.