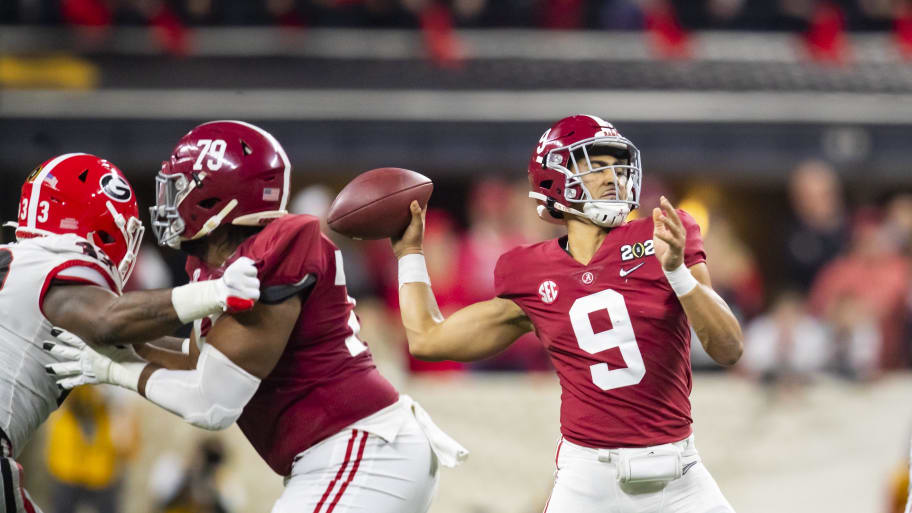 Let's Set Odds- 2023 No. 1 Overall Pick (Alabama, Ohio State, Georgia Prospects Top List)
2023 NFL Draft Odds: Focus on Quarterbacks but also star prospects from National Championship contenders like Alabama, Ohio State and Georgia for who will go No. 1 overall.
As the book closes on the 2022 NFL Draft, the next one opens as we peek ahead to the 2023 NFL Draft.
After an underwhelming quarterback class, the 2023 NFL Draft is expected to have several highly touted quarterback prospects available for teams. However there are standout pass rushers back in the college ranks that may push their way to the top on the heels of a pair of edge rushers goings No. 1 and No. 2 in the 2022 NFL Draft. Let's see who the top prospects are in the 2023 NFL Draft and who has the best chance of going No. 1. Hint: look at who is in the College Football Playoff mix.
2023 NFL Draft Odds
Bryce Young: +175
CJ Stroud: +225
Will Anderson: +450
Will Levis: +750
Paris Johnson: +900
Tyler Van Duke +1750
Jaxon Smith-Njigba +2800
Kelee Ringo: +3000
Bryan Breese: +3000
Peter Skoronski: +3300
Jalen Carter: +3500
Hendon Hooker: +4000
Spencer Rattler: +4500
Bijan Robinson: +6000
Quarterbacks Set to Go Early in 2023 NFL Draft
After a down year for quarterbacks, Kenny Picket was the only signal caller to be selected in the first two rounds in the 2022 draft at pick No. 20, there should be a surplus of quality prospects in 2023.
While it will certainly be impactful as to who picks No. 1, the fact that there are multiple options for QB may cause action and a trade for the first pick if a QB-needy team isn't in the top slot.
Reigning Heisman Trophy winner Bryce Young is the favorite to be the No. 1 overall pick as he is set to lead the Crimson Tide back to the National Championship game. Young is the Heisman favorite again and Bama is at the top of the odds board to win the National Championship again.
The stiffest test is Stroud, who was in the Heisman conversation for much of last season but fell off when Ohio State lost to Michigan in the final week of the regular season. Stroud has a star receiver in Jaxson Smith-Njigba and should put up video game numbers for the Buckeyes. On another National Championship contender, Stroud should look the part of a top pick all season.
Levis is the darkhorse QB to throw his name in the ring. An incoming senior transfer from Penn State, he was fantastic in his first season with Kentucky, completing 66% of his passes for 26 touchdowns but did struggle with turnovers, tossing 13 interceptions. However, Levis is 6'3" 232 pounds and a capable runner, scoring 9 touchdowns on the ground. He can be the fast riser in the 2023 class.
Alabama, Ohio State, Georgia have No. 1 Pick Contenders
Will Anderson was in the Heisman conversation last season at Alabama, and will surely be the anchor of one of the best defenses in college football next season, but Ohio State has a stud offensive in Paris Johnson that can be first off the board.
Johnson will be at the forefront of the College Football Playoff mix protecting Stroud and can receive the national attention if a team picking first is set at QB.
Elsewhere, keep an eye on a pair of Georgia defensive players, Kelee Ringo (CB) and Jalen Carter (DT), who were key contributors on last year's historic Bulldogs National Championship team.
---
This article was originally published on www.fansided.com/betsided as Let's Set Odds: 2023 No. 1 Overall Pick (Alabama, Ohio State, Georgia Prospects Top List).