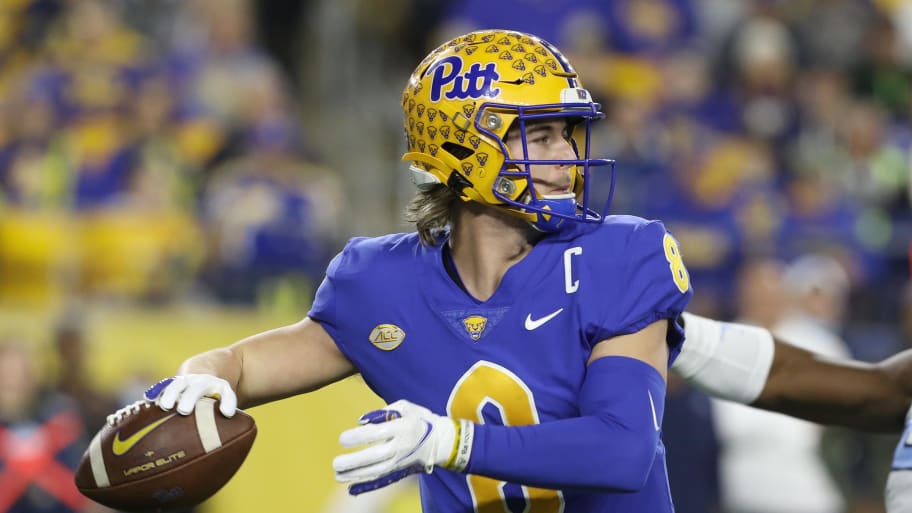 Bet Kenny Pickett to Be First Quarterback Taken Over Malik Willis in 2022 NFL Draft
Here's why you should bet Kenny Pickett to be the first quarterback taken in the 2022 NFL Draft over Malik Willis.
The 2022 NFL Draft is fast approaching with the first round going down on Thursday, April 28 in Las Vegas, Nevada.
There is a ton of intrigue around the quarterback position in this year's draft. Malik Willis has been the trendy name at the top of people's mock drafts, and that is reflected in the odds for who will be the first QB taken. However, I'm advocating for a bet on Pittsburgh's Kenny Pickett, who has a higher floor than the volatile Willis.
At a sweet plus money price, I see value in taking Pickett three weeks ahead of the NFL Draft, with this line primed to shrink as the draft draws closer.
Here are the odds for the first QB drafted from WynnBET Sportsbook:
First Quarterback Drafted
Malik Willis: -400
Kenny Pickett: +180
Matt Corral: +1800
Carson Strong: +2500
Desmond Ridder: +3000
Kenny Pickett's More Consistent in Prevailing Mock Drafts
According to Grinding the Mock's, Pickett has a slight leg up on Willis in terms of expected draft position (EDP). Pickett has a EDP of 11.3 while Willis is 11.5. This shows the wide range of outcomes towards both quarterbacks given there is not a wide held belief amongst mock drafts for who will go first.
Willis has been mocked as high as No. 2 to the Detroit Lions, but has also been pegged to slip down to the bottom of the first round.
This may be a bit dated (March 22) but Daniel Jeremiah of NFL Network didn't have Willis in the first round, while he had Pickett going No. 18 to the New Orleans Saints. The Saints have since traded with the Eagles for a pair of first rounders, could they be angling to move up for Pickett?
Pickett has been mocked a ton to the Panthers as well, NFL Mock Draft Database has that as the most likely landing spot for the Pitt product in their consensus mock draft.
Todd McShay's most recent mock has Carolina taking Pickett at No. 6 , noting the connection between head coach Matt Rhule and Pickett, who recruited him at Temple. He also has Willis sliding to No. 20 with the Steelers.
It appears that some momentum has cooled around the Liberty quarterback, who is still being priced as a near certainty to go early in the draft, the -400 number translates to a 80% implied probability, which is simply off.
Pickett and pick No. 6 have become one of the most likely outcomes early in the Draft, and he has an overall safer range of outcomes in the draft. If Willis was a long shot, sure I'd look to take him in this market, but he is far from a lock to be the first quarterback called on draft night. This price is crazy given all the evidence mounting against him.
---
You can find all of Reed's bets HERE!


This article was originally published on www.fansided.com/betsided as Bet Kenny Pickett to Be First Quarterback Taken Over Malik Willis in 2022 NFL Draft.