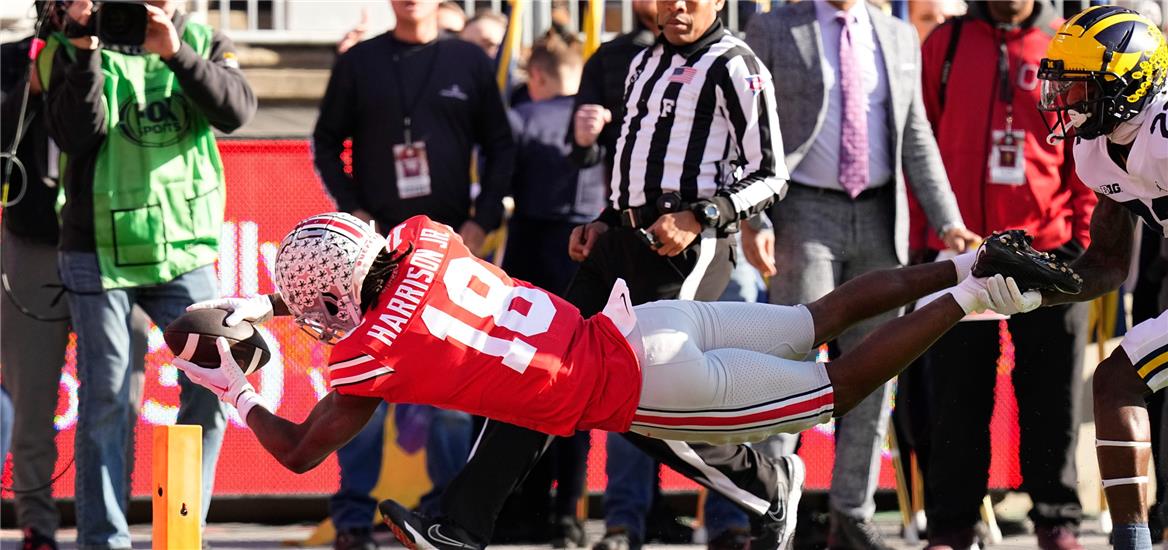 WIDE RECEIVER RANKINGS 2024 NFL DRAFT
As we approach the 2024 NFL Draft, it's clear that this year's wide receiver prospects boast some potential NFL stars. Leading the pack, is Marvin Harrison Jr. from Ohio State, son of former Colt Marvin Harrison. He's an impressive athlete standing 6-foot-4 and tipping the scales at 205 pounds. He has enjoyed a standout season, leading the pack in receiving yards at 1263 yards, while adding 14 touchdowns. What makes Harrison particularly special is his unique ability to make big plays when it matters most.

The Wide receiver factory also known as Ohio State is home to Emeka Egbuka, another standout wide receiver. His performance last season, which saw him rank second in yards with 1151 and touchdowns (10) among Power Five league receivers, was impressive. He's super fast with prototypical speed and could be the best athlete in this year's class.

Xavier Worthy of Texas had a somewhat down season compared to his freshman year. His receiving stats took a dip (760 yds), despite seeing more targets, largely due to his role shift to a more downfield player. At 6-foot-1 and weighing in at just 164 pounds, he'll be viewed as a slot-only smurf style deep threat unless he manages to bulk up somewhat.

Finally, Rome Odunze from Washington is another talent to watch out for. Standing at 6-foot-3 and weighing 201 pounds, he combines size and agility with impressive hands and looks like he can line up and compete as a classic Z-receiver in the pros.