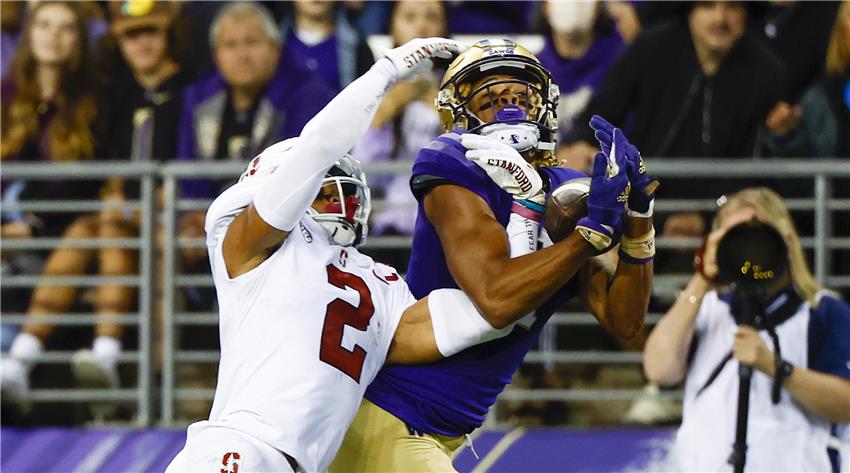 Rome Odunze WR Washington | NFL Draft Profile & Scouting Report
Rome Odunze WR Washington
NFL Draft Profile & Scouting Report
ROLE:

Outside X-Receiver

Last Updated:

10/25/2023

Draft Year:

2024

40 time:

4.45 seconds (69%*)

Age:

21.5

DOB:

06/02/2002

Measurables:

Height:

6-3 (79%*)

Weight:

215 (81%*)

Forty:

4.45 (O) (69%*)

(C)

- NFL Combine

(P)

- Pro Day

(O)

- Other

(HS)

-Estimated from High School Combine

For an explanation of how the (HS) data is calculated see

this article

*Percentile calculated on how any given stat would rank at the NFL combine historically in the player's position group (Higher value represents better perfomance).
ROLE:

Outside X-Receiver

Last Updated:

10/25/2023

Draft Year:

2024

40 time:

4.45 seconds (69%*)

Age:

21.5

DOB:

06/02/2002

*Percentile calculated on how any given stat would rank at the NFL combine historically in the player's position group (Higher value represents better perfomance).
Overall Rating:

88.2 / 100

Game performance weighted rating.
Click the links below to view how player ranks vs other prospects.
QB Rating When targeted:
124.0
Hands:

85%
Short Receiving:

88%
Intermediate Routes:

92%
Deep Threat:

93%
Blocking:

64%

DRAFT PROJECTION:

1st - Mid

Overall Rank:

#16

Position rank:

#4

College Games:

35

College Snaps:

1889

Grade:

ESPN RATING: 80/100

Grade:

247 RATING: 94/100

Grade:

RIVALS RATING: 5.8 (95%)
Draft Profile: Bio
Rome Odunze, a wide receiver who made his mark at Bishop Gorman High School in Las Vegas, Nevada, flourished both on the football field and the track under the direction of head coach Kenny Sanchez. His athletic prowess earned him a 4-star rating from both ESPN and 247Sports, cementing his status as one of the top prospects in Nevada. This was further accentuated by being crowned the Gatorade Player of the Year in Nevada in 2019.

Post high school, the allure of the gridiron saw Odunze being pursued by college football powerhouses like Alabama, Oklahoma, and Florida. Yet, it was the University of Washington that secured his commitment in August 2019, leading to his official enrollment in June 2020. As a Husky, his trajectory showcased notable growth year after year. His junior year in 2022 was particularly exceptional: 70 catches for 1,088 yards, an average of 15.5 yards per reception, 7 TDs, and an elite QB rating when targeted of 124.9. This outstanding play didn't go unnoticed, garnering him accolades including 2022 Third-Team All-American (Associated Press, Pro Football Focus) and 2022 First-Team All-Pac-12 (Associated Press, Phil Steele).

With a frame of 6-foot-3 and weighing 201 lbs, Odunze's college career saw him evolve into a linchpin of the Huskies' passing game. This evolution became particularly evident post the arrival of QB Michael Penix Jr. in 2022. Their synergistic connection on the field not only magnified Odunze's threat in the passing game but also significantly boosted his QB ratings when targeted. As the 2024 NFL Draft approaches, all eyes are on this dynamic receiver, as he's poised to be a sought-after prospect.
Scouting Report: Strengths
Exceptional confidence and reliability in hand skills; consistently attacks the ball and snatches it from the air, away from his frame.
Made Bruce Feldman's Freaks List at number 58 - he said ""terrific high school sprinter at Vegas powerhouse Bishop Gorman who won the 4A state title in the 200 meters (21.25) and the 4×100 relay (41.36). This offseason, Odunze ran a 4.34 40, a 4.19 pro agility shuttle and also did 37.1 inches on the vertical and 10-1 in the broad jump.
Displays remarkable body control, especially on near-sideline catches, demonstrating his adaptability and versatility as a receiver.
Advanced route-running skills for his build; effectively sells vertical routes while fluidly changing direction to create separation.
Has a knack for exploiting zone coverages; routinely finds and occupies open spaces, showcasing his on-field awareness.
Imposing physical presence with a wide wingspan, giving him an expansive catch radius unmatched by many in his class.
Demonstrates elite concentration and fast-twitch reactions, especially on challenging, off-balance catches.
Smooth vertical receiver, exhibiting impressive ball-tracking skills and the ability to adjust mid-air to deep throws.
Shows potential as a YAC threat; elusive in open space with notable patience setting up blocks after screen plays.
Scouting Report: Weaknesses
Struggles in hand combat at the LOS; tends to lean into finesse moves against press, making him susceptible to physical DBs who can jam him up and disrupt his release.
While he's clocked impressive times in shorts, his game speed appears inconsistent; too often his separation stems from nuanced route adjustments and playing through contact, rather than pure burst off the line.
Lacks the gritty edge at the catch point; despite his size, savvy DBs can bully through his frame and punch the ball out, impacting his catch-in-traffic efficiency.
Has a raw toolkit off the line; for an X-receiver, he needs to bulk up, polish his releases, and harness more violent hands to stack and shed cornerbacks, ensuring clean breaks within the first five.
Scouting Report: Summary
Rome Odunze's athletic prowess can't be understated. A nod to his athletic feats, he notched a spot at #58 on Feldman's Freaks List, but it's his high school exploits at Bishop Gorman that really put him on the map. There, he dominated the tracks, winning the 4A state title in the 200 meters and the 4×100 relay. His recent 4.34 in the 40 and a sharp 4.19 pro agility shuttle only affirm what we already know: the kid's got wheels.

Still, for all his physical attributes, Odunze is a little raw as a prospect. His natural athleticism is off the charts, but he'll need to fine-tune the nuances of his game to truly shine in the NFL. Think of him as a sports car with immense horsepower, just requiring a bit more handling expertise.

With the right coaching, Odunze's ceiling is sky-high. He's not just another "burner"; he brings a unique blend of size, speed, and agility that can be a game-changer on Sundays. The challenge will be molding that raw talent into a polished NFL wideout, but given the tools he possesses, the rewards could be massive.
How other scouting services rate Rome Odunze (Overall Rank)
All Scouts AverageOverall Rank
23.7
All Scouts AveragePosition Rank
5.0