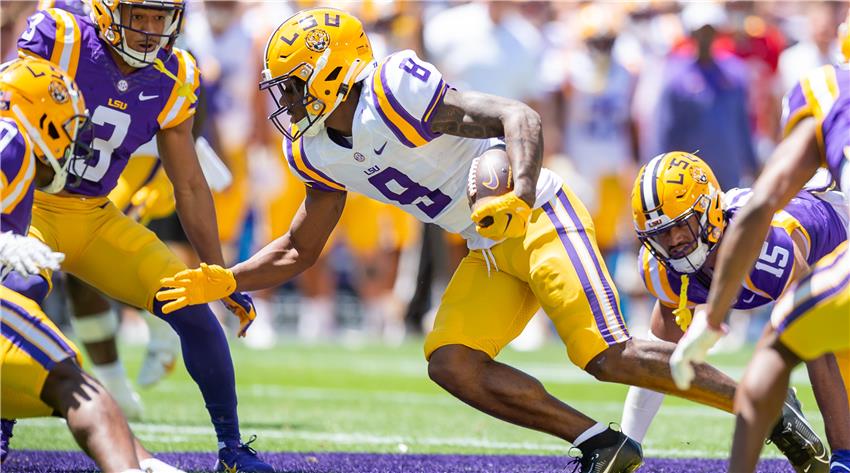 Malik Nabers WR LSU | NFL Draft Profile & Scouting Report
Malik Nabers WR LSU
NFL Draft Profile & Scouting Report
Last Updated:

09/15/2023

Draft Year:

2024

40 time:

4.40 seconds (84%*)

Age:

20.2

DOB:

07/28/2003

Measurables:

Height:

6-0 (36%*)

Weight:

195 (33%*)

Forty:

4.40 (O) (84%*)

(C)

- NFL Combine

(P)

- Pro Day

(O)

- Other

(HS)

-Estimated from High School Combine

For an explanation of how the (HS) data is calculated see

this article

*Percentile calculated on how any given stat would rank at the NFL combine historically in the player's position group (Higher value represents better perfomance).
Last Updated:

09/15/2023

Draft Year:

2024

40 time:

4.40 seconds (84%*)

Age:

20.2

DOB:

07/28/2003

*Percentile calculated on how any given stat would rank at the NFL combine historically in the player's position group (Higher value represents better perfomance).
Overall Rating:

88.1 / 100

Game performance weighted rating
QB Rating When targeted:
120.7
Hands:

90%
Short Receiving:

92%
Intermediate Routes:

93%
Deep Threat:

97%
Blocking:

68%

DRAFT PROJECTION:

1st - Mid

Overall Rank:

#21

Position rank:

#4

College Games:

29

College Snaps:

1278

Grade:

ESPN RATING: 79/100

Grade:

247 RATING: 94/100

Grade:

RIVALS RATING: 5.8 (95%)
Draft Profile: Bio
Standing at 6-foot-0 and weighing 200 lbs, Malik Nabers started his football career at Ovey Comeaux HS in Lafayette, LA before transferring to Southside HS in Youngsville, LA. Despite being ruled ineligible to play his senior year due to a transfer, Nabers showcased noteworthy athleticism, notably running a 4.44 40-yard dash and achieving a 38-inch vertical jump. Initially committing to Mississippi State, he changed his allegiance to LSU, receiving 3-star ratings from ESPN and 4-star evaluations from 247 Sports and On3.

During his freshman year at LSU in 2021, Nabers played in 11 games, amassing 29 catches for 430 yards at 14.8 yards per reception and scoring 4 TDs. Quarterbacks found a 111.1 rating when targeted. By his sophomore year in 2022, Nabers stamped his authority as LSU's leading receiver, playing in 13 games and recording 63 receptions for 854 yards, averaging 13.6 yards per catch with 2 TDs.

Heading into 2023, Nabers is viewed as one of the nation's premier receivers. His previous season saw him make 72 receptions for 1,017 yards and 3 TDs. This dominance allowed him to lead the SEC in receptions and rank second in receiving yards. His remarkable showdown against Alabama CB Kool-Aid McKinstry stood out as a season highlight, and his contributions earned him the MVP title in LSU's Citrus Bowl win against Purdue.

Beyond the gridiron, Nabers has played 25 college games with 17 starts, accumulating 1,437 yards and 7 TDs from 100 receptions. Off the field, he embarked on a 10-day study trip to Senegal alongside team members and is pursuing a degree in mass communications at LSU.
Scouting Report: Strengths
Explosive route-runner with an ability to seamlessly shift gears, making him a challenge for defensive backs to cover.
Elite athletic skills -- Made Bruce Feldman's 2023 'Freaks List' at number 33. He wrote: "The 6-0, 201-pound junior measured at 1.01 RSImod — reactive strength index modified. This essentially describes Nabers' ability to complete his max vertical jump at a very fast rate, so along with having a vertical leap of almost 40 inches, he can reach that feat faster than anyone on the team. Nabers also produced 2700 watts peak power on power clean, which is remarkable for a skill player."
Demonstrates exceptional ball skills, tracking mid-stride adjustments effectively, showcasing potential as a reliable deep threat in the NFL.
Combines innate awareness and precise timing when playing the ball in the air, especially on underthrown passes.
Physical receiver possessing a versatile skill set; effective both outside and in the slot with an understanding of zone coverages.
Comfortable and skilled in contested situations, consistently turning 50/50 balls into receptions, both vertically and on comebacks.
Potent run-after-catch capabilities, blending quickness with a strong lower half, making him elusive and difficult for solo tackles.
Exceptional leaping ability, consistently high-pointing the ball away from his frame, especially on vertical shots and back-shoulder throws.
Displays adaptability by effectively aligning across the field, possessing the physicality to challenge press coverage and the agility to dominate in tight quarters.
Scouting Report: Weaknesses
Flashes moments of brilliance, but concerns linger about his motor over a 16-game slate. His tape from the earlier part of the 2022 season shows inconsistency, and scouts want to see that game-to-game grind.
Though he pops off the tape with his burst and short-area quickness, when it comes to stacking and separating deep against sticky coverage from top-tier corners, questions arise. His vertical game isn't elite.
His route tree needs more branches. While he can eat in the slot with his agility, mastering a wider array of releases and routes will be crucial, especially if he's to be an X or Z receiver against NFL DBs.
His ball skills are evident when he's asked to high-point or adjust, but consistently beating defenders with sheer speed down the boundary is a gray area in his game. Needs to be a consistent deep threat.
Scouting Report: Summary
Malik Nabers' rise as a go-to weapon in LSU's prolific passing offense has been nothing short of impressive. Despite entering LSU in 2021 as the fourth-ranked receiving recruit, his recent performance solidifies his status among the elite SEC playmakers. Nabers has showcased his pedigree as a big-play threat with his commendable run-after-catch capability and a knack for high-pointing balls. There's a reason scouts salivate over his tape: the guy is explosive in open space, can work the middle, and isn't shy about stretching the field vertically.

With LSU and Ohio State being the NFL's wide receiver factories recently, Nabers is right on track to continue that legacy. The imminent return of a seasoned QB like Daniels promises another year of consistent chemistry and on-field production for Nabers. If he can sharpen the nuances of his game, particularly in route-running, and maintain his blistering end-of-season form, he'll skyrocket up draft boards. Nabers is on the brink of morphing from an impressive college pass-catcher to an NFL mainstay.

As for his NFL prospects, Nabers fits the mold of a day-one draft pick, especially if he maintains his 2022 form. He's projected as a high-impact Z receiver, able to contribute instantaneously to pro offenses. While not the most towering figure, Nabers combines fluidity with game-breaking ability. As a complementary piece alongside a primary target, he can elevate any NFL offense. In a nutshell, NFL teams hunting for a receiver with an explosive ceiling and raw talent that just needs some polishing will be locking onto Nabers come draft day.
How other scouting services rate Malik Nabers (Overall Rank)
All Scouts AverageOverall Rank
19.0
All Scouts AveragePosition Rank
3.0