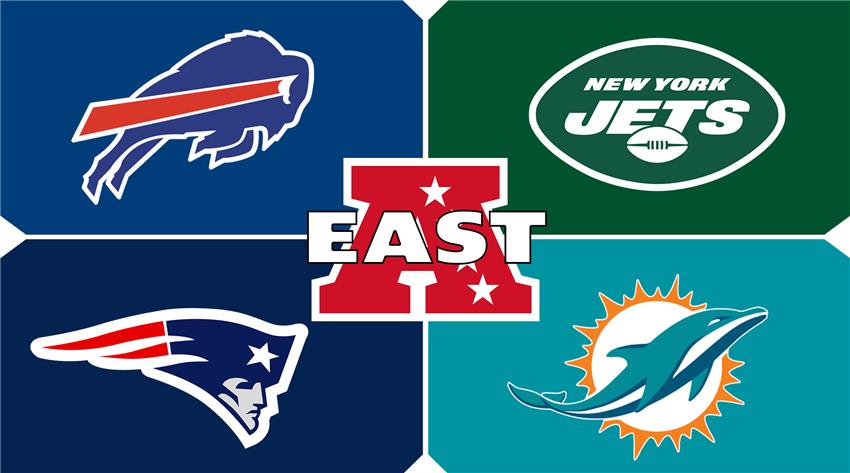 Team Needs heading into Free Agency and the NFL draft-AFC East

The AFC East is entering an interesting new phase as the Patriots dynasty comes to an end – the Bills look best placed to dominate the division for the next few years, but every team has needs heading into free agency and the draft (teams in order of 2021 standings).
Buffalo Bills
Cornerback – we are not likely to see Josh Norman returning to the Bills and while Tre'Davious White has played well the Bills need to get someone to play opposite him.
Linebacker – Bills resigned Matt Milano to a big money deal but even so there is little beyond him and picking late in the first round in a very offensive skill player heavy draft we are likely to see some real value picks being on the board when the Bills selection comes around, especially at positions like linebacker.
Offensive Line – while Daryl Williams has been resigned, Jon Feliciano is a free agent and the Bills could look to add depth to this group and in our latest mock we have the Bills doing just that and taking Wyatt Davis in the first round who is great value at #30.
Miami Dolphins
Wide Receiver – there is a reason we have the Phins taking a receiver with their first pick in the first round – Parker has played well but there is very little beyond him (and his performance dipped a fair bit from 2019 not least because opposing teams were able to focus so heavily on him).
Offensive Line – the Phins offensive line only managed to secure a spot one better than the Jets in PFF's 2020 rankings so that tells you everything about the need to improve this line. Despite some wobbles the Phins have their QB of the future in Tua but they need to do a better job of protecting him and giving him skill players to work with.
Linebacker – There are a couple of decent pierces on the team and Van Ginkel was a particularly pleasant surprise for the Phins but they need an elite player at linebacker to pull it all together – the Phins have two first round picks this year and it wouldn't be shocking to see them get a LB with their second pick.
New England Patriots
Quarterback – after having the position nailed down for so long (with Bledsoe and then of course Brady) it feels very odd to look at QB as a major position of need for the Patriots. However after seeing Newton struggle last year it is clear that the Patriots need to find a new answer behind center. They have recently resigned Newton to a relatively low cost 1 year deal but he is capable of either serving as a bridge for a rookie QB or (possibly) returning to form in which case the Pats may have a nice problem to manage down the line.
Wide Receiver – there is no #1 receiver on the books and N'Keal Harry has been a real disappointment – with such a loaded WR class this year it would be tempting for the Patriots to go in that direction if they can sort their pressing QB needs through a trade or free agency.
Tight End – linked to the point above, as well as not really having anyone to throw the ball, the QB doesn't have an awful lot to throw it to. Again, unless an intriguing QB prospect falls to them in the draft you have to imagine that the Patriots will take a WR or TE in the first round.
New York Jets
Offensive Line – according to PFF the Jets offensive line ranked 29th and so it is clear that there is a lot of work to do here – especially in terms of developing a rushing game. Becton looked good (though injuries are a concern) but outside of LT every other spot looks to be up for grabs and an upgrade is possible – although Sewell will be tempting at #2 the Jets won't want two first round tackles in consecutive years looking to get big money. We expect to see the Jets active in free agency and to pick up at least one or two players in the draft.
Wide Receiver – the Jets have one of the weakest wide receiver sets in the NFL Crowder is decent and Mims flashed potential but again injuries are a concern (as they were for him pre-draft) but there is no true #1 receiver for the Jets and having seen the impact Diggs has had on the development and performance of Allen for the Bills the Jets will be desperate to get something similar going either for Darnold or (most likely) Wilson. With so many good WR prospects in the draft we expect to see the Jets (assuming they don't take a QB) slide down a few spots and get one of Chase, Smith or Waddle).
Cornerback – the Jets defensive backs have been terrible ever since Revis first left and that is despite the Jets investing multiple high draft picks on this position. The Jets cannot afford to let Maye leave in free agency (and with Adams gone he can certainly look to cash in) and they seem to have realised this having tagged Maye. We expect to see the Jets take a CB either late in the first or during the second round.