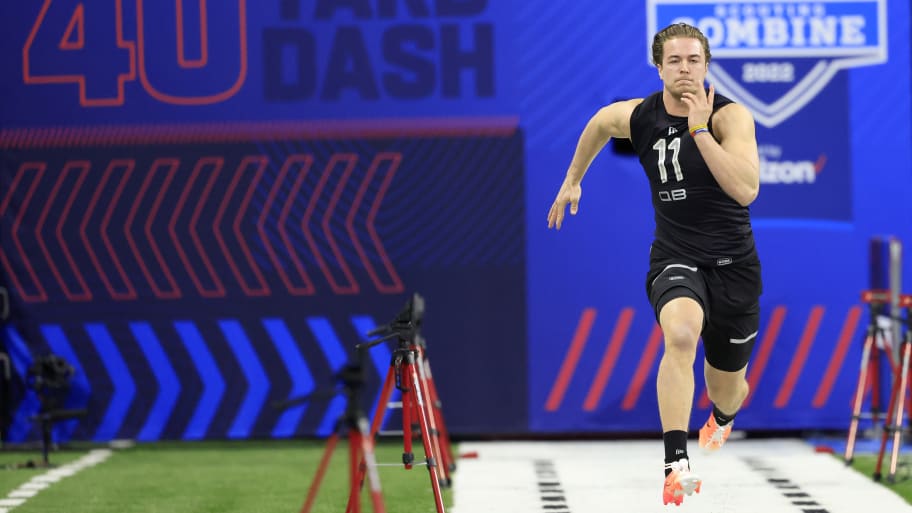 3 Teams to Trade Up in 2022 NFL Draft to Improve Super Bowl Odds
Which teams are best-suited to make a major move up the 20022 NFL Draft and improve their odds to win next year's Super Bowl?
The NFL Draft is just a few days away and it's time we really start digging into things here. While I am not the guy to put together a full mock draft, I do have some ideas on which teams should consider trading up in the draft to improve their chances to "win now."  
With that idea in mind, let's take a look at three teams who fit the mold and could make big steps forward with the right draft pick.
All odds listed are courtesy of WynnBET Sportsbook. 
Green Bay Packers
Odds to win the Super Bowl: +1200
The Packers are the best team to make this list. With a Hall-of-Fame quarterback and a lot of solid pieces, they need the least amount of work. But, they do need a spark to get them over the hump and back into the Super Bowl. The Davante Adams deal netted Green Bay an extra first-round pick and they need to be as active as possible to move up and replace his production for Aaron Rodgersd.  
USC wide receiver Drake London would be a great addition to the team at 6-foot-4 with heaps of athleticism. Rodgers can really make the most out of a guy of his size. He won't be around when the Packers draft at 22 but the Packers have plenty of assets to move up and grab him. 
New Orleans Saints
Odds to win the Super Bowl: +5000
The New Orleans Saints have made no secret about the fact they are looking for their next franchise quarterback. After they were unable to acquire Deshaun Watson, the Saints must turn to the draft for salvation. They failed to get Mac Jones during the 2021 NFL Draft and I expect that they are much more aggressive this year. 
The likely target for New Orleans is the consensus No. 1 quarterback in the class, Liberty's Malik Willis. He has all of the skills that teams are looking for in a franchise signal-caller. He is big, has a howitzer for an arm, and has the legs to be a true dual-threat quarterback. 
It is highly unlikely that Willis falls to the Saints at No. 16 so the team has to get creative. Luckily, they also have the 19th pick in the draft to help them trade up into the future. Those picks could land them as high as the top five which would be a great spot to snag Willis. 
Pittsburgh Steelers
Odds to win the Super Bowl: +7500
The Steelers are in the same boat as the Saints heading into the 2022 NFL Draft. They are in need of a franchise QB to bring this team back into the spotlight. And I don't want to hear about Mitchell Trubisky. He was signed to a one-year deal that is for backup QB money. I think it will be all he ever is the way his career has gone. He is the Steelers' panic button if all goes south on Thursday. 
But, the Steelers would be wise to make a move and try to secure Kenny Pickett in the draft. It's possible he falls to No. 20, but I wouldn't take the chance if I were them. He is a Pitt local and would fit the current scheme and roster. Desmond Ridder out of Cincinnati is another option, but will likely be around at 20.
---
BetSided's new show, "The Daily Bet Slip" debuts TODAY at 5pm ET!
Here's where you can watch and subscribe!
This article was originally published on www.fansided.com/betsided as 3 Teams to Trade Up in 2022 NFL Draft to Improve Super Bowl Odds.