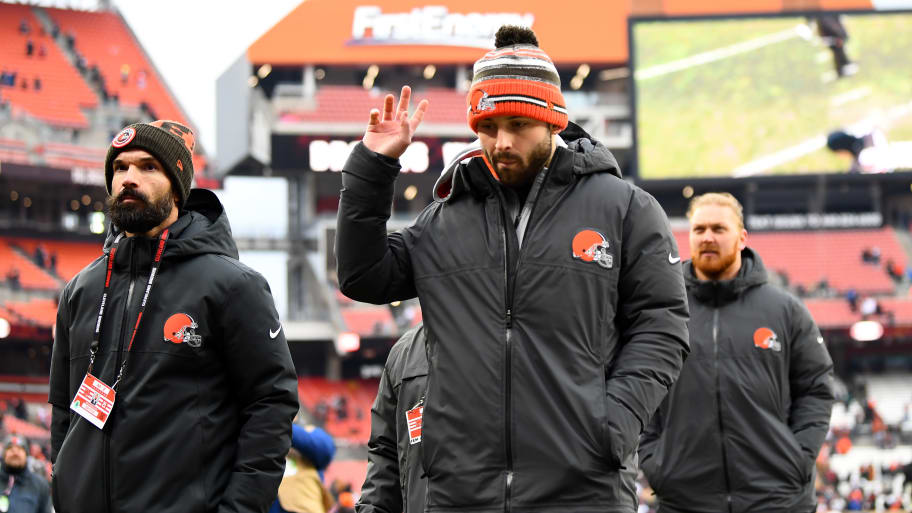 Let's Set Odds- Where Will Baker Mayfield, Jimmy Garoppolo Be Traded Post-NFL Draft?
We set the latest trade odds for where Baker Mayfield and Jimmy Garoppolo are most likely to play during the 2022-23 NFL season.
The 2022 NFL Draft came and went, but two of the remaining high profile quarterbacks on the trading block remain with their current teams.
Baker Mayfield, remains a member of the Cleveland Browns, despite the Cleveland Browns' acquisition of former Houston Texans quarterback Deshaun Watson this offseason. Browns General Manager addressed the team not moving on from Mayfield during the draft, citing it as a "fluid situation" and are attempting to handle it on a day-by-day basis.
Meanwhile, Garoppolo could remain a 49er perhaps into Training Camp and beyond, as GM John Lynch emphasized pre-draft that the team believes having him there to compete against Trey Lance could be beneficial for both parties.
Personally, I don't buy it, as the moment one team's top contending starting quarterback goes down, the 49ers are likely to be on the phone in minutes. Same with the Browns if Mayfield remains on the roster come August.
Nevertheless, nine quarterbacks were drafted between Thursday-Saturday, causing an already rough market to dry up even faster.
Quarterbacks Taken in the 2022 NFL Draft
Kenny Pickett (Pitt) - Pittsburgh Steelers: Round 1, Pick 20
Desmond Ridder (Cincinnati) - Atlanta Falcons: Round 3, Pick 74
Malik Willis (Liberty) - Tennessee Titans: Round 3, Pick 86
Matt Corral (Ole Miss) - Carolina Panthers: Round 3, Pick 94
Bailey Zappe (WKU) - New England Patriots: Round 4, Pick 137
Sam Howell (UNC) - Washington Commanders: Round 5, Pick 144
Chris Oladokun (SD State) - Pittsburgh Steelers: Round 7, Pick 241
Skylar Thompson (K-State) - Miami Dolphins: Round 7, Pick 247
Brock Purdy (Iowa State) - San Francisco 49ers: Round 7, Pick 262
Earlier this offseason, BetSided's Matt De Saro set odds on which quarterback would be most likely to get traded first. Now that both still remain, let's update the latest odds for where either may end up.
Odds for Baker Mayfield's Next NFL Team
Seattle Seahawks +150
Detroit Lions +275
New York Giants +500
The Field +200
PREDICTION: Seattle Seahawks (+150)
There's too much smoke for this connection to go away in the next few days.
Mayfield has been outspoken this offseason in his desire to go to Seattle, but with the Seahawks in rebuild mode, do they share an interest in veering off course to acquire the former number one pick?
So far the answer appears to be no.
Seattle still has intriguing offensive weapons in DK Metcalf and Tyler Lockett. If the Seahawks buy low on Mayfield, he could still put up very solid numbers without the sky-high expectations he faced in Cleveland.
This connection makes too much sense for both teams not to at least consider, and right now, the Seahawks are playing hard to get to continue to drive the price down.
Odds for Jimmy Garoppolo's Next NFL Team
San Francisco 49ers +200
Minnesota Vikings +400
The Field +110
PREDICTION: The Field (+110)
Is it a cop-out answer? Maybe, but the Garoppolo situation for the 49ers feels similar to when the Minnesota Vikings shelled out a first and fourth round pick to the Philadelphia Eagles for Sam Bradford after losing Teddy Bridgewater for the season.
Moving on in favor of Trey Lance, especially as the No. 3 pick in the draft and the value of a rookie contract is the prudent move for John Lynch and company, but the ideal time to move on from Garoppolo would have been ahead of the draft, and reports, along with the slippage of this year's NFL Draft class indicate no team was willing to give them what they wanted.
The 49ers would pay a significant chunk of change to have Garoppolo ($26.9 million on the cap) on the roster, but they just don't seem motivated to move him for the best current offer, and would rather roll the dice into Training Camp when more injuries are likely to occur.
This article was originally published on www.fansided.com/betsided as Let's Set Odds: Where Will Baker Mayfield, Jimmy Garoppolo Be Traded Post-NFL Draft?.