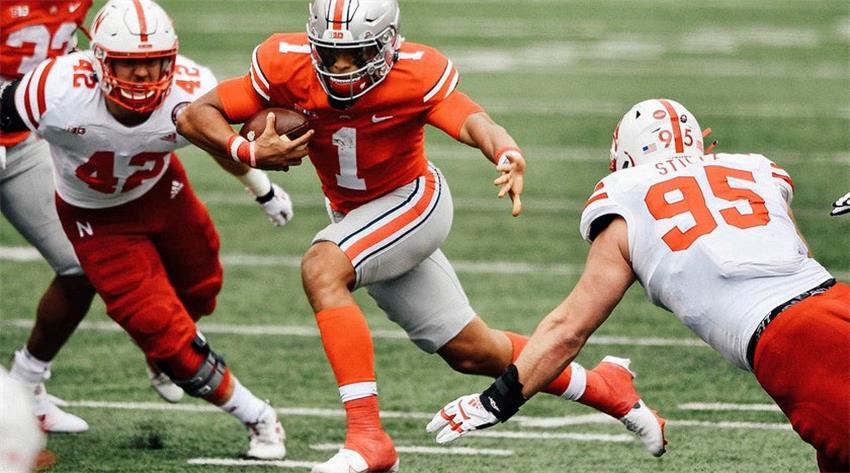 NFL Draft 2021 - favorite picks from round 1 (and a few not so favorite picks)

Day 1 of the 2021 NFL draft is in the books - so we will take a quick look back and pull out a few picks that we liked and a few that we didn't like quite so much (though it really didn't feel as though there were any absolute howlers this year),
Favourite Picks/Moves
Chicago trade up to get Justin Fields - coming into the draft process Fields was widely acknowledged as being the second best QB prospect and yet somehow through the draft process he has seen his stock slip without seeming to do anything wrong. Chicago had to give up a 2021 5th rounder and 2022 1st and 4th round picks to move up the 9 spots necessary to snatch Fields at 11 - but if he develops into even a decent starter then that will feel like draft capital well spent - and he has the ability to be much more than that. This feels like a great move by Chicago who bided their time and didn't succumb to pressure to move up into the top 10 where the price would have been much steeper. Andy Dalton is a decent starter and can play for at least a year as Fields continues to develop and get experience.
BIlls take Gregory Rousseau - the advantage of having a well stocked roster means you can truly pick the BPA and take advantage of other teams drafting for need - the Bills get one of the best outside defenders in the draft at the end of round 1 and someone that could have been picked anywhere from the middle of the draft onwards - it would be interesting to be able to see where he would have gone had he not opted out of the 2020 college season (and allowed Jaelen Phillips to make a more of a name for himself).
Vikings select Christian Darrisaw - the Vikings moved down from 14 in a trade with the Jets which netted then two 3rd round picks (giving up a 4th) and they still end up getting a player at 23 that in our final mock we had the Chargers taking at pick 13 - so it is excellent value, addresses a real need and they build further draft capital to help with their rebuild - really smart move by Minnesota
Colts select Kwity Paye - to get one of the top pass rushers in the draft at 21 shows great value - and reflects just how many QBs and receivers were taken early thus pushing down some really great defensive prospects - this is a player that could easily have been a top 15 pick. The Colts do still have a need at tackle and there were several around at 21 but none offered the same value as Paye at what is also a premium position.
Least favourite picks/moves
Note this is not to say that these moves were bad, just that they didn't immediately feel like the best option.
Jets trade with the Vikings - whilst the pick is good, and we had Alijah Vera Tucker as a top 20 pick in our last mock, it just feels that for a team that is in complete rebuild mode giving up two 3rd round picks to select a guard was an unecessary move to make - especially given how many offensive line prospects were still on the board (indeed the Vikings got a really good one with the Jets original pick) - again it wasn't a really bad move but not one of our favourites.
Bengals select Ja'Marr Chase - again nothing against Chase as a prospect - he is great - but the Benglas have a huge need at tackle and the best one in the draft was sat there waiting to be picked at 5 - this is such a deep draft for receivers the Benglas could have got a great one in round 2 - they will be hoping that one of the remaining tackle prospects like Cosmi is still on the board when they pick again (at which point this pick suddenly looks great - such is the fickle nature of the draft!)
Miami trading back to 6 - Waddle is a quality player but was he really worth giving up a future first round pick to get relative to the other receivers that would have been available at 12 (or they could have looked to trade back again to later in the first and get a prospect like Bateman or Toney)? It feels like the Dolphins were betting that the Bengals would take Sewell and that would mean either Pitts or Chase would be their at 6 - sadly for them that gamble didn't pay off as the Bengals took Chase (a move which was not one of our favourite moves either!)
Denver Broncos select Patrick Surtain - this is not a knock on Surtain who is one of the cleanest prospects in the draft and he fills a major need for the Broncos (in our last mock we said that if they don't go for a QB this pick will be a top rated CB) - but with both Fields and Jones still on the board at 10 this feels like a selection that the Broncos could live to regret if either player turns into a quality starter down the line.
There are some great prospects still on the board and we expect to see some trading taking place early on (the Jets for example seem prime candidates to trade down and pick up a 3rd round pick) - roll on day 2!