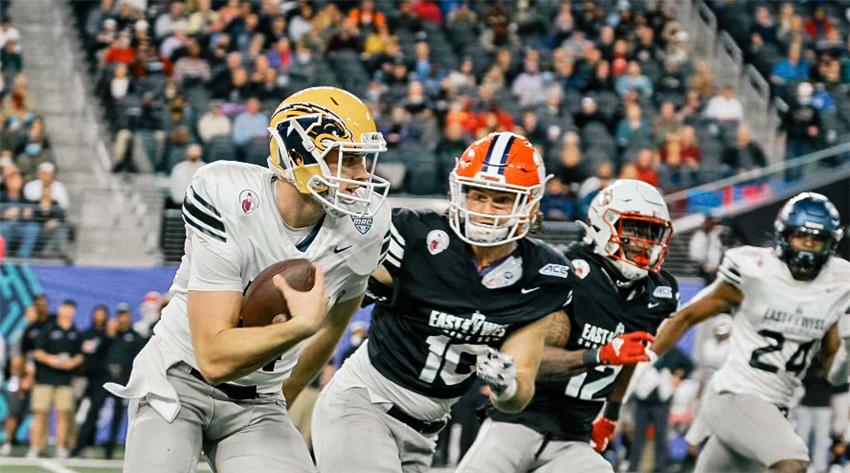 Senior Bowl and Shrine Bowl Draft Profiles
The Invites have gone out and returned by college seniors and potential NFL prospects. We've got scouting reports and draft profiles along with position rankings for all the players you'll see on the field come February 2023.
The Reese's Senior Bowl
(held in Mobile, Alabama on February 4, 2023 -- 2.30pm EST)
is widely regarded as the preeminent college football all-star game and the first stage in the NFL Draft process.
The longest continual-running all-star game has taken place in Mobile, Alabama the past 73 years.
More than 900 NFL personnel, including key decision-makers from all 32 teams, and over 900 media members from around the country were credentialed last year.
This past April, the game produced a record-tying 106 total picks for the second straight year, representing 40 percent of the entire NFL draft, including 45 of the top 100 players selected.
The East-West Shrine Bowl
(held in Allegiant Stadium - Las Vegas on February 2, 2023 -- 2.30 pm EST)
is the longest-running college all-star football game in the nation. An important part of America's football tradition, the event gives top college players a chance to showcase their talents to NFL scouts and a national television audience. This year, the East-West Shrine Bowl is part of the NFL's Pro Bowl Week events in Las Vegas, Nevada.
Since 1925, the East-West Shrine Bowl has benefited Shriners Children's and its mission to provide excellent specialty care for children. This unique healthcare system provides excellent care for children with orthopedic conditions, burns, spinal cord injuries, and cleft lip and palate, regardless of the families' ability to pay for services.