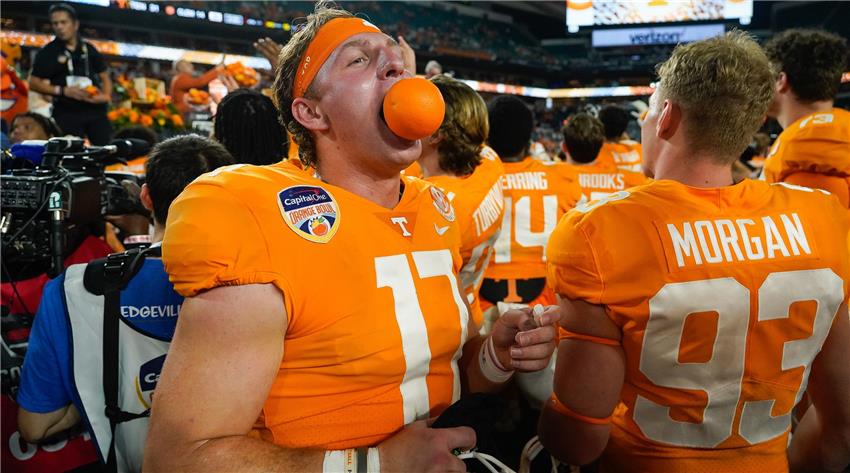 How About Them Oranges? The Orange Bowl Review
Broken records, Squirrels getting loose, and a five-star true freshman QB getting his first start, the Orange Bowl was a game to remember.
Overview
In arguably the orangest Orange Bowl ever, #10 Clemson took on #6 Tennessee. Despite Clemson being 6 point favorites in this game, they would inevitably collapse through poor special teams' play, an inexperienced QB, and lackluster defense.
Special Team Woes
Clemson seemed to understand that their QB could not go the length of the field. As a result of this, they took many field goal opportunities. Unfortunately for the Tigers, they would only go 2/6 on field goal tries, leaving a ton of points on the field and subsequently giving the Vols fantastic field position. Despite losing Jalin Hyatt and Cedric Tilman, Tennessee would have no issue going the length of the field, scoring a touchdown in every quarter. The Vols would only kick one field goal from 32 yards and it was successfully made by Chase McGrath.

The Squirrel got Loose!
Marquarius "Squirrel" White stepped in for the NFL Draft declarations Jalin Hyatt and Cedric Tilman, taking the field with field general Joe Milton, he would explode onto the scene for 108 receiving yards over 9 catches and a TD. The fans would erupt when White caught his longest catch of the night, a 50-yard strike from the rocket arm of Joe Milton.
It is safe to say that Squirrel took the most of his opportunity and he may very well have a large role in the Tennessee offense come next season.
True Freshman Cade Klubnik Makes First Start
Cade Klubnik is touted as the best dual-threat QB of his class and for good reason. Graduating from the prestigious Westlake High school, which has already produced the likes of Drew Brees and Nick Foles, Klubnik comes from a historically immaculate program. Kubik joined the Clemson Tigers as their 2nd highest-ranked QB recruit in program history only behind Trevor Lawerence foreshadowing great success for his college career.
Due to the transfer of D.J. Uiagelelei, Klubnik would be thrown into his first-ever start at just 19 years old. While playing valiantly, the Tennessee defense played arguably the best they have all season, sacking him four times and picking him off twice.
Klubnik would show traits of a true freshman by exhibiting poor time management, bad decision-making, and poor pocket presence. After letting time expire at the half through some questionable play calling, he would waste away an opportunity of points and would be seen getting some New Years' pleasantries exchanged from his Head Coach going into the locker room at halftime.
Despite Klubniks' shortcomings, he looked great considering the circumstances. He seemed to have great throwing mechanics and impeccable footwork. Once he learns the playbook and builds some chemistry, he will be something special.
Rising Defensive Star for the Volunteers
Seemingly out of nowhere, Aaron Beasley amassed a massive stat line 12 tackles and 2 sacks. In a year where the Volunteers defense has been miles behind the NCAA average, it was originally thought the Vols defense would be lackluster at best. Beasley breathed light into the Volunteer defense and enhanced teammates around him bringing constant pressure into the face of Klubnik. If Beasley opts to stay a volunteer, he could very well be the leader this Volunteer defense so desperately need after the loss of pass rusher Matthew Butler last season to the Draft.
Bright Futures for Both Shades of Orange
Walking away, Tennessee may have won the battle but Clemson might win the war. With rising star Cade Klubnik, there is much to be excited for as a Clemson Tigers fan. On the Volunteer side, the performances of Beasley, Squirrel, and Milton bring great confidence for the program going forward. In summation, Tennessee finished off a pinnacle season with a New Year's Six bowl game victory, and Clemson should enter next season with high hopes for the future of their program.
Follow @YardYardTweet