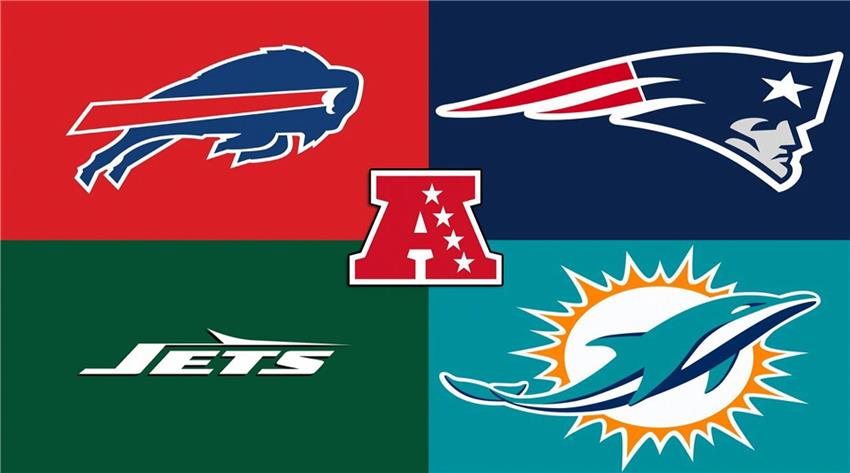 AFC EAST TEAM NEEDS HEADING INTO FREE AGENCY AND THE 2023 NFL DRAFT
The AFC East is a division that may have gone under the radar this year. Obviously everyone knows that the Bills are really good, but people don't give enough credit to the other teams in this division. The Dolphins snuck their way into the playoffs despite dealing with major injuries all year, the Patriots fell just one win shy of making the postseason, and the Jets were among the league's most improved teams, even with horrific quarterback play.
This is shaping up to be one of the most competitive divisions in football for years to come, and we'll take a look at where each team can improve and separate themselves from the rest of the pack:
BUFFALO BILLS
Center - Long-time starting center Mitch Morse is a prime candidate to get cut this off-season, and that will leave the Bills with a hole in the middle of the offensive line. This < team has expressed an interest in running the ball more moving forward, and they will need adequate talent at the position to be able to achieve that goal. In a deep class of centers, Buffalo would likely get their pick of the litter with the 27th overall pick in this year's draft.
Offensive guard - Staying on the theme of interior lineman, the Bills also need a new offensive guard or two. This has been a problem area for them for multiple consecutive years now. They could hope that somebody like O'Cyrus Torrence drops to them in the draft, but they may be better suited grabbing a veteran in free agency who can contribute on day one while their Super-Bowl window is still open.
Tight End - Dawson Knox is a mediocre player at best, and while he's had his moments, the team will need to improve the position if they're looking to be one of the top passing attacks in the NFL. This year's class of tight ends is the best we've seen come out of college in several years, and it would be very reasonable to assume they could get a top-tier prospect at the position in the back of the first round.
MIAMI DOLPHINS
Cornerback - The Dolphins should be thanking their lucky stars that this year's class of cornerbacks is so deep. That's arguably their biggest position of need for the upcoming season, and they will have to look to a later-round prospect to try to step up, as they had their first-round pick stripped due to violating the league's tampering policy. Xavien Howard is still a fringe Pro-Bowl caliber player, but he's aging and the  team needs depth behind him.
Tight End - Miami isn't a  team that likes to use their tight ends very much, but with Mike Gesicki likely leaving the  team in free agency, they'll need to invest in the position to ensure it's not a major weak point on the offense. This draft is full of athletic tight ends that could fall to the later rounds, and the  team should look for someone like Sam LaPorta out of Iowa or Tucker Kraft from South Dakota State to try to develop into an eventual franchise TE.
Offensive Line - I don't care what position exactly they decide to address first, but this offensive line  needs  a makeover. Tua Tagovailoa got mauled behind their line this year, and we saw him suffer head injuries and take big hits that could potentially threaten his football future if he keeps sustaining them. Miami wants to believe they have their franchise guy in Tagovailoa, so they now need to do more to protect him and ensure his health for the long-term future.
NEW ENGLAND PATRIOTS
Offensive Tackle - Former first-round pick Isaiah Wynn's career in New England just seemed to get worse every year he played. He has turned out to be an ineffective player for the  team, so now they will likely have to once again invest some serious draft capital into finding a franchise left tackle. Trent Brown also seems to have an uncertain future with the Patriots, which only further adds to the incentive for them to draft a young lineman. Fortunately, they hold the 14th overall pick in this year's draft, so they could find a high-end prospect like Paris Johnson Jr. or Broderick Jones left on the board at that point.
Wide Receiver - Jakobi Meyers, the Patriots' most productive receiver, is set to hit the open market this year. The rest of the wideouts on the roster can be best described as 'shaky', so this is an obvious position of need for them (as it also has been for the last three years). The Patriots aren't in a bad place in terms of cap space this year, but they also don't have enough money to spend big at the position, so the draft would likely be a better route for them to go in addressing the position rather than free agency.
Cornerback - The Jones trio (Jack, Marcus, and Jonathan) had a nice year for the Patriots this year, but the long-term security there is still a little sketchy. Jonathan Jones is a free agent this off-season, and the team  may very well choose to let him walk rather than pay him. Marcus Jones showed a lot of explosiveness, but he didn't particularly excel as a coverage guy. As for Jack Jones, he dominated while on the field, but injuries and off-the-field issues hampered his year-one production. Bill Belichick always wants more talent at cornerback, so him investing in the position this off-season seems like a likely bet.
NEW YORK JETS
Quarterback - Quarterback was clearly the biggest issue for this   in 2022. The collective efforts of Zach Wilson, Mike White, and Joe Flacco weren't enough to take this impressive young roster to the playoffs (shocking, right?). For 2023, there's a couple different routes they could go. They could choose to trade up for a top prospect in this year's draft class, but what they really seem to want to do is get a veteran guy. They've expressed some interest in trading for Aaron Rodgers or signing Derek Carr, but it's hard to make a real prediction about what they plan to do at this point in time. They just need to do something.
Offensive Tackle - The Jets have tried a variety of strategies to solidify this position over the past few years, but nothing has worked very effectively. It's still one of their weakest position groups on the roster, and that will need to change if they're planning on bringing in a new quarterback for next season. Their 13th overall pick should be high enough to grab a premier prospect like Peter Skoronski or Paris Johnson Jr. to address the position.
Linebacker - C.J. Mosley wasn't bad last season, but the team  lacks depth behind him and he could end up being a cap casualty in the off-season. The Jets have drafted and developed impressive young talent at most positions on the defense, but linebacker is where they remain without an impact player. The team  will have every opportunity to change that in the draft, likely getting a shot at Trenton Simpson or Drew Sanders in the first round and Jack Campbell or Henry To'oTo'o in the second-third rounds.