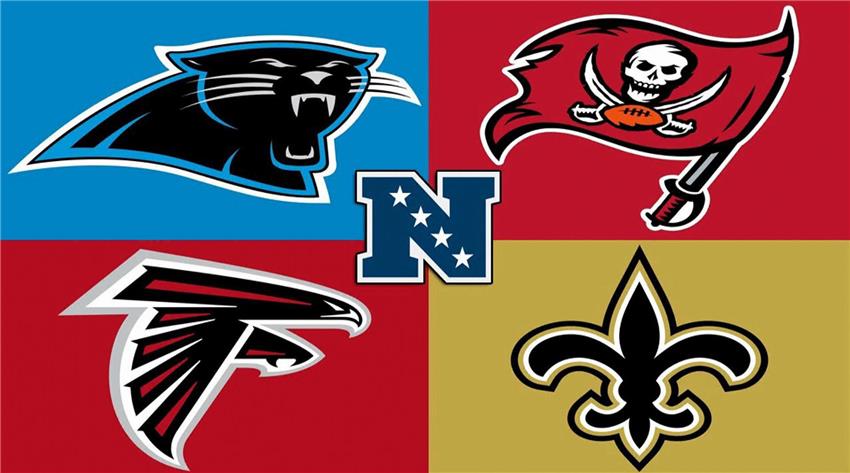 NFC SOUTH TEAM NEEDS HEADING INTO FREE AGENCY AND THE 2023 NFL DRAFT
The NFC South was an absolute mess last year. The Tampa Bay Buccaneers won the division with an unimpressive 8-9 record, and the other three teams followed closely behind with a 7-10 record each. None of these teams ever looked even a little bit dangerous in the big picture of the NFC, and the future of these franchises don't look particularly bright with none of them having a bona fide franchise quarterback.
They all have a lot of work to do before they turn into competing rosters, so today, we'll take a look at each team and what they should look to do in the off-season to give themselves the best chance of winning this wide-open division:
TAMPA BAY BUCCANEERS
Quarterback - Tom Brady is now retired, and that means a rebuild for Tampa Bay. The closest thing they have to a franchise QB on the roster is Kyle Trask, who would be suspect at best. They don't have much in terms of cap space, so they would be better suited looking to get someone in the draft this year or next year. They've built a nice veteran receiving core, so whoever is playing quarterback next year should have a bit of an easier time with Mike Evans and Chris Godwin running routes.
Interior OL - Alex Cappa and Ali Marpet were both gone this year, and their absence was very noticeable. The Buccaneers couldn't get a strong rushing attack built up between the tackles, and that was a weak spot that opponent's defenses exploited. They need some young talent that can help fix that issue, so they could look to somebody like O'Cyrus Torrence or John Michael Schmitz in the draft to help secure the interior of the line.
Edge - Vita Vea, Tampa Bay's 346 lbs defensive tackle, was the team's leader in sacks with just 6.5 on the course of the season. That should be very alarming to Bucs' fans. On top of that, Shaquil Barrett tore his achilles in late October and may not be ready for the start of the season. The team will need more players who can get to the quarterback, and they may need to look to free agency to get a guy who will be effective on day one.
CAROLINA PANTHERS
Quarterback - P.J. Walker, Sam Darnold, and Baker Mayfield are all bad. There's no way around it. They haven't had anything resembling an elite quarterback since Cam Newton's hay day many years ago, and they'll continue to be bad for as long as they don't have a serviceable guy. Our latest mock has them taking Kentucky's Will Levis, who is a raw prospect but has sky-high potential.
Wide Receiver - Outside of D.J. Moore, this wide receiver room has nobody worth noting. They tried to run their offense through the ground game last year, and while it was decently effective at times, they'll need to get more playmakers on the perimeter if they want to really improve this offense. There's a couple of decent options in free agency, but a young stud rookie would probably be better for the long-term rebuild of this team.
Cornerback - This is a unit that I think they would be better off with a veteran in. Jaycee Horn has emerged as one of the NFL's best, but he's still young and the team doesn't really have anyone all that good after him. I think that getting a guy like James Bradberry in free agency could take this defense to the next level for 2023.
NEW ORLEANS SAINTS
Quarterback - This problem may be fixed within the next few weeks for the Saints. They seem to be one of the frontrunners for veteran free agent Derek Carr, and that should set them up decently well at the position for years to come. As the division currently stands, he would be by far the best quarterback on any of these teams.
Running back - New Orleans was already struggling at the RB position even with Alvin Kamara, but they'll be in real trouble in the likely scenario that Kamara gets suspended for his legal troubles. Even if he's still there, it wouldn't hurt to get more depth at the position. Mark Ingram was clearly washed and was not a very effective player, and they'll need someone who can act as more of a pure rusher. A veteran like Kareem Hunt could come in and be a three-down guy if Kamara missed some or all of the season.
Defensive End - Marcus Davenport is an unrestricted free agent this off-seaon, and the Saints may not be able to come up with enough money to re-sign him. Cameron Jordan also continues to get older, and it's time for them to bring in some young talent that can hold down the position for the future. Our latest mock draft has them grabbing Nolan Smith from Georgia, who has excelled as a pass rusher in his collegiate career and would likely start on day one for New Orleans.
ATLANTA FALCONS
Quarterback - I'm not sure exactly how Falcons' fans feel about Desmond Ridder, but I don't have much hope. Him and Marcus Mariota couldn't get anything going with this offense all season, and it's clear they need a change. Pick 8 in the draft this year could possibly lead them to the guy they've been missing, but they might just have to endure another year of bad quarterback play if there's nobody worth taking there.
Wide Receiver - The Drake London pick from last year is turning out to be pretty solid, but they have NOBODY outside of him. Kyle Pitts is the next closest thing to a serviceable receiver on this roster, and his career has been off to a very slow start so far. Calvin Ridley was shipped to the Jaguars at the trade deadline and Olamide Zaccheaus is set to be a free agent as well, so it wouldn't be surprising to see Atlanta be a big spender in the veteran wide receiver market this off-season.
Edge - Improving at cornerback should also be in strong consideration on the defensive side of the ball, but I figure improving the pass rush will help the secondary as a by-product. They've been unable to generate consistent pressure for many years now, and they will need to get creative in bringing in talent to improve the defensive line. This class of rookies projects to be fairly deep, so they could possibly get an effective guy with a day-two draft pick.