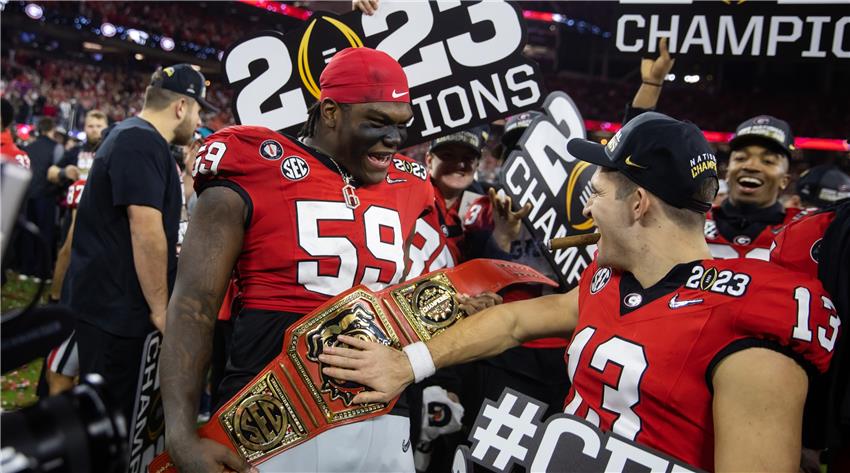 Black and Yellow Brilliance - Pittsburgh Steelers Steal the Show in the 2023 NFL Draft
In Omar Khan's first season as general manager for the Black and Gold Brigade, he knocked the draft out of the park. Finding value in every round by picking a combination of high-floor potential players as well as high-upside picks the Steelers draft was unmatched.
Many of the players selected will be immediate contributors and to add to this victory, they made several savvy draft day trades. Between a combination of luck, strategy, and scouting, the Steelers could have potentially just drafted a statement class that will be defining of Khan's legacy.
Round 1, Pick 14: Broderick Jones, OT, Georgia
Khan appears to have entered the organization with a philosophy quite different from his predecessors. Before Khan, the Steelers rarely traded up in the first round, doing so once in 2019 when they selected Devin Bush Jr. and once in 2003 when they drafted Troy Polamalu. However, the Steelers traded up for Broderick Jones, a tackle out of Georgia. The Steelers wasted no time bringing in help for Kenny Pickett by drafting the former First-Team All-SEC lineman who only allowed 7 hurries, 2 QB hits, and zero sacks. Jones should be able to slide into left tackle on day 1 and make an immediate impact. While Jones's main selling point is his pass protection, it is worth noting that he can get upfield and block in a hurry. Posting in the top 94th percentile of 40 times at 4.97 while also weighing 311 lbs is no small feat. If he can improve his run-blocking mechanics he will be a force to be reckoned with as the lead blocker for Najee Harris.
After analyzing Najee Harris's run direction, it is apparent he prefers the left side. Harris had 97 carries on the left side in contrast to his 76 on the right meaning Harris runs to the left 27.6% more often. With this in mind, it can be inferred that the Steelers believe that Jones can develop into a solid run defender to further increase the value of their stud first-round pick running back.
Pick grade: A
Round 2, Pick 32: Joey Porter Jr., CB, Penn State
Many initially thought that the trade-up the Steelers completed with the Patriots would be for Joey Porter Jr. however he continued to slip to the Steelers until their 2nd round pick in a way that many found miraculous. With this selection, it is a match made in heaven as the Steelers needed a corner and who better than the son of a former Super Bowl champion that just so happened to play for the Steelers? Joey Porter Sr. dedicated 106 games of service to the Black and Gold Brigade as a linebacker and registered 60 sacks during his tenure.
Joey Porter Jr. was regarded as CB1 by some in the pre-draft process and for good reason. After being heavily recruited he opted to join Penn State. During his collegiate career, he improved every year with a steadily declining passer rating allowed all the way down to 63.6 in his final year. He performs well in man and zone coverage giving first-year defensive coordinator Teryl Austin a versatile weapon to scheme with.
Pick grade: A+
Round 2, Pick 49: Keeanu Benton, DT, Wisconsin
Adding to an already terrifying defensive front, Keeanu Benton profiles as a monster in the run game and could be a nice piece to any pass-rushing unit. Prior to 2022 in his previous three years of service at Wisconsin, he was mainly seen as a space-eating run stopper but this season he started to come on as a pass rusher putting up 6 sacks, 1 batted pass, 11 hurries, and 11 QB hits. He boasted an elite pass-rushing win rate from PFF winning 13.3% of his pass-rushing attempts despite his tape showing he faced frequent double teams. Benton brings an invaluable skill set to "Blitzburgh".
Pick grade: A
Round 3, Pick 93: Darnell Washington, TE, Georgia
Despite being ranked as TE1 on some boards Washington's medicals scared away many teams causing his descent to pick 93. If Washington can overcome these concerns he could be one of the biggest steals in the draft. It is clear that the Steelers value Kenny Pickett's health and Najee Harris's success exceedingly high, Washigton earned the nickname "The Sixth Offensive Lineman" at Georgia due to his blocking prowess. However many argue that he was underutilized in the passing game at Georgia and will integrate into an impeccable receiving target in the NFL. Despite his massive size, Washington is incredibly agile and has the ability to make men miss as seen in the game against Oregon where he hurdles a man and makes three total players miss in one play. He much like Najee loves to hurdle people which is incredible to watch due to his size. Washington is by far the best-in-line TE in this draft class when healthy and arguably has the highest talent ceiling to boot. He will add another layer to the Steelers offense and further add to the lack of excuses offensive coordinator Matt Canada has to fail.
Pick grade: A+
Round 4, Pick 132: Nick Herbig, EDGE, Wisconsin
Benton's teammate Herbig is in many ways the inverse of Benton, Herbig profiles as a pass-rushing specialist with a middle-of-the-road run-stopping rate of 6.5%. However, in the pass rush, he was deadly at Wisconsin winning at an elite rate of 23.9% of his pass-rushing attempts and putting up a 92.4 true set pass rush grade per PFF. He provides almost no value as a coverage linebacker, surrendering a completion percentage of 84.6% when targeted. However, he amassed 20 sacks, 12 QB hits, and 43 QB hurries over the last two seasons for Wisconsin. While his role will likely be purely on pass-rushing snaps it is apparent that he will be a force that offensive coordinators will have to prepare for. Learning behind former defensive player of the year T.J. Watt can only aid in his development and Pittsburgh is arguably one of the best landing spots for him. In summation, his lack of versatility is made up by his ability to be a potential game wrecker on third down, and with a fourth-round pick, that is amazing value for a player that is going to help their defense get off the field.
Grade: A-
Round 7, Pick 241: Cory Trice, CB, Purdue
Building upon their secondary, the Steelers selected Cory Trice from Purdue. Trice shines in man coverage despite being grabby at times his talent is undeniable. If he works on his ball skills he could develop into a turnover machine. Trice also shows the ability to read the QB in zone coverage however his athletic traits lend him more so to a man coverage corner at the next level. On paper he caught two INT's however he also dropped 2 would be INT's as well. His athletic profile is an elite combination of arm length, height, and weight making him the optimal size for an outside corner or high safety. It is worth noting he suffered a season-ending injury in 2021 and only became a full-time starter in 2022. He will likely be a depth player his first year but with some development, he could eventually line up alongside draftmate Joey Porter Jr. as a part of the Steel Curtain. At this draft position Trice is great value as many saw him as an early day 3 pick.
Pick grade B+
Round 7, Pick 251: Spencer Anderson, C, Maryland
Spencer Anderson is labeled as a center however he has started at every position on the offensive line over his five years at Maryland. Anderson has major struggles in the run game, he is not agile and appears to not get upfield in a hurry. However, he shows an elite RAS (relative athletic score) of 9.35/10 ranking 91st/1393 guards graded since 1987 with elite grades in explosiveness and speed. Where Spencer's value comes from is his versatility, he can move into any spot on the line and play with above-average pass protection and below-average run-blocking skills. With some years of development, he might be able to develop into a better run blocker but I do not see him becoming anything better than a plug-and-play backup lineman. With most 7th-round picks being shots in the dark, Anderson profiles as an athlete with a surprisingly high floor for a 7th-round pick and a dart throw at a position of need is always a welcome risk this late in the draft.
Pick grade A-
Trades
In these trades, I will be using the "NFL Trade Value Chart" provided by DraftTek. It is a system that has been described by Bill Belichick as a system that is commonly used in NFL Front Offices to gauge the value of NFL Draft picks. This chart is not the exact one used in the NFL but is one that is very similar to the real thing and is updated yearly to match values for each draft class. Rich Hill of Pats Pulpit designed the chart and accurately reflects the impact of trades from year to year in each rendition of the chart. To gauge trade winners and losers I will be placing a plus or minus sign with an associated point value next to each trade. I highly recommend checking out the resource next time you have questions about a draft pick trade.
Steelers send picks 17 and 120
Patriots send pick 14
Steelers win by the trade by 96 points of value, approximately the value of a late 3rd round pick
This trade allowed the Steelers to select Broderick Jones at a major discount than what is to be expected in a first-round trade-up. The Patriots gave Pittsburgh this discount to jump New England's divisional rival, the New York Jets, and steal the Jets' prospect. It is apparent that the Jets were not expecting this as their time ticked down to the final minute as they desperately attempted to find a trade partner. However, the Jets would come up empty in this endeavor and ultimately select Will Mcdonald IV which was considered a massive reach in the first round. For the Steelers, they were able to land a potential franchise left tackle at a major discount and the Patriots were able to sideswipe a divisional rival making it a win-win for both sides.
Trade grade: A+++
Steelers send pick 80
Panthers send picks 93 + 132
Steelers lose the trade by 22 points of value, approximately the value of a late 5th-round pick
While on paper this is a bad trade for the Steelers in terms of value, the way the board fell allowed them to land high-ceiling prospect Darnell Washington as well as Benton's teammate, Herbig, adding another layer to their defense. Looking at this trade from an analytic perspective it would appear that Pittsburgh was taken advantage of by the Panthers but given the context the trade worked out exceedingly well for the black-and-gold brigade.
Trade grade: A+
Summary
In Omar Khan's first year at GM, the board fell in near-perfect fashion for the Steel Curtain but luck was not the only deciding factor in this draft's success. Through the ways of savvy trades this draft was made and in my opinion, this class will be a statement of Khan's lengthy tenure as General Manager of the Pittsburgh Steelers.
Follow @YardYardTweet