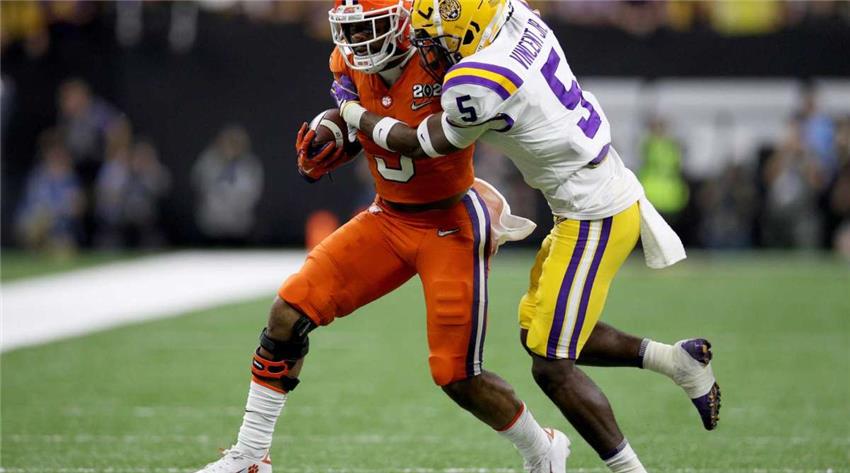 Who are the fastest players in the 2021 NFL Draft?

Pro-day Update
The phrase 'Speed kills' is often an overused term, but in the NFL, it's about as apt as you can get. An athlete with world-class speed can change a game in a second, and so NFL draft talent evaluators regard it as a must-have. We've compiled a list of the fastest players in the 2021 NFL draft, players who, if you can get the ball in their hands, can strike from anywhere, at any time.
At the 2021 senior bowl, coaches and NFL scouts who were queuing to interview Stevenson nicknamed him "Speedy", this says a lot about this Houston Star who over the past two years racked up 1,926 yards receiving on 127 receptions while scoring 18 touchdowns. Stevenson, who says he models his game after Kansas City speedster Tareek Hill says that he runs a 4.38, but we think it could be even quicker than that. In Mobile, Marquez got to show his vertical ability and speed, where he made opposing defensive backs look painfully slow. Stevenson is a player who is more than just a threat downfield. He offers YAC ability and has proven to adjust quickly to balls thrown his way.
Western Michigan wide receiver D'Wayne Eskridge is one of the most explosive players in the draft class. It is easily possible for him to be drafted in the first round even though he is undersized at 5-foot-9 and 188 pounds. He's a dynamic, elite playmaker who averaged 23.3 yards per catch at Western Michigan in 2020; he managed eight touchdowns on 33 receptions. Eskridge was a high school track athlete and ran a 10.45 second 100 meters, and it's believed he can smoothly run a 4.3 forty. His athletism is apparent when you watch him play, and it should surprise no one that he made Fox Sports Bruce Feldman's freaks list.
Update - 30 March 2021 W Michigan Pro-day
By his own standards, he wasn't fast enough on Thursday, despite the versatile receiver posting an impressive unofficial 40-yard dash time of 4.38 seconds in front of NFL scouts from 29 teams at Western Michigan's Pro Day.
Close to 6'3 and 190 pounds, Campbell has the ideal height for an NFL wideout. The height alone makes him an intriguing option for NFL scouting departments. Couple his height with fantastic speed and athleticism, and you've got some serious NFL-level qualities. Many insiders at Georgia predict Campbell will easily post a sub 4.4 in the forty-yard dash at any pro-day. He ran a verified 10.39 in the 100m as a senior in high school. For comparison, the Olympic qualifying time in 2020 was 10.05. He is one of the fastest players available in this year's draft class and could win the most freakish athlete award. It's a real shame the combine has been a victim of the pandemic because it would have been serious viewing watching Cambell tearing it up.
Update - 30 March 2021 UGA Pro-day
Ran a 4.38 which was a little slower than expected but still will excite NFL teams.
Small but electric Moore can do a bit of everything and do it very well. He is solidly built and hard to bring down. Has been compared to Tyreek Hill. Moore ran a 4.33 40 in high school, a very similar time to Hill. The team that drafts Moore will definitely have some plans to put his speed on display straight away. Moore suffered an injury that pretty much wiped out his 2019 season, and he has played only 7 games over the last two seasons, and so teams are having to look back to his breakout 2018 season. Currently viewed as a second-round prospect.
Update - 30 March 2021 Purdue Pro-day
Exceeded expectations running a blazing 4.29!
"Waddle, one of the fastest prospects in this draft, could be the go-to target in new (Eagles) coach Nick Sirianni's offense," ESPN's Mel Kiper is quoted as saying. "He was one of college football's most electric receivers over the past three seasons, even if he was overshadowed at times by teammates Henry Ruggs. Some players and coaches think Waddle is even faster than former Alabama WR Henry Ruggs (mentioned above). With a 4.27 second forty-yard dash, Ruggs is one of the fastest players in the NFL. There are no guarantees Waddle will break that time any time soon, but you are still looking at a sub 4.30 second forty.
Compared to 2020 first-round pick Henry Ruggs. As a high school player in 2018, Schwartz enjoyed the title of the Gatorade National Boys Track and Field Athlete of the Year following his impressive win of Florida's Class 2A 100-meter dash (10.07w) and 200 meters (20.41w); both were state records. He also ran at the IAAF U20 World Championships in Finland in July 2018 and took the silver medal in 100 meters (10.22) and a gold medal in the 4x100-meter relay (38.88) for Team USA.
How does that compare to the 2020 NFL drafts's fastest player, Henry Ruggs? Ruggs won the state title after clocking a 10.58-sec 100-meter dash compare that to Schwartz's sizzling time, and Ruggs is left in the dust. After a game against Texas A&M where Schwartz used his speed to sprint for a 57-yard touchdown run, Schwartz was questioned if he could beat Deion Sanders in his prime. "Honestly, I think so," Schwartz told 247Sports. "Honestly, I think so," Schwartz told 247Sports. Different requiters record slightly different speeds from a 4.29 to a 4.34-second 40-yard dash, but the Auburn receiver's fastest record time is 4.27 seconds, according to track and field site flrunners.com. Whichever time you believe, it's obvious Schwartz has world-class speed.
Update - 30 March 2021 Auburn Pro-day
Another player exceeding expectations running a lightning 4.26!
Tutu Atwell is one of the most explosive wide receivers in the 2021 NFL Draft. A smaller receiver (just 5'9") Tutu joins a large and talented crop of WR prospects in this year's draft. After a breakout year in 2019, he had a less productive one in 2020 as he dealt with a few injuries, and teams were more aware of what he is capable of doing. In 2019 he led the ACC with over 1,200 receiving yards and 12 touchdowns.
Atwell was credited with an official 40-yard dash time of 4.27 seconds. Given that the current record in the NFL combine — set by John Ross — is 4.22, it gives you a glimpse of the speed he brings to the pro game. He's a speedy and shifty player but one that could stand to improve in several critical areas, including route running and his hands.
Karry never quite broke into the lineup as a full-time starter at LSU; he played mainly as a Nickel defender while doubling up at the safety position. Vincent's speed helped him place 11th in the NCAA's 100-meter dash in 2018 (10.07 seconds -- Wow!) shows on tape immediately, allowing him to jog with the fastest of receivers downfield with relative ease. There is no doubting Vincent's speed, who incidentally was also the No. 1-ranked 200-meter sprinter in the U.S.while at high school. Many question how he will fit in the NFL, with him probably joining the collection of speedsters being chalked up as athletes first but football players second.
Update - 2 April 2021 LSU Pro-day
Ran a 4.33 which may have hurt his stock since that was his main draft attraction.
Like this? Why not read