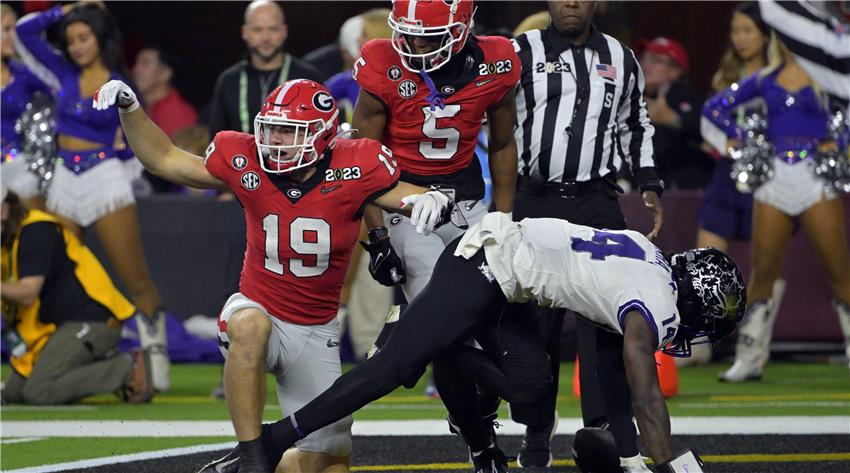 Brock Bowers TE Georgia | NFL Draft Profile & Scouting Report
Brock Bowers TE Georgia
NFL Draft Profile & Scouting Report
ROLE:

Slot Receiving TE

Last Updated:

10/23/2023

Draft Year:

2024

40 time:

4.48 seconds (98%*)

Age:

20.11

DOB:

12/13/2002

Measurables:

Height:

6-4 (41%*)

Weight:

240 (13%*)

Forty:

4.48 (O) (98%*)

Shuttle:

4.35 (HS) (47%*)

Vertical:

41.5 (HS) (100%*)

(C)

- NFL Combine

(P)

- Pro Day

(O)

- Other

(HS)

-Estimated from High School Combine

For an explanation of how the (HS) data is calculated see

this article

*Percentile calculated on how any given stat would rank at the NFL combine historically in the player's position group (Higher value represents better perfomance).
ROLE:

Slot Receiving TE

Last Updated:

10/23/2023

Draft Year:

2024

40 time:

4.48 seconds (98%*)

Age:

20.11

DOB:

12/13/2002

*Percentile calculated on how any given stat would rank at the NFL combine historically in the player's position group (Higher value represents better perfomance).
Overall Rating:

91.1 / 100

Game performance weighted rating.
Click the links below to view how player ranks vs other prospects.
QB Rating When targeted:
140.0
Hands:

81%
Short Receiving:

94%
Intermediate Routes:

98%
Deep Threat:

94%
Blocking:

78%

DRAFT PROJECTION:

1st - Top 10

Overall Rank:

#6

Position rank:

#1

College Games:

37

College Snaps:

1853

Grade:

ESPN RATING: 83/100

Grade:

247 RATING: 96/100

Grade:

RIVALS RATING: 5.9 (97%)
Draft Profile: Bio
Brock Bowers, standing at 6-foot-4 and weighing 230 lbs, burst onto the college football scene from Napa HS in California. Originally a multi-position player at the high school level, Bowers showcased his versatility by lining up as quarterback, tight end, and linebacker, grabbing the attention of scouts and solidifying his reputation as a 4-star recruit at TE via 247 Sports.

The COVID-19 pandemic might have canceled his senior HS season, but Bowers didn't skip a beat, making an immediate impact when he committed to the Georgia Bulldogs in January 2021. His transition to the collegiate level was seamless; as a true freshman, he set UGA records for tight ends, racking up 56 receptions, 882 yards, and 13 TDs. His sophomore campaign was equally, if not more, impressive, logging in 63 catches for 942 yards and seven touchdowns, alongside some notable rushing stats.

Bowers' collegiate accolades speak volumes about his talent and NFL potential. In his debut season, he was lauded with numerous All-America First Team honors, took home the Shaun Alexander Freshman of the Year Award, and was recognized as the AP SEC Newcomer of the Year. Building on this momentum, his sophomore year accolades included selections to the Associated Press & Coaches' All-SEC First Team, being a finalist for the prestigious Rotary Lombardi Award, and earning recognition as a semifinalist for the Walter Camp Player of the Year.

His playmaking ability, especially in crucial games like the CFP National Championship and matchups against teams like Ohio State and South Carolina, underscores his big-game mentality. His production, skill set, and recognition in just two seasons have positioned Bowers as a consensus TE1 prospect for the draft, drawing comparisons to the likes of elite talents such as Florida's Kyle Pitts. Given his trajectory, Bowers is on track to be a dominant force in the NFL, ready to make an immediate impact for any franchise that secures him.
Scouting Report: Strengths
Made Bruce Feldman's Freak's List - ranked #45. He wrote "Bowers' speed shocks defenses. Word is, Bowers, whose mom was an All-American softball player at Utah State and whose dad was a two-time All-Big West center for the USU football squad, has run the 40 in 4.49 seconds and is expected to only get even Freakier with more time in the Georgia strength program."
With a unique combination of exceptional athleticism and size, Bowers stands out as a potent offensive weapon in the tight end position.
Renowned for his ability to make plays post-catch, he led college TEs in yards after catch, amassing an impressive 479 yards.
Whether he's wide open or heavily guarded, Bowers displays elite ball skills, ensuring reliability at every catch point in various game scenarios.
His rare versatility is evident in how he's schemed in plays; whether sweeps, reverses, or screens, Bowers consistently delivers explosive plays.
His outstanding play strength and body control make him a formidable force on the field, easily navigating through physical confrontations with defenders.
One of Bowers' standout qualities is his relentless motor and energy. This infectious drive not only inspires his teammates but also sets the tone during games.
As a receiver, he showcases remarkable skills, from maximizing his catch radius to asserting dominance at the catch point, making him a nightmare for defenders.
While Bowers has a reputation as a receiver, his potential as a blocker is notable. His promise in this area suggests a bright future, further solidifying his draft stock.
Scouting Report: Weaknesses
While Bowers exhibits impressive physicality at the catch point, his ability to consistently separate from top-tier NFL safeties needs refinement. The risk is a potential over-reliance on zone coverage mismatches in his early career, especially when facing physical defenders who can disrupt his route timing within the contact window.
His build, weighing in around 230 pounds, raises questions about his role in the NFL. As an in-line tight end, his size might limit him, potentially pushing him more towards a flex tight end position. His surrounding tight end room will need to be carefully constructed to complement his skill set.
Though Bowers stands out as a fluid route runner, there's room for improvement in mastering the full route tree. His tendency to round off breaks and occasional mistiming can hinder optimal play execution. Consistency in route precision remains an area to polish.
Bowers' battle against physical press-man coverage and his limited release repertoire are concerning. Encountering challenges against robust defensive lines and lacking a wide array of release moves could hinder his effectiveness. While his in-line blocking showcases potential, refining his technique is paramount for NFL-level play.
Scouting Report: Summary
Brock Bowers' meteoric rise in Georgia's football program is nothing short of remarkable. From his inaugural season in Athens, he showcased a rare blend of abilities that distinguished him from the typical freshman. His stat line is a testament to his prowess: accumulating 24 touchdowns in two seasons with both receiving and rushing contributions. His freshman year alone, with 56 receptions for 882 yards and 13 touchdowns, raised eyebrows.

Following up with a sophomore year that saw 63 catches for 942 yards and seven touchdowns, he is on the precipice of etching his name alongside Georgia's legends, closing in on A.J. Green's revered position on the all-time receiving list.

In the landscape of collegiate tight ends, most find their niche as complementary pieces. Bowers, however, possesses the attributes and skill set to be the cornerstone of an NFL franchise. His blocking acumen, paired with his dynamism as a pass catcher, sets him apart as the undisputed TE1 in his class. Such a distinction is not merely about his in-line abilities; it's about his potential to redefine the tight end position in the NFL. Drawing comparisons to elite prospects like Kyle Pitts, Bowers is already generating buzz as one of the most coveted players for the 2024 draft.

It's always a gamble predicting collegiate success to professional transitions. But with Bowers, the odds seem overwhelmingly in his favor. His unmatched recent production at the college level, makes him a tantalizing prospect for NFL teams.

Though the league has been hesitant to invest high draft picks in tight ends recently, Bowers presents a compelling case to break that trend. As he embarks on the 2023 season, the narrative isn't just about his draft stock; it's about his potential to be immortalized as one of the greatest tight ends in college football history. His trajectory suggests not just a top-10 draft pick, but a possible dominating NFL career ahead.
Brock Bowers percentiles vs other Tight End's
(NFL Combine historically - higher value represents better perfomance)
How other scouting services rate Brock Bowers (Overall Rank)
All Scouts AverageOverall Rank
5.1
All Scouts AveragePosition Rank
1.0