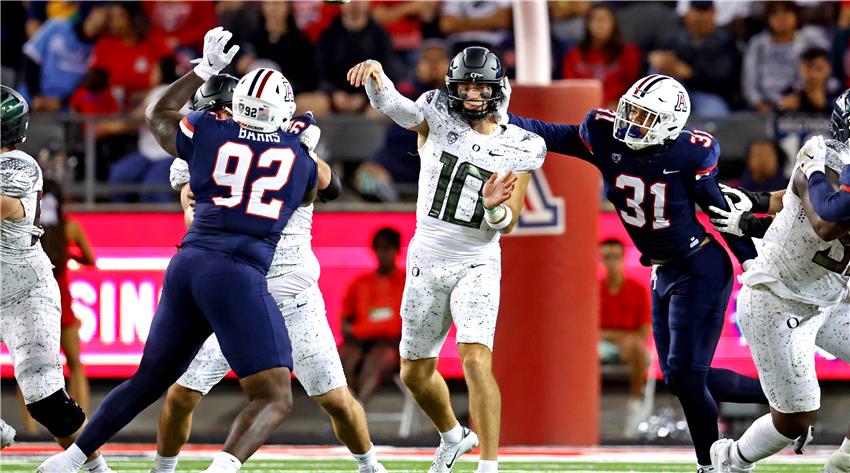 Bo Nix QB Oregon | NFL Draft Profile & Scouting Report
Bo Nix QB Oregon
NFL Draft Profile & Scouting Report
Last Updated:

08/30/2023

Draft Year:

2024

40 time:

4.75 seconds (67%*)

Age:

23.7

DOB:

02/25/2000

Measurables:

Height:

6-2 (33%*)

Weight:

213 (22%*)

Hands:

9 3/4 (58%*)

Arm:

30 3/8 (13%*)

Span:

74 (21%*)

Forty:

4.75 (O) (67%*)

Shuttle:

4.07 (HS) (95%*)

Vertical:

33 (HS) (64%*)

(C)

- NFL Combine

(P)

- Pro Day

(O)

- Other

(HS)

-Estimated from High School Combine

For an explanation of how the (HS) data is calculated see

this article

*Percentile calculated on how any given stat would rank at the NFL combine historically in the player's position group (Higher value represents better perfomance).
Last Updated:

08/30/2023

Draft Year:

2024

40 time:

4.75 seconds (67%*)

Age:

23.7

DOB:

02/25/2000

*Percentile calculated on how any given stat would rank at the NFL combine historically in the player's position group (Higher value represents better perfomance).
Overall Rating:

88.7 / 100

Game performance weighted rating
Short Passing:

77%
Medium Passing:

82%
Long Passing:

88%
Rush/Scramble:

82%

DRAFT PROJECTION:

1st - Mid

Overall Rank:

#15

Position rank:

#6

College Games:

49

College Snaps:

3263

Grade:

ESPN RATING: 86/100

Grade:

247 RATING: 96/100

Grade:

RIVALS RATING: 6.1 (100%)
Draft Profile: Bio
Bo Nix, a standout from Scottsboro Sch High School, garnered attention as a 4-star recruit by both ESPN and 247 Sports. Choosing Auburn for his college journey, Nix quickly displayed his prowess. In his freshman year, he participated in 13 games, recording 2538 passing yards with a 56.8% completion rate, and notched 16 TDs. He also contributed to the ground game, registering 85 runs for 429 yards.

In his sophomore year, Nix built on his promising freshman campaign. Playing in 11 games, he threw for 2412 yards, with a completion rate of 59.3% and 12 TDs. His rush attempts yielded 480 yards from 93 runs. However, it was in his junior year that challenges arose. In 10 games, he managed 2293 passing yards, 11 TDs, and showed improved efficiency with a 60.2% completion rate. Despite the challenges at Auburn and the scrutiny that followed, Nix opted for a fresh start and transferred to Oregon for his senior year.

At Oregon, Nix's resurgence was remarkable. In 12 games, he threw for an astounding 3384 yards with an elite 27 TDs and showcased a completion rate of 71.4%. His on-ground contribution was notable as well, accumulating 507 yards from 87 runs. While Nix's early Auburn days painted him as a controversial figure, his time at Oregon highlighted his undeniable NFL potential. With the raw talent complemented by high-level athleticism and a reinvigorated image from his stellar performance with the Ducks, Nix is now solidly on the radar for the 2023 NFL Draft.
Scouting Report: Strengths
At Oregon, Nix exhibits marked improvement in his pocket presence and processing speed.
He demonstrates pro-level aptitude in key QB fundamentals: thrives under empty sets, executes with precision during two-minute drills, and showcases mobility outside the pocket.
Nix has an innate ability to extend plays under duress, making off-schedule plays when things break down.
His pocket mobility is top-tier, consistently evading the pass rush while keeping his eyes downfield, making him a threat in RPO (run-pass option) situations.
Nix manipulates defenses with his eyes, effectively holding safeties and linebackers to create passing lanes. Delivers the ball with zip, especially when threading the needle against tight coverage.
With a prototypical build at 6'2″, 213 lbs, Nix combines size with arm talent, positioning himself as an enticing draft prospect.
While he might not have the biggest cannon in the class, his arm strength is more than adequate. Delivers with velocity, even when throwing off-platform.
Nix's release is compact and quick, allowing him to get the ball out with timing and rhythm, especially in short to intermediate throws.
Shows versatility in his delivery, altering arm angles to throw around defenders while maintaining velocity and accuracy.
His footwork and agility in the pocket enable him to sidestep pressure, reset, and deliver strikes downfield.
When the pocket breaks down, Nix remains balanced, demonstrating the ability to change direction swiftly and roll out to create opportunities.
Open-field awareness is a strength; Nix can capitalize on scrambling lanes while consistently keeping a downfield passing mentality.
As a ball-carrier, Nix displays a good blend of agility and burst, making defenders miss in space. His dual-threat capability demands defensive game-planning.
Nix's combination of athleticism and arm talent provides a solid foundation for NFL offenses to craft schemes around his strengths.
Scouting Report: Weaknesses
While Nix has shown growth, inconsistencies still exist. His footwork can become jittery under pressure, resulting in erratic throws not attributed to arm talent limitations.
His reliance on sideline cues before snaps raises questions about his ability to helm a complex NFL offense independently.
The transition from Auburn to Oregon brought marked improvement, but teams may be cautious about determining which facets of his game can be successfully transitioned to the NFL.
Nix needs to refine his game processing. He can telegraph primary reads, and his hesitancy during receiver breaks can lead to missed opportunities. This also extends to deep routes, where despite having the arm strength, he often hesitates.
Improvisation under pressure introduces risk. Nix's tendency to force plays or make impulsive throws increases the chance for turnovers. His in-pocket presence, especially in collapsing situations, can be erratic, leading to rushed decisions.
His perception of oncoming pressure is inconsistent, impacting pocket discipline. A more reliable sense of incoming threats is crucial for his professional growth.
Scouting Report: Summary
Bo Nix entered the collegiate ranks with sky-high expectations, securing the SEC Freshman of the Year in 2019 and was heralded as a five-star recruit. His tape at Auburn showcases his prototypical size and arm cannon, both key assets for the next level. Nix's footwork and mobility allow him to extend plays outside the pocket, and his arm talent, especially off-platform throws, is evident. However, his on-field IQ needs polishing. He occasionally displays sloppy mechanics and lacks pocket awareness, leading to questionable decisions under duress. Furthermore, he locks onto primary reads and struggles with progression. But, with a year of solid tape and growth in his decision-making, there's no doubt Nix can move into first-round discussions for NFL teams seeking a QB with raw, moldable talent.
Bo Nix percentiles vs other Quarterback's
(NFL Combine historically - higher value represents better perfomance)
How other scouting services rate Bo Nix (Overall Rank)
All Scouts AverageOverall Rank
36.6
All Scouts AveragePosition Rank
5.0