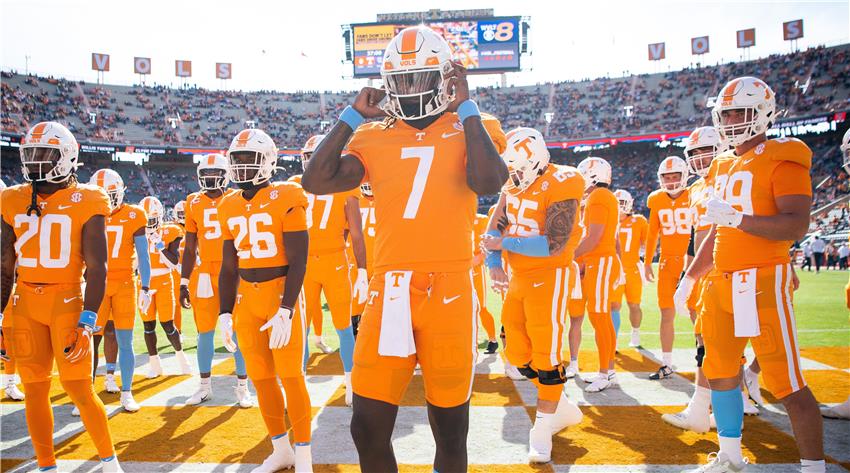 Joe Milton III QB Tennessee | NFL Draft Profile & Scouting Report
Joe Milton III QB Tennessee
NFL Draft Profile & Scouting Report
Last Updated:

09/20/2023

Draft Year:

2024

40 time:

4.78 seconds (61%*)

Measurables:

Height:

6-5 (87%*)

Weight:

245 (98%*)

Forty:

4.78 (O) (61%*)

Shuttle:

4.52 (HS) (8%*)

Vertical:

33 (HS) (68%*)

(C)

- NFL Combine

(P)

- Pro Day

(O)

- Other

(HS)

-Estimated from High School Combine

For an explanation of how the (HS) data is calculated see

this article

*Percentile calculated on how any given stat would rank at the NFL combine historically in the player's position group (Higher value represents better perfomance).
Last Updated:

09/20/2023

Draft Year:

2024

40 time:

4.78 seconds (61%*)

*Percentile calculated on how any given stat would rank at the NFL combine historically in the player's position group (Higher value represents better perfomance).
Overall Rating:

83.6 / 100

Game performance weighted rating
Short Passing:

68%
Medium Passing:

69%
Long Passing:

68%
Rush/Scramble:

85%

Overall Rank:

#112

Position rank:

#13

College Games:

30

College Snaps:

968

Grade:

ESPN RATING: 84/100

Grade:

247 RATING: 88/100

Grade:

RIVALS RATING: 5.8 (95%)
Draft Profile: Bio
Joe Milton III, a native of Pahokee, FL, played his high school football at Olympia High School in Orlando. Rated a 4-star prospect by ESPN and a 3-star by 247 Sports, he was recognized as a top-250 recruit in the nation by other leading platforms. After graduating, Milton chose to begin his collegiate career at the University of Michigan, where he spent the initial years behind Shea Patterson. His most notable stint with the Wolverines came during the COVID-19 shortened 2020 season, starting five out of six games. However, with challenges maintaining the starting role and eventual competition from Cade McNamara, Milton transferred to Tennessee.

Upon joining the Volunteers, the 6-foot-5, 244 lbs quarterback faced yet another battle for the starting position. In 2021, despite starting the first two games, an injury saw him replaced by transfer Hendon Hooker. This switch would hold until Hooker suffered an ACL tear in 2022, paving the way for Milton's return to the starting position. Taking full advantage of this opportunity, Milton displayed promising stats, including a standout performance in his fifth year where he threw for 720 yards in 7 games, with a completion percentage of 63% and a QB rating of 146.2.

Milton's journey from Michigan to Tennessee, marked by both adversity and moments of brilliance, demonstrates resilience and adaptability. His combined physical stature and on-field stats showcase the potential that, with continued development, might appeal to NFL evaluators. As he prepares for the next steps in his football journey, all eyes will be on his performance in the 2023 collegiate football season.
Scouting Report: Strengths
Possesses an exceptional arm strength that rivals the best, enabling him to make throws many can't.
Demonstrates quick acceleration through his throwing motion, sending the ball across the field instantaneously.
Displays commendable pocket awareness, making controlled movements under pressure, showcasing his football IQ.
With his significant size and stature (6'5", 235 lbs), he exemplifies the prototypical quarterback build.
Not just a stationary pocket passer; shows the ability to move off his spot and make accurate throws on the run.
While his processing speed may need tuning, his velocity compensates by closing tight windows effectively.
His resistance to sloppy tackle attempts due to his size means defenders need to ensure solid hits to impact him.
Has a lightning-quick release that, combined with his arm strength, makes him a formidable offensive weapon.
Scouting Report: Weaknesses
Accuracy and touch in his passing game require refinement. Consistently overshoots or underthrows targets, missing open opportunities presented on film.
While physically gifted, he's on the older side for a rookie at 24; concerns arise regarding synchronizing NFL maturation with physical peak.
Questions linger about his field-reading capability, especially post-snap. Previous performances suggest lack of anticipation and decision-making speed in high-pressure situations.
Tends to be predictable under pressure, often defaulting to specific escape maneuvers, which can lead to missed opportunities or jeopardized plays.
Scouting Report: Summary
Joe Milton III undeniably boasts a set of physical attributes that few can rival in the game. Standing at a towering 6'5" and weighing in at 235 pounds, paired with an arm that's nothing short of a marvel, he possesses the raw tools that immediately catch the eye of scouts. His arm strength and velocity are such that they've been the subject of awe, and whispers about Madden ratings reflect this widespread sentiment. However, those well-versed in the nuances of the game know that sheer physical prowess isn't the sole determinant of success at the NFL level.

The offensive system at Tennessee, while undoubtedly explosive under Heupel's leadership, doesn't necessarily correlate seamlessly with what's run in the NFL. This creates a shadow of doubt, as scouts and analysts try to discern how Milton's collegiate success and style will translate to the pros. His performance at Michigan also offers a contrasting, more humble view of his potential, underlining the importance of systems and their fit with a quarterback's skill set.

As Milton takes the field, the focus will undoubtedly be on his development and adaptability. There's a clear need for him to gain confidence in his pre-and post-snap reads, ensuring he doesn't leave plays on the table or put his team in jeopardy with late throws. The upcoming season will be instrumental for him to demonstrate consistency and a heightened football IQ, to complement his undeniable physical gifts.

The narrative surrounding Joe Milton III is one of potential met with skepticism. While the ceiling is sky-high given his natural abilities, the transition to the NFL requires a holistic grasp of the quarterback position. However, with his continued commitment and drive to seize every opportunity—as he has done throughout his football journey—one can expect that teams will be more than willing to harness and develop the raw talent he brings to the table.
How other scouting services rate Joe Milton III (Overall Rank)
All Scouts AverageOverall Rank
104.0
All Scouts AveragePosition Rank
15.0