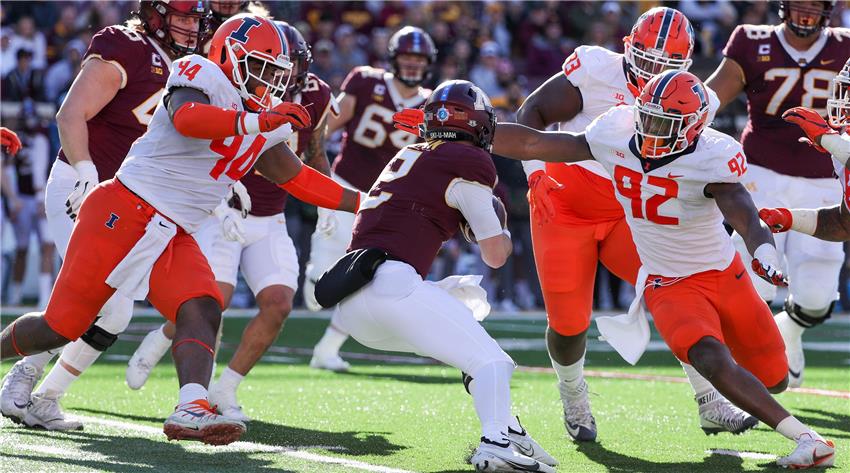 Jer'Zhan Newton DL Illinois | NFL Draft Profile & Scouting Report
Jer'Zhan Newton DL Illinois
NFL Draft Profile & Scouting Report
SUB-POSITION:

VERSATILE DL

Last Updated:

11/25/2023

Draft Year:

2024

40 time:

4.95 seconds (51%*)

Age:

21.3

DOB:

08/31/2002

Measurables:

Height:

6-2 (22%*)

Weight:

295 (65%*)

Forty:

4.95 (O) (51%*)

(C)

- NFL Combine

(P)

- Pro Day

(O)

- Other

(HS)

-Estimated from High School Combine

For an explanation of how the (HS) data is calculated see

this article

*Percentile calculated on how any given stat would rank at the NFL combine historically in the player's position group (Higher value represents better perfomance).
SUB-POSITION:

VERSATILE DL

Last Updated:

11/25/2023

Draft Year:

2024

40 time:

4.95 seconds (51%*)

Age:

21.3

DOB:

08/31/2002

*Percentile calculated on how any given stat would rank at the NFL combine historically in the player's position group (Higher value represents better perfomance).
Overall Rating:

88.1 / 100

Game performance weighted rating.
Click the links below to view how player ranks vs other prospects.
Tackling:

59%
Pass Rush:

89%
Run Defense:

86%

DRAFT PROJECTION:

1st - Mid

Overall Rank:

#17

Position rank:

#3

College Games:

44

College Snaps:

2355

Grade:

ESPN RATING: 76/100

Grade:

247 RATING: 85/100

Grade:

RIVALS RATING: 5.5 (90%)
Draft Profile: Bio
Jer'Zhan Newton emerged from Clearwater Central Catholic High School with a three-star recruit ranking from both ESPN and 247 Sports. After high school, he took his talents to the University of Illinois, where he began to build a solid foundation for his collegiate football career.

In the 2020 season, as a freshman, Newton made an immediate impact on the field, participating in 8 games and logging 329 snaps. His defensive contributions were quantifiable: 15 tackles, 11 assists, and 13 stops, alongside 6 total pressures that included 5 quarterback hurries and one sack.

Newton's sophomore year saw a significant increase in responsibility and performance. Over 12 games and 611 snaps, he amassed 27 tackles and 17 assists, with an additional 19 stops. His presence in the pass rush became more pronounced, resulting in 15 total pressures, 9 quarterback hurries, 3 quarterback hits, and 3 sacks.

The upward trend continued into his junior year in 2022, where Newton's participation expanded to 666 snaps across 12 games. His defensive stats for this season included 35 tackles, 15 assists, and 34 stops. As a pass rusher, he notched an impressive 54 total pressures, with 32 quarterback hurries, 18 quarterback hits, and 4 sacks. His performance during the year was rewarded with first-team All-American honors, as he recorded 62 tackles, 5.5 sacks, 14 tackles for loss, and 3 pass breakups.

From his senior year in high school through his junior year at Illinois, Newton's growth is reflected in his cumulative statistics: 73 tackles and five sacks over his first two seasons, followed by a remarkable junior season that solidified his reputation as a dominant defensive player.
Scouting Report: Strengths
Boasts superior natural leverage paired with a versatile alignment skill set, effective in multiple defensive fronts.
Exudes high-energy play with explosive gap penetration, demonstrating quickness and agility in his movements.
Dynamic initial burst off the line, adept at rapidly adjusting leverage and alignment mid-play.
Efficient edge rusher from both 5 and 7-tech positions, utilizing advanced ankle flexion and hand techniques.
Quick to diagnose and react to blocking schemes, effectively countering combo blocks with agility.
Maintains intense drive from snap to whistle, leveraging considerable power to disrupt the offensive balance.
Specialized one-gap penetrator, employs a repertoire of moves including clubs, chops, and rips with precision.
Demonstrates exceptional athleticism and chase speed in open-field scenarios, outperforming size expectations.
Scouting Report: Weaknesses
Newton's build is somewhat lean for an interior lineman, potentially affecting his ability to hold ground against power runs.
His susceptibility to double teams is heightened by a frame that lacks optimal mass for withstanding combined blocks.
Arm length falls below the ideal, limiting maximum extension power and torque, crucial for shedding blockers.
Hand strikes lack the elite disruptive force necessary to consistently create movement or control engagements at the point of attack.
Occasional anticipation errors in snap timing can lead to penalties, disrupting defensive rhythm and field positioning.
Scouting Report: Summary
Jer'Zhan Newton stands out as a top-tier interior defensive prospect, thanks to his exceptional leverage and agility, projecting him as a potential first-rounder in the NFL Draft. His performance at Illinois, especially his flexibility and disruptive ability, compensates for his less-than-ideal size at 6'2", 295 pounds. Newton's skill in gap penetration and his effectiveness in NASCAR packages suggest he'll fit well in modern, versatile defensive schemes that value quickness and technical prowess over bulk.

Newton's draft stock could see a significant boost if he navigates the pre-draft process skillfully, showcasing his ability to disrupt both run and pass plays. His best fit appears to be as a 3-tech or in hybrid fronts, where his explosive athleticism and hand technique can shine. Teams will likely look past his size constraints, focusing instead on his potential as a dynamic playmaker on the defensive line.

In the NFL, Newton's immediate impact is expected, with the genuine possibility of becoming an early starter. His versatility across all downs makes him a valuable draft pick. To reach his high ceiling—Pro Bowl or All-Pro levels—Newton will need to further refine his pass-rush strategy and ensure consistent leverage against varied competition. With these improvements, he's poised to excel in a league that increasingly values the unique skill set he brings to the table.
How other scouting services rate Jer'Zhan Newton (Overall Rank)
All Scouts AverageOverall Rank
17.2
All Scouts AveragePosition Rank
2.0