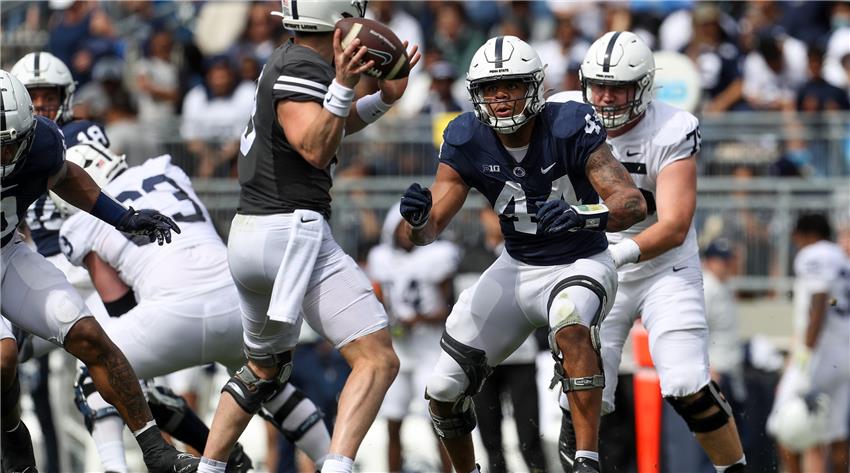 Chop Robinson DE/EDGE Penn State | NFL Draft Profile & Scouting Report
Chop Robinson DE/EDGE Penn State
NFL Draft Profile & Scouting Report
SUB-POSITION:

EDGE RUSHER

Last Updated:

11/20/2023

Draft Year:

2024

40 time:

4.60 seconds (93%*)

Measurables:

Height:

6-3 (32%*)

Weight:

250 (11%*)

Forty:

4.60 (O) (93%*)

(C)

- NFL Combine

(P)

- Pro Day

(O)

- Other

(HS)

-Estimated from High School Combine

For an explanation of how the (HS) data is calculated see

this article

*Percentile calculated on how any given stat would rank at the NFL combine historically in the player's position group (Higher value represents better perfomance).
SUB-POSITION:

EDGE RUSHER

Last Updated:

11/20/2023

Draft Year:

2024

40 time:

4.60 seconds (93%*)

*Percentile calculated on how any given stat would rank at the NFL combine historically in the player's position group (Higher value represents better perfomance).
Overall Rating:

88.4 / 100

Game performance weighted rating.
Click the links below to view how player ranks vs other prospects.
Tackling:

69%
Pass Rush:

100%
Run Defense:

83%

DRAFT PROJECTION:

1st - Mid

Overall Rank:

#14

Position rank:

#2

College Games:

34

College Snaps:

980

Grade:

ESPN RATING: 87/100

Grade:

247 RATING: 98/100

Grade:

RIVALS RATING: 5.8 (95%)
Draft Profile: Bio
Chop Robinson, the Penn State Nittany Lion with an imposing presence on the edge, has marked his territory in the collegiate football landscape with remarkable achievements and a steep progression in his play. Originating from Gaithersburg, Maryland, Robinson's journey from a highly touted five-star recruit at Quince Orchard HS to an NFL Draft prospect is a testament to his relentless work ethic and natural ability.

Robinson began his collegiate career at the University of Maryland, where even as a freshman, he demonstrated his potential across 13 games. Taking part in 263 snaps, his freshman statistics were solid: 14 tackles, one assist, and 7 stops. His impact extended beyond the traditional responsibilities of an edge rusher; while he didn't record any pass breakups or interceptions, quarterbacks had a rating of 87.5 when targeting his coverage, showing his effectiveness in disrupting the passing game. His pass-rushing acumen was evident with 13 total pressures, comprising 9 quarterback hurries, 2 quarterback hits, and 2 sacks.

Seeking to elevate his game further, Robinson transferred to Penn State for the 2022 season. His sophomore campaign saw him take a significant leap forward, participating in 414 snaps across 11 games. His on-field production saw a notable increase, with 15 tackles and 16 stops. His prowess in pressuring the quarterback was more pronounced; he tallied 40 total pressures, with an impressive 28 quarterback hurries, 8 quarterback hits, and 4 sacks. This marked improvement underscored his capability to disrupt the offensive backfield consistently.

His achievements and statistics earned him preseason second-team All-American honors in his junior year, as well as a spot on watch lists for the Bednarik Award, Lombardi Award, and Bronko Nagurski Trophy, signaling his burgeoning impact. The All-Big Ten honorable mention by coaches and media in 2022, alongside the Pro Football Focus All-Big Ten second-team selection, and sharing the Reid Robinson Outstanding Defensive Lineman Award with teammate Adisa Isaac, reflected his standing as a player of note.

Affectionately known as "Chop," a childhood nickname that has followed him into his athletic career, Robinson has embraced the essence of the moniker with his tenacious play and indomitable spirit. His progression from a promising freshman at Maryland to a disruptive force at Penn State places him among the top prospects, continuing Penn State's reputation as a premier defensive line producer for the NFL. With his demonstrated ability to affect the game both in the trenches and in open space, Robinson stands poised to join the ranks of professional football's defensive stalwarts.
Scouting Report: Strengths
Embodies his "Chop" moniker with boundless energy, impacting the game consistently as a three-down player.
Boasts a dense, powerful build with explosive point-of-contact strength that jolts opponents on impact.
Features a volcanic first step and long-stride explosiveness that immediately puts offensive linemen at a disadvantage.
Demonstrates exceptional bend and ankle flexion to minimize target area and navigate the edge with precision.
Exhibits searing lateral agility paired with high-caliber twitch to sidestep blockers and disrupt the backfield.
Leverages his intense power and kinetic energy to execute polished hand techniques against offensive linemen.
Was 9th on Bruce Feldman's freak's List - he said: "He had 10 TFLs and 5.5 sacks last season, and will be even better this year. The 6-3, 254-pound junior is a little bigger than Parsons, and almost as fast. He clocked a 4.47 40 this offseason and ran a quicker shuttle, 4.22. He also broad-jumped 10-7 and bench-pressed 400 pounds."
Possesses the functional versatility and natural leverage to anchor the edge against the run and excel in various alignments.
Scouting Report: Weaknesses
Exhibits suboptimal length metrics, potentially compromising extension leverage and diminishing effective power transfer against pro-caliber linemen.
Shows occasional stiffness in lower-body kinematics, which could hinder multi-directional fluidity and limit rush counters at the apex.
Hand-fighting techniques sometimes lag in engagement timing, necessitating elevated refinement in initial combat contact and rush plan execution.
Needs to diversify his rush portfolio; reliance on primary speed and power elements can be neutralized by technically sound tackles with superior reach.
Displays a need for augmented functional strength at the point of attack, particularly evident when anchoring against the run in high-physicality matchups.
Scouting Report: Summary
Chop Robinson's ascent to a potential first-round talent in the 2024 NFL Draft is anchored by his explosive athleticism and notable performances at Penn State. His capability to outmaneuver offensive tackles with his burst and flexibility makes him a formidable pass-rushing prospect. The upcoming season will be critical for him to demonstrate a more robust run defense to round out his game.

His current skill set, highlighted by a quick first step and exceptional bend, indicates a significant potential for growth. Robinson's high motor and athletic base suggest he could make an immediate impact in the NFL, especially if he diversifies his pass-rush techniques and incorporates more power into his approach.

Robinson's archetype is an ideal fit for a stand-up EDGE in schemes that value versatility and disruption. His ability to generate pressure from various alignments makes him a valuable asset for defensive coordinators looking to craft a dynamic and aggressive defense.

To realize his full potential as an every-down impact player in the NFL, Robinson will need to continue developing, particularly in anchoring against the run. Even if he arrives in the league with a more narrowly defined role, his skill set positions him to be a highly effective pass-rush specialist, capable of altering offensive game plans with his presence alone. There is a palpable buzz around his trajectory, with expectations that he will develop into a player who consistently challenges and disrupts at the professional level.
How other scouting services rate Chop Robinson (Overall Rank)
All Scouts AverageOverall Rank
18.8
All Scouts AveragePosition Rank
4.0