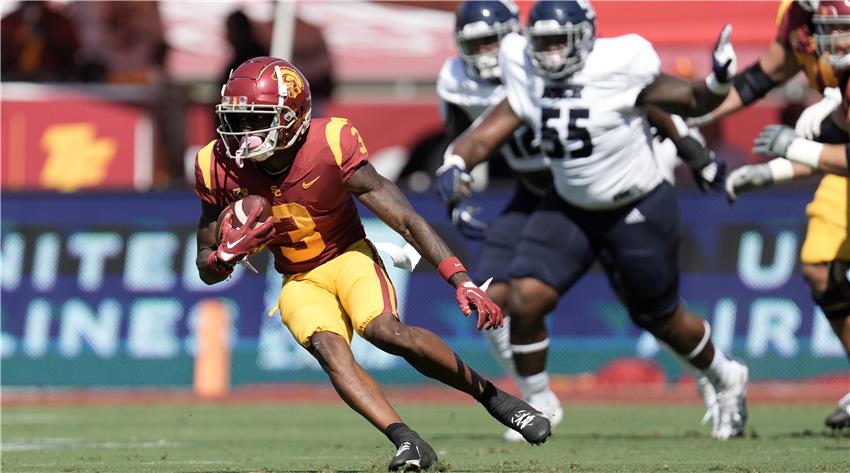 Jordan Addison WR USC | NFL Draft Profile & Scouting Report
Jordan Addison WR USC
NFL Draft Profile & Scouting Report
ROLE:

Multi-Role Receiver

Last Updated:

04/21/2023

Draft Year:

2023

40 time:

4.49 seconds (55%*)

Age:

21.10

DOB:

01/27/2002

Measurables:

Height:

5-11 (23%*)

Weight:

173 (3%*)

Hands:

8 3/4 (21%*)

Arm:

30 7/8 (29%*)

Span:

74 4/8 (26%*)

Forty:

4.49 (C) (55%*)

Shuttle:

4.19 (P) (61%*)

Ten Yard:

1.56 (C) (54%*)

Vertical:

34 (C) (32%*)

Broad:

122 (C) (57%*)

Three Cone:

7.05 (P) (34%*)

Bench:

DNP

(C)

- NFL Combine

(P)

- Pro Day

(O)

- Other

(HS)

-Estimated from High School Combine

For an explanation of how the (HS) data is calculated see

this article

*Percentile calculated on how any given stat would rank at the NFL combine historically in the player's position group (Higher value represents better perfomance).
ROLE:

Multi-Role Receiver

Last Updated:

04/21/2023

Draft Year:

2023

40 time:

4.49 seconds (55%*)

Age:

21.10

DOB:

01/27/2002

*Percentile calculated on how any given stat would rank at the NFL combine historically in the player's position group (Higher value represents better perfomance).
Overall Rating:

87.5 / 100

Game performance weighted rating.
Click the links below to view how player ranks vs other prospects.
QB Rating When targeted:
137.9
Hands:

78%
Short Receiving:

88%
Intermediate Routes:

92%
Deep Threat:

94%
Blocking:

65%

DRAFT PROJECTION:

1st - Late

Overall Rank:

#29

Position rank:

#4

College Games:

35

College Snaps:

1873

Grade:

ESPN RATING: 80/100

Grade:

247 RATING: 94/100

Grade:

RIVALS RATING: 5.7 (93%)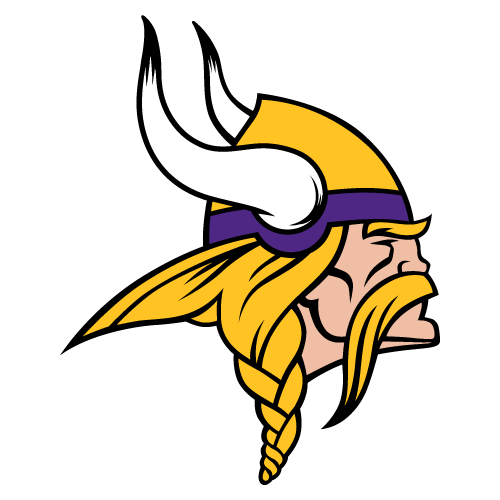 Drafted: ROUND: 1 - Pick Number: 23 (MIN)
Draft Profile: Bio
Jordan Addison from Tuscarora High School was rated a 4-star recruit by ESPN and handed a 4-star grade by 247 Sports. Following high school, Addison opted to join Pittsburgh.

In 2020 as a freshman Addison saw action in 10 games for the Panthers as he made 60 receptions for 662 yards for an average of 11.0 yards per reception, with 4 TDs, and a QB rating when targeted of 97.0.

As a sophomore in 2021 he exploded with an incredible year while playing in 14 games and having 100 catches for 1593 yards for an average of 15.9 yards per catch, with a huge 17 TDs, and a QB rating when targeted of 136.7.

Addison entered the transfer protocol following the 2021 season after winning the Biletnikoff Award for the nation's best receiver - a bit of a head-scratcher on the surface, but when asked why, he said - "I was looking for a great coach and a good football opportunity, I'm still figuring myself out and what I want to do and I feel like I have a great opportunity to do that where I'm at now."

In 2022 at his new home in southern California he played 11 games and hauled in 59 catches for an impressive 875 yards for an average of 14.8 yards per catch, with 8 TDs, and put up a QB rating when targeted of 139.0.
Honors & awards
Won 2021 Biletnikoff Award (nation's top receiver) as a sophomore wide receiver at Pittsburgh
2021 consensus All-American first teamer (named to the AP, Football Writers, Walter Camp and Sporting News first teams)
All-Atlantic Coast Conference first team (and third team as an all-purpose player) 2021
Started 13 of 14 games he played (all but Michigan State in the Peach Bowl)
Had 100 receptions for 1,593 yards (15.9 avg) with 17 touchdowns (tied for most in the nation) 2021
Scouting Report: Strengths
Has good athletic ability and some deep speed, outstanding cutting ability, reliable hands, and surprising toughness
Has consistently put up outstanding numbers at the college level - established himself as the top receiver in the nation
Often used on deep routes, getting separation down the sideline or over the middle on crossing routes by extending his arms rather than pure speed.
Combines speed, balance, quickness, vision, and crisp cuts to leave defensive backs and linebackers in the dust
Has elite change of direction can cut on a dime
Manages to find holes in coverage and has exceptional hands with equally impressive body control
Does a nice job locating and tracking deep passes and is a legitimate vertical threat. Willing to go up and attack the ball.
Flashes the foot quickness and toughness to handle slot duties at the next level and lines up all over the field. A threat whenever he has the ball
Has the strong hands any NFL wide receiver coach and quarterback would covet. Tracks the deep ball over either shoulder and brings in passes fluidly without breaking stride downfield.
Is one of the best route runners n the 2023 draft class. Elite technician
A slippery runner with elusive footwork. Has little to no wasted movements between the reception and burst upfield.
Scouting Report: Weaknesses
Very slight receiver who will be exclusively considered a slot player
Has never really faced press man coverage - so it is yet to be determined how he would hold up against pro-level defenders - may end up getting pushed around
Has too many concentration drops - will need to become more consistent
2022 wasn't as dominating as the previous year - let's hope it's not a trend
Does not always use his hands to secure deep throws, allowing the ball into his pads and chest - has had more concentration drops than you would expect for a player of his ability
Player Comparison
DeVonta Smith
Scouting Report: Summary
Jordan Addison is an outstanding NFL prospect who is a prototypical slot player with the requisite speed. He however does have very obvious limitations and may never be considered a complete wide receiver who is able to play outside due to his small frame, but despite this will still be drafted as high as the first round due to his ability to take the top off a defense from the slot.
Jordan Addison percentiles vs other Wide Receiver's
(NFL Combine historically - higher value represents better perfomance)
Update - 04/21/2023
Addison underperformed at the combine as put mid-percentile numbers across all the drills - forty (55th percentile), vertical (32nd percentile), and a broad jump (57th percentile). This will undoubtedly reduce his stock as his athletic ability and in particular, his quickness was a significant reason for his top billing.
How other scouting services rate Jordan Addison (Overall Rank)
All Scouts AverageOverall Rank
24.2
All Scouts AveragePosition Rank
3.0