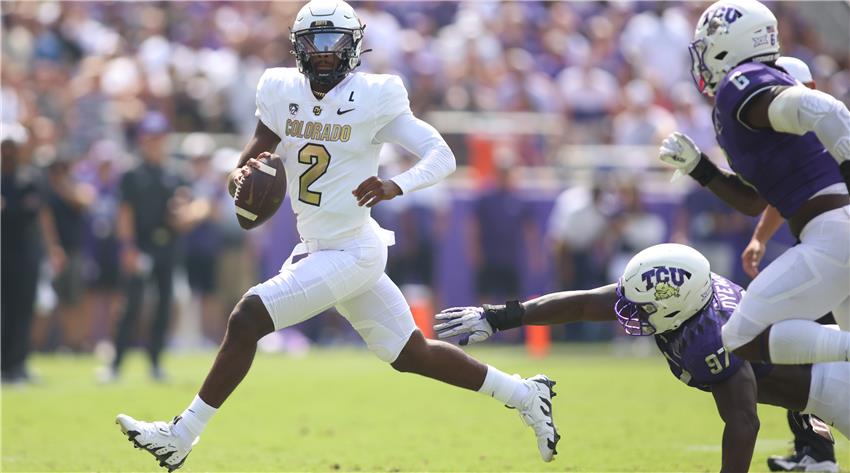 Shedeur Sanders QB Colorado | NFL Draft Profile & Scouting Report
Shedeur Sanders QB Colorado
NFL Draft Profile & Scouting Report
Last Updated:

09/10/2023

Draft Year:

2024

40 time:

4.65 seconds (84%*)

Age:

21.7

DOB:

02/07/2002

Measurables:

Height:

6-2 (33%*)

Weight:

215 (27%*)

Forty:

4.65 (O) (84%*)

(C)

- NFL Combine

(P)

- Pro Day

(O)

- Other

(HS)

-Estimated from High School Combine

For an explanation of how the (HS) data is calculated see

this article

*Percentile calculated on how any given stat would rank at the NFL combine historically in the player's position group (Higher value represents better perfomance).
Last Updated:

09/10/2023

Draft Year:

2024

40 time:

4.65 seconds (84%*)

Age:

21.7

DOB:

02/07/2002

*Percentile calculated on how any given stat would rank at the NFL combine historically in the player's position group (Higher value represents better perfomance).
Overall Rating:

92.1 / 100

Game performance weighted rating
Short Passing:

87%
Medium Passing:

99%
Long Passing:

99%
Rush/Scramble:

66%

DRAFT PROJECTION:

1st - Top 5

Overall Rank:

#4

Position rank:

#3

College Games:

17

College Snaps:

1257

Grade:

ESPN RATING: 86/100

Grade:

247 RATING: 91/100

Grade:

RIVALS RATING: 5.6 (92%)
Draft Profile: Bio
Shedeur Sanders, a QB prospect hailing from Trinity Christian High School, came onto the collegiate scene with significant expectations, not just as a recognized four-star recruit endorsed by both ESPN and 247 Sports, but also as the son of the esteemed NFL Hall of Famer, Deion Sanders. He chose Jackson State as his starting ground in college football.

Over two seasons, Sanders' statistical output has been noteworthy. In the passing game, he logged 3,732 yards by completing 341 out of his 483 attempts, resulting in a 70.6% completion rate. As a freshman, he threw for 3,384 yards from 453 attempts, averaging 7.5 yards per throw and stacking up 36 TDs. His versatility is evident with 72 rushes, amassing 282 yards, showcasing his capability to extend plays when needed.

However, Sanders experienced consistent pass protection challenges at Jackson State, taking a total of 60 sacks over two seasons. This, combined with the team's scheme, forced him into quick game passes, a factor that arguably inflated his completion rate. The numbers also indicate a need for improvements in the pocket presence and O-line synchronization to avoid such pressures in the future.

Having achieved significant accolades, including the Jerry Rice FCS National Freshman of the Year award and leading Jackson State to their maiden Celebration Bowl win, Sanders' transition to the University of Colorado adds another layer of intrigue to his collegiate journey. As scouts dissect his film, they'll be keen to evaluate his adaptability, decision-making, and how he tackles the challenges of Power 5 football.
Scouting Report: Strengths
With a blend of a notable recruiting pedigree and NFL heritage, Sanders presents a physically imposing presence at 6'2″ and 215 pounds, adept at exploiting his athleticism to navigate the pocket.
His arm strength is evident in short-range throws, consistently threading the needle in tight coverage areas. Although deep throws can sometimes lag, his downfield accuracy is a testament to his proficiency.
Sanders' consistency in a high over-the-top release demonstrates a refined and repetitive throwing mechanic, setting him apart from many of his contemporaries.
Executing brilliantly from the shotgun, he skillfully blends drop-back techniques with route depth, reflecting an innate game understanding and mastery over his offense.
His pocket presence is noteworthy, showcasing an unwavering nature under pressure. He scans the field effectively, making calculated decisions even amidst chaos.
His athleticism doesn't just anchor him in the pocket; Sanders has the ability to extend plays, maneuvering receivers and delivering spot-on passes, even on the move.
Leadership radiates from Sanders, especially during critical game moments. His passion is palpable, whether he's lifting teammates' spirits or displaying determination post-turnover.
A key hallmark of Sanders' gameplay is his intuitive "feel" for the game, evident in his poise, decision-making, and an uncanny ability to find those pivotal passing windows, especially under a heavy rush.
Scouting Report: Weaknesses
While Sanders showcased impressive pocket presence at Jackson State, concerns arise around the consistency of his raw talent and whether it meets NFL standards.
His throwing mechanics display gaps; often leaning heavily on his upper body, Sanders presents erratic footwork. This inconsistency in his stance, especially with feet placed too far apart, restricts pivotal hip movement, resulting in unstable releases and off target passes.
The shift to Pac-12 play in 2023 will be a true test for Sanders, pitting him against top-tier defenses, underscoring the need to refine mechanics and adapt to heightened competition.
Arm talent assessments based on tape alone yield mixed results for Sanders. While he occasionally showcases NFL-caliber strength, certain passes reveal a wobble and linger in the air, emphasizing the need for on-field vetting to determine the veracity of his arm strength.
Perhaps the most alarming issue is his approach to ball security. His casual handling, particularly when evading tackles or in motion, has led to a notable 19 fumbles in his career. This oversight not only threatens field position but also highlights a risk factor unmatched by any other quarterback prospect for the 2024 draft.
Scouting Report: Summary
From a tape and traits perspective, Shedeur Sanders is an intriguing prospect who has begun to turn heads in NFL scouting rooms. Transitioning to Boulder has been an essential litmus test for his draft stock, and early indications suggest a trajectory pointing north. His recent outing against TCU's vaunted secondary wasn't just a display of raw talent—it was a masterclass in QB mechanics, pocket awareness, and field vision.

Against TCU, Sanders consistently demonstrated the ability to go through his progressions, making anticipatory throws and displaying touch and velocity when required. Notably, concerns over his arm strength, which were a talking point during his Jackson State days, seemed to be quelled. Sanders was driving the ball into tight windows, dropping dimes on deep routes, and effectively using his eyes to look off coverage.

His performance wasn't just an aberration or a "good day." Sanders carved up an elite NCAA defense, showcasing NFL-ready traits. His pocket poise, ability to read and react post-snap, and the innate knack to feel pressure and adjust on the fly are precisely what scouts and GMs drool over when breaking down QB film.

However, it's the intangibles, often harder to quantify, that could propel Sanders into elite draft prospect territory. His leadership, evident from his sideline interactions and on-field command, combined with an apparent high football IQ, suggests he possesses the mental makeup of an NFL signal-caller.

It's still early days, and consistency is king when it comes to scouting prospects for the next level. However, if Sanders continues to exhibit the blend of raw talent, refined QB skills, and leadership traits he's flashed so far, don't be surprised to see him not only in the Heisman conversation but also among the top of the QB boards in war rooms across the league come the 2024 NFL Draft.
How other scouting services rate Shedeur Sanders (Overall Rank)
All Scouts AverageOverall Rank
38.5
All Scouts AveragePosition Rank
7.0