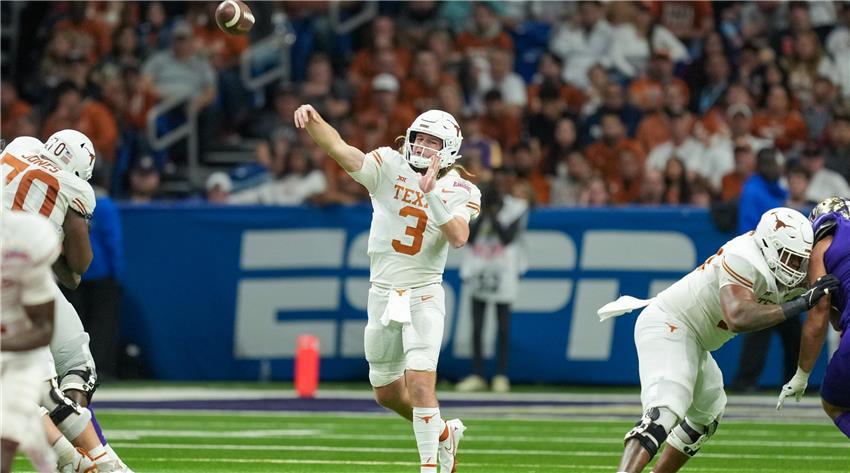 Quinn Ewers QB Texas | NFL Draft Profile & Scouting Report
Quinn Ewers QB Texas
NFL Draft Profile & Scouting Report
Last Updated:

09/10/2023

Draft Year:

2024

40 time:

4.74 seconds (69%*)

Age:

20.6

DOB:

03/15/2003

Measurables:

Height:

6-2 (33%*)

Weight:

206 (8%*)

Forty:

4.74 (O) (69%*)

(C)

- NFL Combine

(P)

- Pro Day

(O)

- Other

(HS)

-Estimated from High School Combine

For an explanation of how the (HS) data is calculated see

this article

*Percentile calculated on how any given stat would rank at the NFL combine historically in the player's position group (Higher value represents better perfomance).
Last Updated:

09/10/2023

Draft Year:

2024

40 time:

4.74 seconds (69%*)

Age:

20.6

DOB:

03/15/2003

*Percentile calculated on how any given stat would rank at the NFL combine historically in the player's position group (Higher value represents better perfomance).
Overall Rating:

90.4 / 100

Game performance weighted rating
Short Passing:

77%
Medium Passing:

83%
Long Passing:

75%
Rush/Scramble:

73%

DRAFT PROJECTION:

1st - Top 10

Overall Rank:

#9

Position rank:

#5

College Games:

14

College Snaps:

890

Grade:

ESPN RATING: 95/100

Grade:

247 RATING: 98/100

Grade:

RIVALS RATING: 6.1 (100%)
Draft Profile: Bio
Quinn Ewers, from Southlake Carroll HS, quickly cemented his status as an elite pocket passer with elite field vision. Tabbed with a blue-chip 5-star rating by both ESPN and 247Sports, Ewers initially took his talents to Ohio State before making the savvy pivot back to the Longhorns' turf. His redshirt freshman year (2022) for Texas showcased glimpses of his high ceiling — launching for 2,177 yards, punching in 15 touchdowns, and locking a 58.1% completion rate. Recognized with the honorable mention as the Big 12 Offensive Newcomer of the Year, scouts took note of his quick release, ability to read defenses post-snap, and poise in the pocket.
Under the tutelage of quarterback guru Steve Sarkisian, Ewers' trajectory is skyrocketing. Come his sophomore year in 2023, he's already on the radar with nominations for the Maxwell Award, Davey O'Brien Award, and the illustrious Johnny Unitas Golden Arm Award. His arm talent, coupled with a high football IQ, makes him a tantalizing prospect on the draft boards, with NFL scouts and GMs penciling in his matchups as must-watch tape. As the narrative around Ewers unfolds, he remains a prodigy to monitor, poised for a meteoric rise in the college football echelon.
Scouting Report: Strengths
Ewers has a natural side-arm throw that allows him to effortlessly generate strong velocity on his passes. He looks almost Mahomes'ish
Despite his youth, he showcased impressive skill by performing notably against Alabama's much-vaunted defense.
As the top-rated player and quarterback in his class, Ewers' raw talent has been acknowledged and he is set on a promising trajectory, hinting at a potential breakout season.
He holds the distinction of being the No. 1 player for the class of 2022, as per 247 Sports Composite, and his decision to reclassify and eventually return to Texas as the starting quarterback attests to his commitment and confidence in his abilities.
His passing skills have been evident in his first season with Texas, registering 2,177 yards and 15 touchdowns, signaling a great deal of inherent talent, albeit with room for refinement.
Despite facing competition, Ewers has managed to cement his position, even outpacing talents like 5-star recruit Arch Manning for the lead role in Texas.
His versatility as a passer stands out, as he can release from various arm slots, putting him in an advantageous position among his peers.
Given the upcoming stacked quarterback draft class featuring names like Caleb Williams and Drake Maye, Ewers has a challenging season ahead, which could shape his draft prospects considerably.
Ewers' poise under pressure and his ability to adapt, dodge pass rushers, and extend plays are indicative of his potential as a game-changing asset in the NFL.
Scouting Report: Weaknesses
Consistency across games has been an issue. Matches against teams like TCU and Oklahoma in 2022 highlighted lapses in ball security and decision-making.
Though he's shown considerable potential, Ewers is relatively inexperienced as a starting quarterback, which shows in his play.
His foundational footwork as a passer needs significant refinement. As his debut season progressed, irregularities in footwork became more apparent, leading to issues in timing and accuracy.
Mistakes in should-be easy completions were surprising, especially considering the potential his arm possesses.
While he's been in the limelight largely due to his recruiting reputation, Ewers' actual on-field experience is still on the lower side with less than 300 college pass attempts under his belt.
Deep throw accuracy can be erratic at times, with balls either overshooting or being slightly off-target, typical challenges for someone at his stage in development.
For Ewers to truly evolve into an elite quarter back prospect, it's crucial he tidies up his footwork, release point, and vision, which in turn will help his overall decision-making process on the field.
Scouting Report: Summary
In the scouting community, Ewers is viewed as a high-ceiling talent with raw arm strength and a natural feel for the game. Under the tutelage of QB guru Steve Sarkisian, there's a high level of interest from NFL scouts in his developmental arc. Sarkisian's system has been the crucible for first-round talents like Tua Tagovailoa and Mac Jones, and Ewers has the raw talent to be better than both.

Currently, Ewers' tape flashes first-round potential but lacks consistent polish. He's got a cannon for an arm, but his mechanics, especially footwork in the pocket, need refinement. He'll benefit immensely from the elite skill position talent returning to Texas, presenting him a golden opportunity to elevate his draft stock in high-pressure situations against top-tier defenses.

If he can marry his natural gifts with refined QB mechanics and show progression reading defenses post-snap, Ewers could skyrocket up draft boards. He's not a plug-and-play prospect right now, but with a breakout 2023 season, we could be talking about a blue-chip talent with top-10 allure in the 2024 NFL draft. The upcoming season will be his NFL audition tape, and scouts will be laser-focused.
How other scouting services rate Quinn Ewers (Overall Rank)
All Scouts AverageOverall Rank
35.3
All Scouts AveragePosition Rank
4.0