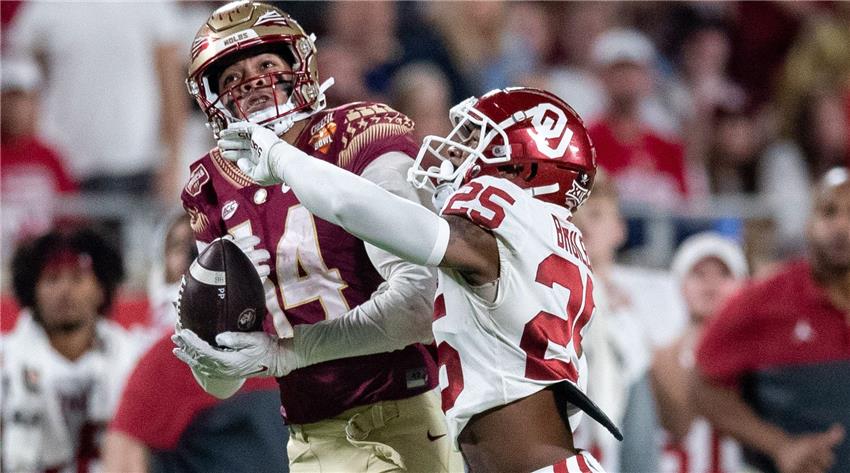 Johnny Wilson WR Florida State | NFL Draft Profile & Scouting Report
Johnny Wilson WR Florida State
NFL Draft Profile & Scouting Report
ROLE:

Outside X-Receiver

Last Updated:

11/19/2023

Draft Year:

2024

40 time:

4.42 seconds (79%*)

Measurables:

Height:

6-7 (99%*)

Weight:

237 (99%*)

Forty:

4.42 (O) (79%*)

Shuttle:

4.26 (HS) (48%*)

Vertical:

38 (HS) (82%*)

(C)

- NFL Combine

(P)

- Pro Day

(O)

- Other

(HS)

-Estimated from High School Combine

For an explanation of how the (HS) data is calculated see

this article

*Percentile calculated on how any given stat would rank at the NFL combine historically in the player's position group (Higher value represents better perfomance).
ROLE:

Outside X-Receiver

Last Updated:

11/19/2023

Draft Year:

2024

40 time:

4.42 seconds (79%*)

*Percentile calculated on how any given stat would rank at the NFL combine historically in the player's position group (Higher value represents better perfomance).
Overall Rating:

87.5 / 100

Game performance weighted rating.
Click the links below to view how player ranks vs other prospects.
QB Rating When targeted:
103.4
Hands:

58%
Short Receiving:

78%
Intermediate Routes:

85%
Deep Threat:

83%
Blocking:

75%

DRAFT PROJECTION:

1st - Mid

Overall Rank:

#24

Position rank:

#6

College Games:

29

College Snaps:

1213

Grade:

ESPN RATING: 84/100

OVR Rank:

#12

Pos Rank:

#11

State Rank:

#7

Grade:

247 RATING: 92/100

Grade:

RIVALS RATING: 5.6 (92%)
Draft Profile: Bio
Johnny Wilson, standing tall at 6-foot-7 and weighing in at 235 lbs, is a native of Calabasas, CA where he showcased his prowess on the gridiron for Calabasas High School. As a high school standout, Wilson earned 4-star recruit distinctions from both ESPN and 247 Sports. He initially set his sights on the University of Oregon but later flipped his commitment, spending his freshman and sophomore years at Arizona State. There, he garnered limited game time with stats totaling 18 receptions, one touchdown, and QB ratings when targeted at 69.1 and 50.6 for his freshman and sophomore years, respectively.

In 2022, after making the move to Florida State, Wilson's college career took a meteoric rise. Playing in 12 games, he emerged as a primary receiving threat, amassing 43 receptions for an impressive 897 yards, averaging just over 20 yards per catch. His performance culminated in five touchdown catches, and when targeted, he presented a formidable QB rating of 109.1.

Wilson's accolades for his junior year are a testament to his dominant play on the field. He was awarded Second-Team All-ACC, recognized on the Third-Team All-ACC by Phil Steele, and capped off the year by claiming the title of FSU's Offensive Newcomer of the Year. The combination of his remarkable size and unparalleled speed, exemplified by his 4.5 range in the 40-yard dash during high school and notable metrics in the 2023 offseason, has surely solidified his spot on the NFL's radar.
Scouting Report: Strengths
Elite "catch radius" with a formidable blend of frame and wingspan; capitalizes on mismatches, especially in red-zone situations.
"High-point" specialist with unmatched vertical prowess; his stride frequency paired with long strides translates to undeniable deep-ball threat capability.
Dynamic "RAC" (Run After Catch) asset; exhibits short-area burst and twitch, making him a nightmare for defenders in open space.
Elite athletic skills -- Made Bruce Feldman's 2023 'Freaks List' at number 28. He wrote: "At almost 6 feet 7, 239 pounds, he has 36-inch arms, 10 1/4 inch hands and a standing reach of 8-10. He also has a 35.5 inch vertical and a 10-5 broad jump. In games, he's topped out at 21.23 MPH with a max acceleration of 5.26 m/s and has a max deceleration of -7.21 m/s."
Balances like a "bell-cow back"; his contact balance and drive consistently see him power through arm tackles and churn extra yards.
Master of the aerial game; whether stretching the field or toe-tapping on the sideline, he shows elite spatial awareness and ball skills.
"Contested-catch" maestro; his ability to adjust mid-air, combined with his frame, makes him the go-to target on 50/50 balls.
Deceptive and agile at stem breaks; uses his overwhelming length to shed press coverage and create windows of separation.
Relentless in the blocking game; harnesses his physical gifts with an understanding of leverage, often pancaking DBs to spring big plays.
Scouting Report: Weaknesses
Challenges in achieving separation: At times, struggles against corners employing a mirror-press technique, making him dependent on contested catches.
Route refinement needed: Tends to round off routes and displays limited hip flexibility, potentially due to his larger frame.
Physical attributes could be a double-edged sword: His height makes him play too tall into stems, affecting transitions back to the ball and causing occasional push-offs.
Limited route tree: While having potential, his linear build and style somewhat restrict him beyond vertical routes.
Blocking inconsistencies: Although tenacious in blocking, he occasionally displays a lack of control which could be a liability in certain situations.
Scouting Report: Summary
In a stacked 2024 WR class, Johnny Wilson stands out not just for his sheer size but his unique blend of attributes. At 6'7" and 237 pounds, he's a behemoth on the field with the agility and prowess to back it up. Wilson's initial burst off the snap is a testament to his athleticism, and his striding capability makes him a perpetual deep threat. His ability to use his frame to outmuscle defensive backs and then continue with an aggressive run-after-catch style presents a problem for any secondary unit.

However, while his athleticism and size are unquestionable, there are elements of his game that need refining. His route running lacks the crispness expected of an elite WR due to his towering frame. This limitation may pigeonhole him to certain route concepts, restricting some of the versatility he could offer. Additionally, while he has commendable ball skills, there's inconsistency in his hand technique that needs addressing to ensure he capitalizes on every opportunity.

In terms of his NFL projection, there's no doubt that Wilson offers a rare package. He's not just a one-trick pony; he can be deployed in the slot, on the boundary, or even entertain a move to tight end. His blocking prowess also adds another dimension to his game, hinting at his potential as a hybrid offensive weapon.

Overall Wilson is an enticing prospect whose game still has room for growth. While his physical traits alone make him a mid-Day 2 target, refining his technique and expanding his route repertoire will be key to unlocking his full potential in the NFL. The league should prepare for a player ready to exploit mismatches, and it will be intriguing to see how teams tailor their schemes to accommodate this athletic anomaly. Depending on his success in 2023 he may hear his name called on day one of the 2024 NFL Draft, although currently, he looks more like a 2nd to 4th round prospect.
Johnny Wilson percentiles vs other Wide Receiver's
(NFL Combine historically - higher value represents better perfomance)
How other scouting services rate Johnny Wilson (Overall Rank)
All Scouts AverageOverall Rank
50.6
All Scouts AveragePosition Rank
10.0