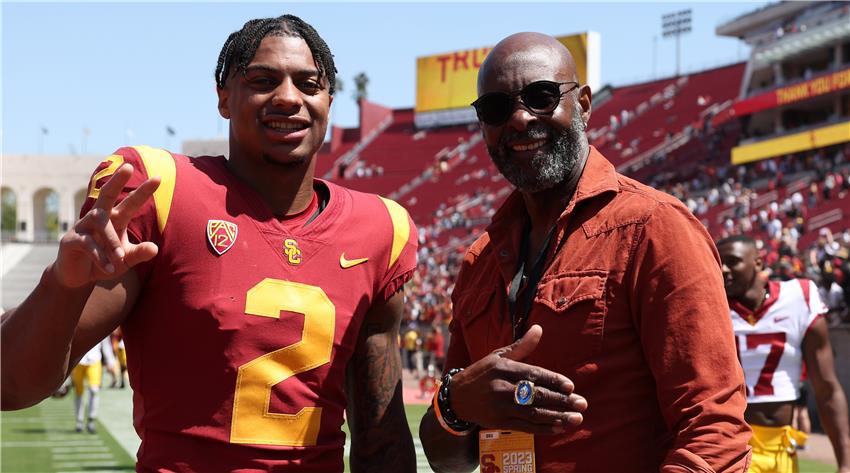 Brenden Rice WR USC | NFL Draft Profile & Scouting Report
Brenden Rice WR USC
NFL Draft Profile & Scouting Report
ROLE:

Outside X-Receiver

Last Updated:

11/19/2023

Draft Year:

2024

40 time:

4.38 seconds (88%*)

Measurables:

Height:

6-3 (79%*)

Weight:

210 (71%*)

Forty:

4.38 (O) (88%*)

(C)

- NFL Combine

(P)

- Pro Day

(O)

- Other

(HS)

-Estimated from High School Combine

For an explanation of how the (HS) data is calculated see

this article

*Percentile calculated on how any given stat would rank at the NFL combine historically in the player's position group (Higher value represents better perfomance).
ROLE:

Outside X-Receiver

Last Updated:

11/19/2023

Draft Year:

2024

40 time:

4.38 seconds (88%*)

*Percentile calculated on how any given stat would rank at the NFL combine historically in the player's position group (Higher value represents better perfomance).
Overall Rating:

84.8 / 100

Game performance weighted rating.
Click the links below to view how player ranks vs other prospects.
QB Rating When targeted:
124.5
Hands:

73%
Short Receiving:

79%
Intermediate Routes:

85%
Deep Threat:

82%
Blocking:

68%

Overall Rank:

#90

Position rank:

#17

College Games:

42

College Snaps:

1536

Grade:

ESPN RATING: 77/100

OVR Rank:

#111

Pos Rank:

#117

State Rank:

#19

Grade:

247 RATING: 89/100

Grade:

RIVALS RATING: 5.8 (95%)
Draft Profile: Bio
Brenden Rice, the son of the iconic NFL Hall of Famer, Jerry Rice, has been carving out a reputation in college football, distinct from the colossal shadow of his legendary father. Jerry's NFL career is unmatched, having set records for career receptions, receiving yards, and touchdowns, predominantly with the San Francisco 49ers.

Brenden's football journey kicked off at Hamilton High School in Chandler, Arizona. Recognized for his talent, he was designated as a 3-star recruit by both ESPN and 247 Sports. Upon graduation, Brenden committed to the University of Colorado. In his freshman year (2020), he played in limited action had, 6 receptions for 120 yards and 2 touchdowns, with an impressive average of 20.0 yards per reception and a QB rating of 68.8 when targeted.

His sophomore year at Colorado saw significant improvement. Over 11 games, he totaled 21 receptions for 299 yards, holding a 14.2 yards-per-catch average and securing 3 touchdowns. His QB rating when targeted surged to an excellent 127.0.

By 2022, Brenden transferred to USC, where his trajectory continued upward. In his junior year, over 13 games, he recorded 33 catches for 437 yards, an average of 13.2 yards per catch, and scored 2 touchdowns. His QB rating when targeted was a solid 93.0.

Apart from football, Brenden's athleticism shone on the track. During his high school years, he posted an impressive 10.78-second time in the 100 meters.
Scouting Report: Strengths
Made Bruce Feldman's Freaks List at #53. He said, "...the biggest Freak of the bunch is the one with the heftiest football bloodlines, Brenden Rice, son of the greatest receiver ever, Jerry Rice. The younger Rice, who had 39 catches for 611 yards (15.7-yard average) and four touchdowns in 2022, is 6-3, 215 pounds and hit 23 MPH on the GPS and had an impressive 1.43 10-yard split. This offseason, Rice also vertical-jumped 38 inches, did 17 reps of 225 on the bench and squatted 525 for three reps."
Utilizes his outstanding length and "alpha dog" mentality on 50/50 balls, and displays an expansive catch radius.
Despite his tall frame, showcases rare suddenness and burst off the LOS, presenting challenges for DBs during route transitions.
Flaunts high-caliber boundary awareness and body control; often seen toe-tapping or making leaping grabs near the sidelines.
A natural hands catcher, he consistently high-points the ball, diminishing a defender's chance to break up the play in tight windows.
While not just a vertical threat due to his impressive top-end speed, he's a YAC monster, showing elusiveness post-catch in open fields.
Brings versatility to special teams; his kick and punt return prowess at Colorado underscores his multidimensional skill set.
A proven clutch player with big-game DNA; consistently elevates his play in high-stakes situations like Tulane and Oregon outings.
Scouting Report: Weaknesses
While blessed with a sizeable frame, he struggles to consistently play through contact, particularly on contested routes.
Despite being listed at 215 pounds, his somewhat slender build may be a concern when matching up with more physical corners.
Has a tendency to overcomplicate releases, often "dancing" at the line rather than immediately establishing his route.
Production metrics are volatile; needs to showcase consistent weekly output rather than sporadic big-game bursts.
Scouting Report: Summary
Hailing from a lineage of football royalty, Brenden Rice showcases a nice mix of size, speed, and on-the-field acumen. At 6-3, 215 pounds, he's the prototype for an NFL X-receiver. With natural hands, he's demonstrated the ability to pluck balls out of the air, and his field vision allows him to turn upfield and eat yards after the catch.

His membership of Bruce Feldman's Freaks List isn't by chance; it's a testament to his explosive off-the-line burst, evidenced by his notable 1.43 10-yard split. Scouts have been buzzing about his agility and ability to create separation, although there are murmurs about refining his route tree and high-pointing ability against more physical DBs.

Rice has all the raw tools that are required for the position. While he needs to polish some technical aspects of his game, his ceiling is high. 2023 will be massive for Rice - with a quality year at USC, he has the potential to get the attention of scouts. Currently, he's not being talked about as a top-level draftable pro player - but come around April 2024 don't be surprised if he's in the mix.
How other scouting services rate Brenden Rice (Overall Rank)
All Scouts AverageOverall Rank
112.3
All Scouts AveragePosition Rank
20.0