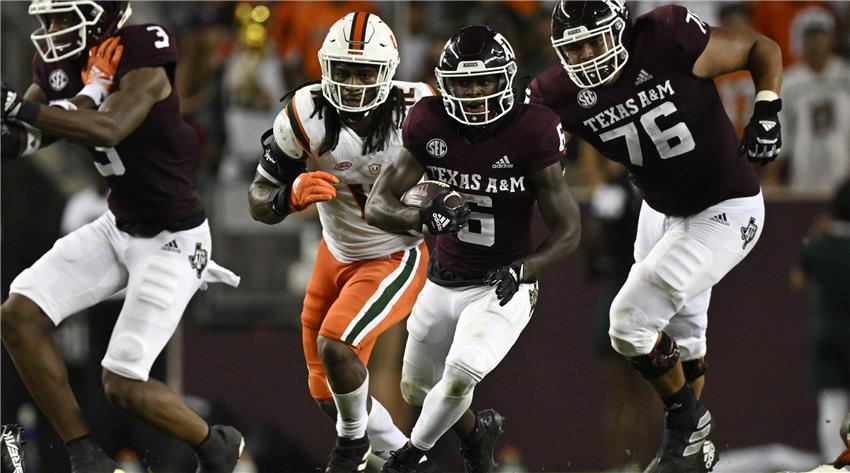 Devon Achane RB Texas A&M | NFL Draft Profile & Scouting Report
Devon Achane RB Texas A&M
NFL Draft Profile & Scouting Report
Last Updated:

04/28/2023

Draft Year:

2023

40 time:

4.32 seconds (98%*)

Age:

21.7

DOB:

10/13/2001

Measurables:

Height:

5-8 (8%*)

Weight:

188 (3%*)

Hands:

8 1/2 (12%*)

Arm:

29 (11%*)

Span:

69 1/8 (1%*)

Forty:

4.32 (C) (98%*)

Shuttle:

4.36 (P) (27%*)

Ten Yard:

1.51 (C) (90%*)

Vertical:

33 (C) (31%*)

Broad:

111 (P) (10%*)

Three Cone:

7.05 (P) (52%*)

Bench:

DNP

(C)

- NFL Combine

(P)

- Pro Day

(O)

- Other

(HS)

-Estimated from High School Combine

For an explanation of how the (HS) data is calculated see

this article

*Percentile calculated on how any given stat would rank at the NFL combine historically in the player's position group (Higher value represents better perfomance).
Last Updated:

04/28/2023

Draft Year:

2023

40 time:

4.32 seconds (98%*)

Age:

21.7

DOB:

10/13/2001

*Percentile calculated on how any given stat would rank at the NFL combine historically in the player's position group (Higher value represents better perfomance).
Overall Rating:

86.2 / 100

Game performance weighted rating
Rushing:

91%
Break Tackles:

79%
Receiving/Hands:

65%
Pass Blocking:

30%
Run Blocking:

57%

DRAFT PROJECTION:

2nd - Late

Overall Rank:

#51

Position rank:

#3

College Games:

30

College Snaps:

1032

Grade:

ESPN RATING: 82/100

OVR Rank:

#200

Pos Rank:

#13

Grade:

247 RATING: 96/100

Ovr Rank:

#55

Pos Rank:

#1

Grade:

RIVALS RATING: 5.8 (95%)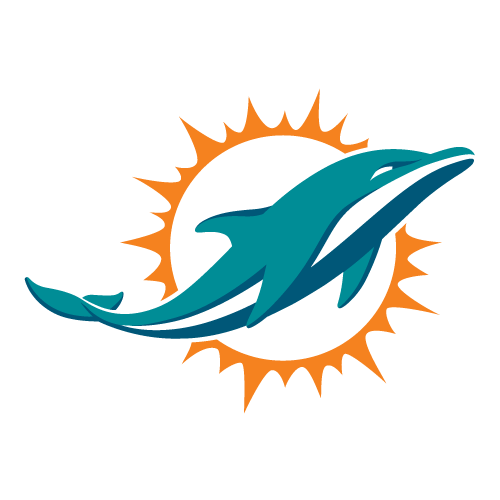 Drafted: ROUND: 3 - Pick Number: 84 (MIA)
Draft Profile: Bio
Devon Achane from Fort Bend Marshall High School was both a track and football star and finished his school career with 4,823 yards and 88 touchdowns on the ground and added 96 receptions for 2,004 yards and 22 scores in the air. Scouting services took notice and rated him a 4-star recruit by ESPN and a 4-star grade from 247 Sports. Following high school, Achane joined Texas A&M after being massively recruited by the biggest teams in football.

In 2020 as a freshman Achane saw action in 8 games for the Aggies as he ran for a 364 yards on 43 attempts for an elite 8.5 yards per carry, with 4 TDs, with no fumbles. As a receiver he made just 5 receptions for 97 yards.

As a sophomore in 2021 he played 12 games. and rushed for a 885 yards on 130 carries for an elite 6.8 ypc, with 9 TDs, with a fumble. In the passing game he pulled in a 24 receptions for 261 yards.

In 2022 as a junior Achane saw action in 10 games for the Aggies. He ran for 1100 yards on 196 attempts for an impressive 5.6 ypc, with 8 TDs, with one fumble. As a receiver he made a 36 receptions for 196 yards.

In addition to Achane's rushing and receiving stats he also added 20 kick returns for an average of 31.1 and 2 TDS over the final two years of paly.
Honors & awards
2022 All-SEC First-Team Running Back
2022 All-SEC First-Team All-Purpose Player
2022 AP All-SEC Second-Team Running Back
2022 Earl Campbell Tyler Rose Award Semifinalist
2022 Phill Steele First-Team SEC Running Back
2022 Phill Steele Honorable Mention All-American
High School - Was named the 2019 Touchdown Club of Houston Offensive Player of the Year
Track and Field -Texas A&M All-Time Top-12 Performer List
#3 Indoor 60m - 6.63 (2/12/22)
#4 Outdoor 200m - 20.20 (4/2/22)
#9 Outdoor 100m - 10.14 (3/25/22)
NCAA Championships
2022 Honorable Mention 100m - 10.48 (24th)
2021 First Team All-American 4x100m - 39.13 (7th)
2021 Second Team All-American 100m - 10.22 (11th)
2021 Second Team All-American 200m - 20.73 (14th)
Scouting Report: Strengths
Elusive, pogo stick-quick back with excellent initial burst and very good long speed. Gets to top speed quickly. Turns the corner and accelerates smoothly with vision to cut or stop-and-start. Tough enough to attack the hole inside and uses electric lateral agility to avoid. Breakaway threat has improved as a receiver.
Made Bruce Feldman's Freak's List - ranked #35. He wrote, "Arguably the fastest man in college football, the 5-9, 185-pound junior has big-time track credentials. He's run a 10.02 personal best in the 100, although that was a wind-aided time. He's also run a 10.14 100 that was legal with a 1.8 mph wind, which ranks as the 10th-fastest time in A&M history. He's also clocked a 20.20 200-meter time. Achane showed that dazzling speed when he took a kickoff back 96 yards midway through the third quarter in the win over No. 1 Alabama to help him average a robust 33.4 yards per return on the season."
Archane isn't just about speed - he quickly identifies running lanes and explodes through them. Has the patience to wait until a hole opens and doesn't overrun his blockers
Is more solid than you would expect between the tackles - drops his shoulders and keeps his legs moving
Has solid soft hands and is a decent threat out of the backfield as a receiver
His initial burst is excellent, and he's capable of running out of a traditional setup or taking the ball lined up next to a quarterback in shotgun.
Is an electrifying player, one of college football's best playmakers in space
Cuts on a dime with lightning-fast feet and the quick-twitch explosion of an Olympic sprinter out of the block. Very good vision.
His competitiveness and knack for high-pointing the ball allow him to play bigger than his size.
Achane accelerates 0-to-60 and hits top speed fast enough to outrun angles. He's also flexible and agile, able to keep the pedal to the floor as he turns and weaves.
Offers a lot as a kick returner - took 10 percent of his college returns back for TDs
Scouting Report: Weaknesses
The biggest knock on Achane is an obvious one - he's just 5-9 and weighs in at 185lbs - without much scope to get heavier
As a runner, Achane too often looks to bounce outside and make the big play, rather than pick his way through traffic.
Does most of his work on the perimeter — and ran a lot of fly sweeps
Teams will likely look at him as not a three-down player - his size may limit him holding up for a full 17-game season in the NFL
Doesn't have the power to break tackles and will usually go down with the first contact
Offers very little in pass protection and poor technique cut blocking, fails to do much to slow down blitzers
Scouting Report: Summary
Devon Achane is a special player who could be the fastest player in all of college football - his combine forty will be fun to watch!
In addition to pure speed and jitterbug quickness, he is also an impressive natural runner with outstanding instincts for the game and in 2022 proved he could hold up under a heavy workload as he notched up 1100 YDs including a huge season-ending performance VS LSU.

We can't however overlook his small stature and some scouts may view him as a complementary player who will likely need to be partnered up with a bigger back. Despite these reservations, if Achane falls out of the second round of the draft it will be a major injustice as he has the ability to provide an instant upgrade to a pro offense.
Devon Achane percentiles vs other Running Back's
(NFL Combine historically - higher value represents better perfomance)
Devon Achane Three Minute Video Review
Courtesy of NFL Draft Buzz contributor Steven Wright
How other scouting services rate Devon Achane (Overall Rank)
All Scouts AverageOverall Rank
63.4
All Scouts AveragePosition Rank
4.0