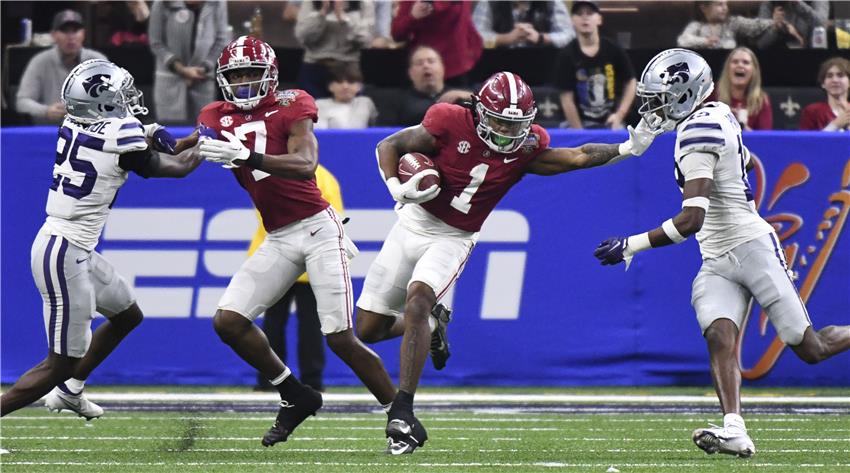 Jahmyr Gibbs RB Alabama | NFL Draft Profile & Scouting Report
Jahmyr Gibbs RB Alabama
NFL Draft Profile & Scouting Report
Last Updated:

04/22/2023

Draft Year:

2023

40 time:

4.36 seconds (96%*)

Age:

21.2

DOB:

03/20/2002

Measurables:

Height:

5-9 (19%*)

Weight:

199 (15%*)

Hands:

9 1/4 (49%*)

Arm:

30 1/2 (39%*)

Span:

74 1/8 (46%*)

Forty:

4.36 (C) (96%*)

Ten Yard:

1.52 (C) (87%*)

Vertical:

33.5 (C) (37%*)

(C)

- NFL Combine

(P)

- Pro Day

(O)

- Other

(HS)

-Estimated from High School Combine

For an explanation of how the (HS) data is calculated see

this article

*Percentile calculated on how any given stat would rank at the NFL combine historically in the player's position group (Higher value represents better perfomance).
Last Updated:

04/22/2023

Draft Year:

2023

40 time:

4.36 seconds (96%*)

Age:

21.2

DOB:

03/20/2002

*Percentile calculated on how any given stat would rank at the NFL combine historically in the player's position group (Higher value represents better perfomance).
Overall Rating:

87.5 / 100

Game performance weighted rating
Rushing:

88%
Break Tackles:

74%
Receiving/Hands:

85%
Pass Blocking:

32%
Run Blocking:

60%

DRAFT PROJECTION:

1st - Late

Overall Rank:

#29

Position rank:

#2

College Games:

30

College Snaps:

1098

Grade:

ESPN RATING: 82/100

Grade:

247 RATING: 97/100

Grade:

RIVALS RATING: 5.9 (97%)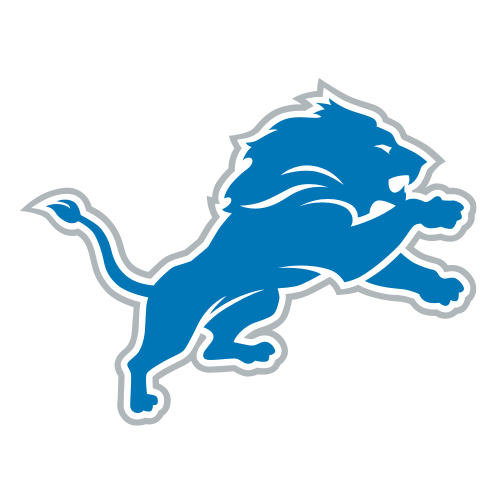 Drafted: ROUND: 1 - Pick Number: 12 (DET)
Draft Profile: Bio
Jahmyr Gibbs attended Dalton High School in Dalton, Georgia, where he would earn a 4-star recruit pedigree. Ranked as the 4th ranked RB in the nation's recruiting class and 44th ranked overall prospect respectively.
He was a multi-sport athlete taking on basketball as well as football. In addition to playing multiple sports, he also lined up in WR sets.
In his Sophomore year at Dalton, he was thrown into the starting role amassing 897 yards rushing on 134 attempts averaging 6.7 yards a carry boasting 11 total touchdowns. He quickly progressed in his Junior year picking up 1431 rushing yards on 163 attempts averaging 8.8 yards a carry alongside 22 total touchdowns.
In his Senior year he exploded for 2554 yards rushing on 233 attempts averaging an immaculate 11 yards per carry, this stat line would be complemented by 40 touchdowns. Over the course of his three years at Dalton High School he had only one fumble.

After receiving offers from high-profile schools including Southern Cal, Ole Miss, Alabama, Ohio State, Florida State, Texas, LSU, and Florida. Gibbs ultimately enrolled at Georgia Tech.

In his first year at Georgia Tech, he rushed 89 times for 460 yards and 4 touchdowns. He also caught 24 passes for 303 yards and 3 touchdowns over 7 games. In his sophomore campaign, he rushed 143 times for 746 yards alongside 4 rushing touchdowns. He would gain 465 yards through the air on 35 receptions with two touchdowns over 12 games.

After his first two seasons as a Georgia Tech Yellow Jacket, Gibbs elected to enter the transfer portal. When entering the transfer portal, Gibbs had the highest PFF receiving grade of any RB (91.5). As we know, players in this position often just pay lip service when the media asks for reasons. You can judge for yourself, but Gibbs answered it like this.
"I think it was the best opportunity for me to better myself. No knock on my old teammates, I love them, still talk to them every day, they're a great group of guys, but I made the best decision for me."
Less than a month after he entered the portal, he would become a part of the Alabama Crimson Tide where as a junior Gibbs saw action in 11 games. He ran for an impressive 850 yards on 136 attempts for an elite 6.3 ypc, with 7 TDs, with no fumbles. As a receiver, he made a decent 42 receptions for 378 yards.
Honors & awards
Mr. Georgia Award (2019)
Sports Illustrated All-American (2019)
Second Team All-American 2021
First-Team All-ACC 2021
Named a finalist for the Paul Hornung Award November 10th, 2022
Leads all RBs in forced missed tackles on receptions (18)
Doak Walker Award's National RB of the Week after performance against Arkansas (Career high 206 yards rushing on 18 carries tying Najee Harris's record for most rushing yards by an Alabama RB in a single game)
SEC Player of the Week against Arkansas
Semifinalist for the Maxwell Award
5th highest-ranked recruit in Georgia Tech history
Member of the ACC Honor Roll
Dixie Howell Award
Scouting Report: Strengths
Best skill set of any RB in this class, will truly fit into any scheme
Great pass catcher with a more advanced route tree than would be expected of a RB
Strength to complement a power-back rushing attack if need be
Electric speed allowing him to easily burn tacklers on corners
Has the vision and confidence to hit holes without second thought
Will only be twenty-one years old by the time he is drafted leaving ample time for his prime years
Possess fluidity as a runner, can stop on a dime or turn on the jets at will
Has been clocked at 22.3 MPH on one of his 70+ yard touchdowns
Scouting Report: Weaknesses
Pass blocking leaves much to be desired
Has less weight than expected of a power back, if he is adopted into an offense that uses him as a bell-cow, he would need to add muscle to compete with NFL defensive lines.
Player Comparison
Faster Deebo Samuel
Scouting Report: Summary
Gibbs is an extremely talented runner and one of the most malleable talents the league has seen in a long time. It is rare to see a RB who possesses both elite pass-catching ability and bell cow power back prowess. Gibbs can truly fit in with any offense in the NFL run heavy or pass heavy and be a coveted asset.

His pass blocking is below average at best but not due to lack of effort. With the time he spends perfecting his running abilities and pass-catching it is easy to imagine that not much time remains to work on blocking.

At a school like Alabama with such a deep roster, on pass blocking plays he is typically taken out of the formation for another player designed for pass blocking. He will not have this luxury on the NFL stage. Expect coaches to mold him into a formidable blocker during training camp and his first offseason. With a talented offensive coordinator and staff, Gibbs will become the "do it all player" of his offense.


Jahmyr Gibbs percentiles vs other Running Back's
(NFL Combine historically - higher value represents better perfomance)
Update - 04/22/2023
At the combine, Gibbs 4.36-second 40 confirmed showcased his straight-line speed, and his fluid movement during position drills was outstanding. Gibbs hands looked very good in the receiving drills.
How other scouting services rate Jahmyr Gibbs (Overall Rank)
All Scouts AverageOverall Rank
26.3
All Scouts AveragePosition Rank
2.0