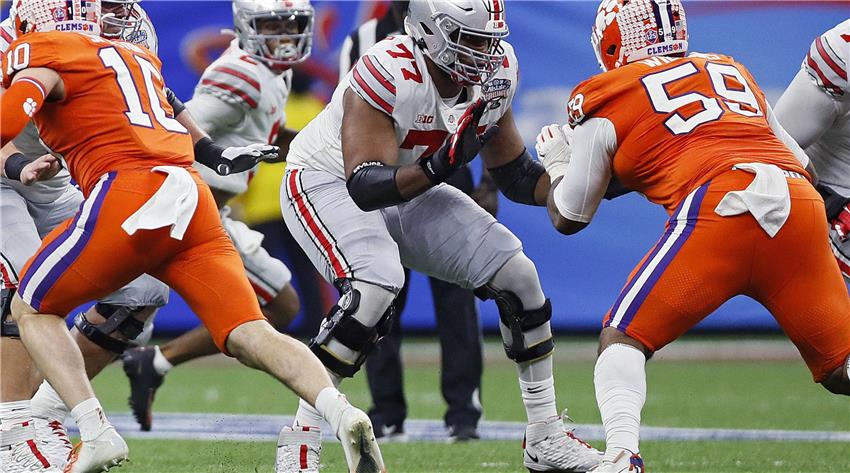 Paris Johnson Jr. OT Ohio State | NFL Draft Profile & Scouting Report
Paris Johnson Jr. OT Ohio State
NFL Draft Profile & Scouting Report
SUB-POSITION:

Multi-role OL

Last Updated:

04/21/2023

Draft Year:

2023

40 time:

5.05 seconds (87%*)

Age:

22.5

DOB:

07/03/2001

Measurables:

Height:

6-6 (56%*)

Weight:

313 (43%*)

Hands:

9 1/2 (24%*)

Arm:

36 1/8 (92%*)

Span:

85 1/8 (100%*)

Forty:

5.05 (O) (87%*)

Vertical:

DNP

Broad:

110 (C) (86%*)

Three Cone:

DNP

Bench:

29 (C) (82%*)

(C)

- NFL Combine

(P)

- Pro Day

(O)

- Other

(HS)

-Estimated from High School Combine

For an explanation of how the (HS) data is calculated see

this article

*Percentile calculated on how any given stat would rank at the NFL combine historically in the player's position group (Higher value represents better perfomance).
SUB-POSITION:

Multi-role OL

Last Updated:

04/21/2023

Draft Year:

2023

40 time:

5.05 seconds (87%*)

Age:

22.5

DOB:

07/03/2001

*Percentile calculated on how any given stat would rank at the NFL combine historically in the player's position group (Higher value represents better perfomance).
Overall Rating:

88.6 / 100

Game performance weighted rating.
Click the links below to view how player ranks vs other prospects.
Pass Blocking:

84%
Run Blocking:

92%

DRAFT PROJECTION:

1st - Mid

Overall Rank:

#16

Position rank:

#2

College Games:

29

College Snaps:

1551

Grade:

ESPN RATING: 90/100

OVR Rank:

#11

Pos Rank:

#2

Grade:

247 RATING: 99/100

Ovr Rank:

#8

Pos Rank:

#1

Grade:

RIVALS RATING: 6.1 (100%)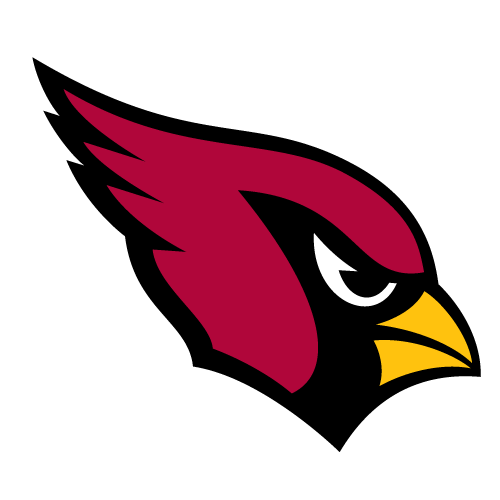 Drafted: ROUND: 1 - Pick Number: 6 (ARI)
Draft Profile: Bio
Paris Johnson Jr. from Princeton High School was rated a 5-star recruit by ESPN and also handed a 5-star grade by 247 Sports. After high school, Johnson Jr. opted to join Ohio State after .

In 2020 as a freshman Johnson Jr. saw action in just 4 games and played a total of 26 snaps for the Buckeyes.

As a sophomore in 2021 he won the starting job and played in 13 games, conceding 13 QB hurries, a QB hit, and didn't give up a sack while playing right guard.

In 2022 as a junior Johnson Jr. switched to left tackle where he saw action in 12 games and totaled 757 snaps. He gave up 9 QB hurries, no QB hits, and two sacks while playing at left tackle.
Honors & awards
Rotary Lombardi Award semifinalist
Anchor of OL line that is sixth nationally in fewest TFLs allowed (37; only 7 sacks allowed)
His Paris Johnson Jr. Foundation was named Armed Forces Merit Award winner.
Has started 23 consecutive games dating back to the start of the 2021 season
Received both the Anthony Munoz Lineman of the Year and All-American Bowl's Man of the Year awards
2021: Second-team all-Big Ten (coaches); OSU Scholar-Athlete; Academic All-Big Ten
Is a two-time OSU Scholar-Athlete who is majoring in journalism
Played in five games as a true freshman, mostly at guard, including in the CFP championship game against Alabama
In 2021, helped Ohio State's offense rank No. 1 in the nation in total offense (561.5) and scoring offense (45/7
Earned second-team all-Big Ten honors in 2021 by the conference coaches, third-team by the media
The No. 7-ranked player overall in the class of 2020 by 247Sports and the nation's No. 1 tackle
Princeton's offensive MVP in 2019
Twice named a MaxPreps High School All-American
Two-time OHSAA first-team All-Ohio selection
Scouting Report: Strengths
Super smart academically - who is a natural leader both on the field and in the locker room
Finishes and doesn't quit; competitor with a positive attitude and leadership traits that coaches admire.
Fires off the snap quickly, and Johnson shows the flexibility to get out and seal on reach blocks. He's at his best, however, in the phone booth.
Johnson flashes power and nastiness in the run game, able to win at the point of attack and athletic enough to get out as a pulling blocker before landing blocks on the move at the second level.
Plays with appropriate wide base and intelligence, instincts, and agility to seal the edge. Aggressive extending with power to punch and looks comfortable in space.
Has a strong, flexible core, and the ability to absorb and anchor against the bull rush as a pass protector.
Has Improved footwork and hand placement significantly during college career showing ability to be coached
Has an impressive understanding of stunts and delayed blitzs
Five-star recruit with elite athleticism and movement skills - has the foot speed to stay with the best edge rushers
Power to move opponents in the run game
Reliable and consistent grip and core strength
Outstanding lateral agility and athleticism to mirror defenders
Scouting Report: Weaknesses
Sometimes looks a bit underpowered in the run game when it comes to generating movement at the point of attack, and we've seen him struggle to recalibrate at the second level against moving bodies.
Height can be a detriment in short-yardage, the defender can get under his pads to hold the line.
All too often Johnson simply gets too impatient to sit back in his set, reaching and lunging and generally playing with poor balance.
Lets pass rushers get into his body, catching them rather than using his considerable length to deliver a punch. Johnson is going to have some difficulty if he's asked to block on an island early on.
Lacks experience as a tackle having played just a single year there
Lunges into blocks and often looks unbalanced - needs to improve his weight distribution
Ducks his head, effectively going in blind
Needs to improve the angles, too often allows rushers to beat him inside
Currently he's a much better run blocker than pass protector - needs development
Player Comparison
Charles Cross
Scouting Report: Summary
Former five-star recruit Johnson Jr. is an impressive physical prospect and he brings all the athleticism you could to his game. He's a top-level prospect with sky-high potential, although thus far in his time with the Buckeyes, he's displayed consistently elite run blocking while his pass protection skills have merely been decent.

Johnson will likely be picked in the first half of the first round, but will likely take time to develop into a solid NFL pass blocker.
Paris Johnson Jr. percentiles vs other Offensive Tackle's
(NFL Combine historically - higher value represents better perfomance)
Paris Johnson Jr. Three Minute Video Review
Courtesy of NFL Draft Buzz contributor Steven Wright
How other scouting services rate Paris Johnson Jr. (Overall Rank)
All Scouts AverageOverall Rank
12.5
All Scouts AveragePosition Rank
2.0