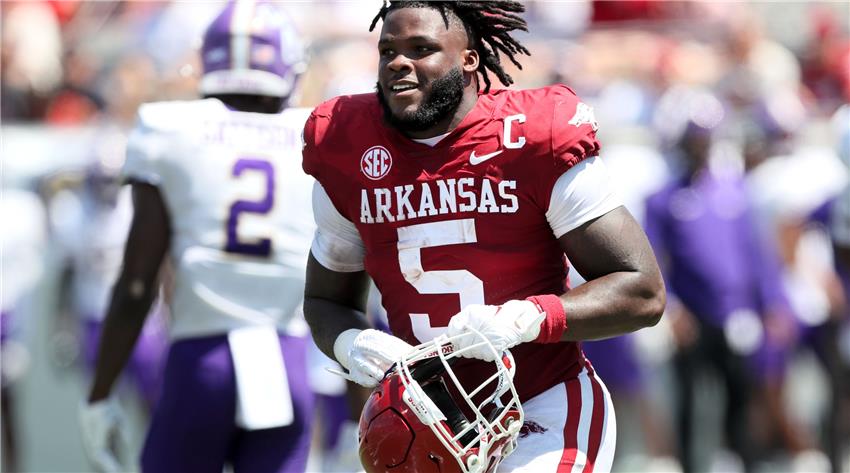 Raheim Sanders RB Arkansas | NFL Draft Profile & Scouting Report
Raheim Sanders RB Arkansas
NFL Draft Profile & Scouting Report
Last Updated:

09/15/2023

Draft Year:

2024

40 time:

4.44 seconds (86%*)

Age:

21.3

DOB:

06/08/2002

Measurables:

Height:

6-2 (96%*)

Weight:

227 (84%*)

Forty:

4.44 (O) (86%*)

(C)

- NFL Combine

(P)

- Pro Day

(O)

- Other

(HS)

-Estimated from High School Combine

For an explanation of how the (HS) data is calculated see

this article

*Percentile calculated on how any given stat would rank at the NFL combine historically in the player's position group (Higher value represents better perfomance).
Last Updated:

09/15/2023

Draft Year:

2024

40 time:

4.44 seconds (86%*)

Age:

21.3

DOB:

06/08/2002

*Percentile calculated on how any given stat would rank at the NFL combine historically in the player's position group (Higher value represents better perfomance).
Overall Rating:

87.5 / 100

Game performance weighted rating
Rushing:

87%
Break Tackles:

63%
Receiving/Hands:

66%
Pass Blocking:

49%
Run Blocking:

56%

DRAFT PROJECTION:

1st - Late

Overall Rank:

#29

Position rank:

#1

College Games:

27

College Snaps:

899

Grade:

ESPN RATING: 78/100

Grade:

247 RATING: 93/100

Grade:

RIVALS RATING: 5.8 (95%)
Draft Profile: Bio
Raheim "Rocket" Sanders, born June 8th, 2002, in Rockledge, FL, launched his gridiron journey at Rockledge High School under head coach Wayne Younger. Sanders showcased versatility and athleticism not only on the football field, playing running back, wide receiver, and linebacker, but also as a three-sport star; he was formidable on the basketball court and showcased his speed on the track, running the 100m dash. However, football was where he truly shined, earning a 4-star recruit status by 247 Sports. With interest from football powerhouses like Florida State, Auburn, and Oklahoma, Sanders ultimately committed to Arkansas, enrolling in January 2021.

In his freshman year (2021) with the Razorbacks, Sanders made a noticeable impact. He participated in 13 games, recording a respectable 578 yards on 114 carries, boasting a 5.1 yards per carry average, and found the end zone 5 times. As a receiver, he chalked up 11 receptions for 109 yards. This performance secured him the 2021 SEC All-Freshman honors by the coaches. By 2022, Sanders was a force to be reckoned with. He started in 12 games, amassing an impressive 1,449 yards on 221 attempts, yielding an outstanding average of 6.6 yards per carry, and punching in 10 touchdowns. His hands also proved valuable in the passing game, snagging 27 passes for 248 yards.

Aside from his on-the-field prowess, Sanders' athletic portfolio is studded with accolades. He was named to the 2022 Doak Walker Award preseason watch list, hinting at his rising stock in the college football world. That same year, he received the Second-Team All-SEC honors. Standing at 6-foot-2 and weighing in at 235 lbs, Sanders' physical attributes, combined with his on-field production and potential, make him an intriguing prospect for the next level.
Scouting Report: Strengths
Boasts a dominant frame, using size to overpower smaller opposition with ease. The nickname "Rocket" is fitting due to explosive open-field runs.
Distinctive running approach keeps defenders guessing, making it challenging for them to anticipate his moves.
Despite his size, showcases surprising agility, especially in tight spaces; has the ability to capture edges swiftly without much buildup.
Stands out with superior contact balance, driving his lower body effectively upon contact, ensuring he often falls forward.
Blends patience with decisiveness at the LOS; adept at spotting and exploiting cutback lanes in zone schemes.
Employs a potent combination of vision and burst, allowing him to pierce through the line of scrimmage and rapidly ascend upfield.
In the receiving game, displays natural hands and a strong ability to adjust to off-target passes.
Consistently resists being taken down, both at the line of scrimmage and in open space, due to exceptional contact balance and powerful leg drive.
Scouting Report: Weaknesses
Lacks the nimbleness to consistently string together multiple elusive moves; lateral agility in tight spaces needs refinement.
Pass-catching utility is limited to simpler tasks; can't reliably be deployed out wide or in the slot due to underdeveloped route-running skills.
Has shown tendencies to gravitate towards unwarranted contact, foregoing open running lanes, which increases risk of unnecessary wear and tear.
Ball security issues have surfaced; with multiple fumbles in recent seasons, ensuring a consistent grip on the football is critical for his NFL transition.
Scouting Report: Summary
Raheim Sanders is quickly making waves as a top-tier RB prospect, flashing a tantalizing combination of downhill power and big-play ability. This kid runs behind his pads, showing a knack for shrugging off initial tacklers, akin to how Derrick Henry asserts his dominance on Sundays. His early exit from the AutoZone Liberty Bowl certainly raised eyebrows; durability is always a premium, especially when you're talking about a bell-cow back in the NFL trenches.

Jefferson's presence on the field, with that dual-threat capability, undeniably puts defenses on their heels, creating those additional gaps. This gives Sanders those split-second advantages, and he capitalizes - hitting the hole hard and often turning would-be tacklers into mere speed bumps. But in the NFL, where it's all about setting the tone and establishing field position, Sanders needs to consistently flip the field. He's got the explosive traits that front offices drool over, especially for zone schemes. But the tape also suggests he's more than just a one-cut runner; he's got the juice to turn the corner and break off chunk plays.

When you pop on the film, Sanders jumps out as an every-down back, boasting a well-rounded skill set that's becoming a rarity in the college ranks. His vision, power, and burst put him in that elite conversation. But it's not just about the highlight reel; the kid's motor runs hot, and he's shown he can handle a workhorse load, crossing that 250-touch benchmark. NFL teams in need of a ground game spark will have him high on their board. As it stands, Sanders has all the makings of a late first-round selection, but as scouts know, his stock will be largely influenced by his performance in the 2023 college season. Teams will be tuned in keenly to see if he can elevate his game even further ahead of the 2024 NFL Draft.
How other scouting services rate Raheim Sanders (Overall Rank)
All Scouts AverageOverall Rank
43.8
All Scouts AveragePosition Rank
2.0