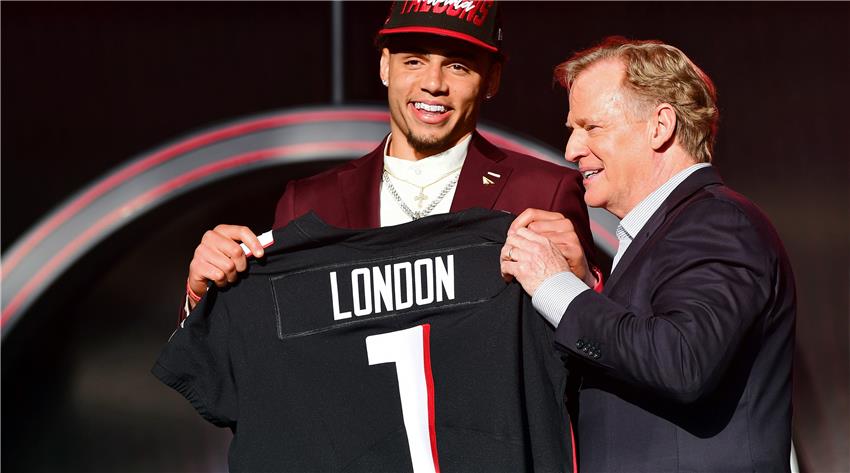 Rookies who could make an NFL impact come the 2022 season

NFL fans and pundits have had a few weeks to assess the 2022 Draft, but it won't be until the real action starts that we will begin to see which teams drafted wisely and which did not.
For fans, bettors, and bookmakers, a key part of
early Super Bowl analysis
is to assess the impact of the newcomers, from those who grabbed the Draft headlines, to those who went under the radar. The impact that a draftee can have will depend on many factors, including opportunity, fitness and how well a team plays, but here are some of the most likely new players who might make a splash in 2022.
The Falcons' first-round pick, Drake London recorded an impressive 88 catches with seven touchdowns and 1,084 yards in only eight games with USC last year. When you bear in mind that the seven other wide receivers currently on the Atlanta roster produced only 945 yards and five touchdowns between them last season, it is clear that London will have a great chance of making an impact as he will slot straight into the first-choice lineup and could quickly become the go-to offensive option.
The Baltimore Ravens are not known for throwing rookies straight into the starting lineup, but they are likely to do just that with Tyler Linderbaum, who will be in line to start as center in the first week, according to Ravens' head coach John Harbaugh at least. The Ravens are a run-dominant team and that will suit Linderbaum perfectly, given his success as a run blocker with Iowa. An intelligent and gifted player, it is likely that he won't take long to adapt to life in the NFL.
Cook
was not the Bills' first choice, but after having failed to add J D McKissic through free agency, they opted for Cook in the Draft, and that could turn out to be a smart move. An excellent pass catcher with tremendous speed, he is likely to be part of the Bills' offensive schemes from the start of the season. His speed will surely pose plenty of problems for safeties and linebackers throughout the NFL, and it will be fascinating to see how he links up with Josh Allen in the Bills' plans.
With both Bradley Chubb and Randy Gregory likely to spend a fair amount of time on the sidelines, there should be ample opportunity for Nik Bonitto to show what he can do. General Manager George Paton has talked about the plan to create 'waves' of pass rushing and that will mean Bonitto will have lots of work to do to take down some of the top quarterbacks in the West. Although he was only the 64th pick overall in the Draft, it is not hard to see him gaining his share of sacks this season.
The Chiefs were sluggish in the pass rushing department last season and that means George Karlaftis could have plenty of opportunities this year. It is likely that he will be a starter, along with Frank Clark. Given that Chris Jones will be applying pressure from inside, Karlaftis will have license to try to succeed in one-on-one confrontations thanks to his strength and relentless focus on chasing down opposing quarterbacks. He could be good for as many as 10 sacks this season.
Another rookie who is set to be an immediate starter, Zion Johnson will be a regular at right guard. A solid pass protector, he will play a major role in the task of clearing the pocket, as well as making a contribution in the running game. Last season, the Chargers were ineffective at running the ball on the right-hand side, instead relying on the left-side trio to do most of the work, particularly when protecting leads, which made them all too predictable. Johnson could therefore add a new dimension to the Charger's rush attack.
The New York Giants have not had a top-class pass rusher since they traded Jason Pierre-Paul back in 2018, so there is considerable excitement about the arrival of No. 5 pick Kayvon Thibodeaux. He is likely to be a key part of Don Martindale's aggressive defense right from the start.
Ahmad 'Sauce' Gardner is likely to go straight into the Jets' starting lineup as the opposite cornerback to DJ Reed. Given that divisional rivals the Bills and Dolphins have both added plenty of receiving talent, Gardner is likely to be busy this season. Given that he didn't allow even one touchdown in coverage when he was in college, he could be a huge presence in the AFC East.