Kyren Williams RB Notre Dame | NFL Draft Profile & Scouting Report
Kyren Williams RB Notre Dame
NFL Draft Profile & Scouting Report
Last Updated:

03/07/2022

Draft Year:

2022

40 time:

4.65 seconds (22%*)

Age:

22.9

DOB:

08/26/2000

Measurables:

Height:

5-9 (19%*)

Weight:

194 (8%*)

Hands:

9 (35%*)

Arm:

28 5/8 (7%*)

Span:

70 1/8 (3%*)

Forty:

4.65 (C) (22%*)

Shuttle:

4.19 (P) (69%*)

Ten Yard:

1.62 (C) (33%*)

Vertical:

32 (C) (21%*)

Broad:

116 (C) (34%*)

Three Cone:

6.94 (P) (73%*)

Bench:

DNP

(C)

- NFL Combine

(P)

- Pro Day

(O)

- Other

(HS)

-Estimated from High School Combine

For an explanation of how the (HS) data is calculated see

this article

*Percentile calculated on how any given stat would rank at the NFL combine historically in the player's position group (Higher value represents better perfomance).

NFL Combine & Pro-Day Results
Last Updated:

03/07/2022

Draft Year:

2022

40 time:

4.65 seconds (22%*)

Age:

22.9

DOB:

08/26/2000

*Percentile calculated on how any given stat would rank at the NFL combine historically in the player's position group (Higher value represents better perfomance).

NFL Combine & Pro-Day Results
Overall Rating:

81.3 / 100

Game performance weighted rating
Rushing:

80%
Break Tackles:

78%
Receiving/Hands:

79%
Pass Blocking:

47%
Run Blocking:

66%

Overall Rank:

#126

Position rank:

#9

College Games:

26

College Snaps:

1218

Grade:

ESPN RATING: 80/100

OVR Rank:

#60

Pos Rank:

#28

State Rank:

#9

Grade:

247 RATING: 91/100

Grade:

RIVALS RATING: 5.7 (93%)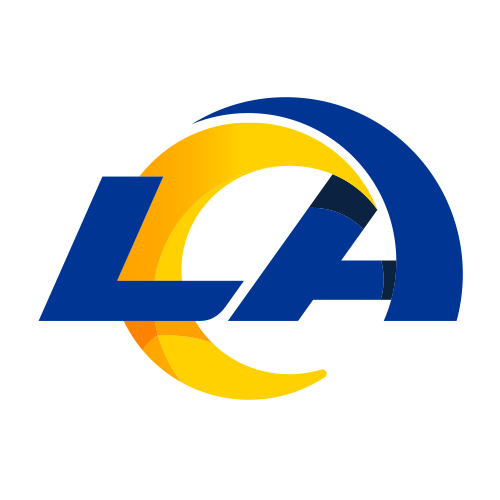 Drafted: ROUND: 5 - Pick Number: 164 (LAR)
Draft Profile: Bio
Kyren Williams was an ESPN 4 star recruit from St. John Vianney High School in St. Louis, Missouri, and put up an impressive year he put up f 2,035 yards on only 179 attempts with 26 touchdowns and this led him to being widely recruited and ultimately opted to join Notre Dame.

He played little during his freshman year but burst onto the scene with 1125 yds and 13 TDS on the ground and added another 313 yds as a receiver. He was given second-team ACC honors as a result.
In 2021 Williams again led Notre Dame in rushing with 1,002 yards and 14 touchdowns while adding 359 yds in the air firmly establishing himself as a contender for the best back in college football.
Scouting Report: Strengths
Excels in short-yardage situations - puts his head down and drives through
Flashes initial burst and good lateral quickness to sidestep defenders or bounce runs outside with very good foot quickness. Displays very good feel as an inside and outside runner with top vision to make sharp cuts - good patience· and footwork to pick through defenses.
Williams is a slippery runner with excellent acceleration and quickly gets to top speed in space he won't be caught from behind
Quick feet with good vision to pick through defenses. He has solid hands and body control and is a reliable receiver.
A balanced runner with a good combination of wiggle and lower body strength. Possesses a great initial burst with natural explosion and start-and-stop ability to make guys miss - can turn on the jets in a flash.
A real talent in the passing game he was used more than just a check down safety valve but often as a featured player on intermediate routes
Despite not being a big back he is surprisingly powerful and can run through arm tacklers - has a low center of gravity
Has the feet and feel running between the tackles and in the open field.
Creative with patience, quick feet, and smooth footwork to easily change direction and make sharp cuts to elude defenders in space. Very good lateral agility; difficult to square up in tight areas with his smallish frame.
Scouting Report: Weaknesses
His size (5'9") will limit his use as a three-down player in the NFL. Lacks size to be a true power back, will not move piles at the next level.
Can be a little indecisive and hesitant at the line of scrimmage
Offers little in pass protection and poor technique cut blocking fails to do more than slow down blitzes by laying down in front of them. Must improve if he going to be little more than a role player at the next level
Does not always read blocks behind pulling guards. He May not be big enough to move piles at the next level and has a tendency to bury his head too soon.
Scouting Report: Summary
Williams is a very talented and versatile back who has established himself as one of the top runners in this year's class. He is capable of taking a pounding up the middle as well as being a shifty outside runner and is a threat to go the distance whenever he is in space. The jury is still out as to what extent he can be an every-down back in the NFL and as a result, will probably not hear his name called until after the third round of the 2022 NFL Draft. Despite this, we expect him to him have a nice NFL career assuming he lands in the right system.
Kyren Williams percentiles vs other Running Back's
(NFL Combine historically - higher value represents better perfomance)
How other scouting services rate Kyren Williams (Overall Rank)
All Scouts AverageOverall Rank
105.8
All Scouts AveragePosition Rank
7.0