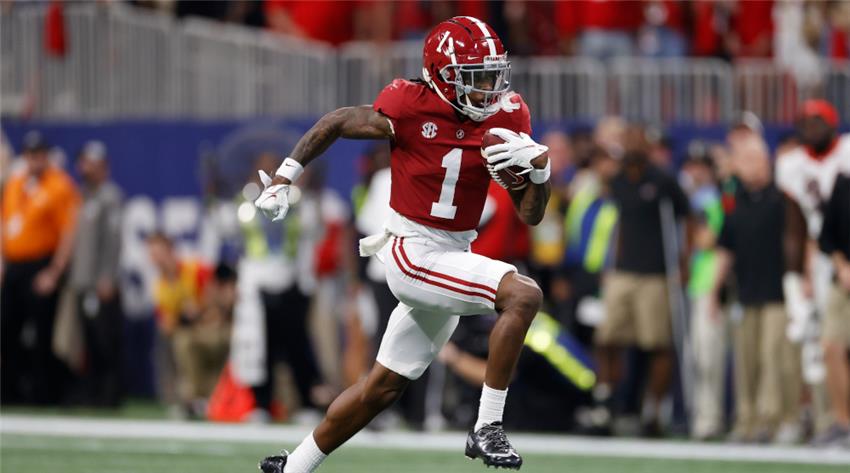 Who are the fastest players in the 2022 NFL Draft?

The phrase 'Speed kills' is often an overused term, but in the NFL, it's about as apt as you can get. An athlete with world-class speed can change a game in a second, and so NFL draft talent evaluators regard it as a must-have. We've compiled a list of the fastest players in the 2022 NFL draft, players who, if you can get the ball in their hands, can strike from anywhere, at any time.
Ford exploded onto the scene by leading the Bearcats with 1,242 yards rushing, 19 rushing touchdowns, and 20 total touchdowns while averaging 6.2 yards per carry. In the Cotton Bowl against Alabama, he was the only player on the Cincinnati offense that had any success.
He Cuts on a dime with lightning-fast feet and the quick-twitch explosion of an Olympic sprinter out of the block. While at high school he logged a 4.4-second 40-yard dash and a 10.61-second 100-meter time and those times are only going to improve – just in time for the combine.
Woolen is a 6-foot-4 and 205 pounds corner which is pretty impressive in its self. What makes him pretty incredible is he has clocked a 4.34 40-yard dash and recorded a broad jump of 11 feet, 5 inches this past summer.
As a result he made number 6 on Bruce Feldman's "Freaks" list - a collection of the most athletically talented college football players in the country.
Woolen is a little undeveloped as a player but will likely be drafted as a developmental prospect.
Burks is an incredible Fluid athlete with explosive burst and speed to stretch the field and breeze past defenders. He has a quick first step and gets to top speed in a hurry and was clocked at an elite 22.6 MPH in week 3 - one of the fastest runs in all of college football.
He's a big, physical target with an ideal blend of size, athleticism, and the elite speed to take the top off a defense, Burks has locked himself in as a first-round prospect in the 2022 NFL Draft and some view him as having talents similar to DK Metcalf. The combine will be worth watching for him alone!
Dotson's athletic ability and impressive season at Penn State have NFL scouts paying attention and even thinking he could become the next Tyreek Hill. He's a former track athlete at the high school level, who won PIAA state championships in 4x100 relay and long jump (2016), and regional state titles in 100m and 200m in 2018 Dotson is the draft's second-best deep threat, after Jameson Williams, and is a top-level prospect that could explode at the next level. It's likely he'll be taken in the first round of the 2022 NFL Draft
Skyy Moore has gone under the radar of NFL scouts for the most part of his college career, but this is changing. He has elite top speed (could easily run in the 4.2's at the combine), fantastic agility, and acceleration combined with consistent natural soft hands. He, however, hasn't been tested by a lot of top-level talent and so his likely production remains far from certain, he also doesn't have ideal size for the position.
Currently, we expect Moore to be a likely third or fourth-round selection in the 2022 NFL Draft - however, we think that he is seriously undervalued and has both the talent and athletic ability to make a serious impact in the pros as a deep threat and he represents value as a second-round pick.
Stingley is the top corner in this year's class and has the best set of physical skills in the group. He ran a verified 4.3 at the college combine in high school and also added a 42 vertical, both of these numbers he will likely improve on at the NFL combine in March.
Stringley could quite easily be the most impressive athlete in all of college football and is a future lock down corner in the pros.
Taylor-Stuart has the potential to be an impact player as a corner in the NFL he reportedly ran a 4.25 second 40-yard dash and a 3.89-second 20-yard shuttle coming out of high school. Although we expect his likely combine number to be a little north of this.
We currently don't grade him as an elite corner – although he has all the physical tools should he be able to put his game together.
Daxton Hill was always considered to be a supreme athlete – and recorded a 4.3 forty and a 43-plus inch vertical leap in high school and as a result, Hill became a five-star recruit who was ranked as the number one safety in Oklahoma, and 14th ranked player in the class of 2019.
Hill has played all over the secondary for the Wolverines, and this versatility is always in demand in the NFL especially when paired with supreme athletic skills He's a crazy athletic talent who could very easily run in the mid 4.2's in the combine - reminiscent of Deion Sanders
2021 was a spectacular year for Jameson Williams where he exploded into the national attention. He's emerged as the premier deep threat in college football and compares favorably to last year's high pick Jalon Waddle. We have given him our top possible grade for a deep threat meaning he is quite often unstoppable -- and he proved as much in the SEC championship.
A high school track star who won Missouri state championships in both the 300-meter hurdles and 400-meter dash. We estimate his forty yard dash time to be in the mid 4.2's and was clocked in at 22.4 MPH playing against Georgia in December. Jameson's season ended with a widely publicised injury but we still expect him to make a full recovery for his NFL debut
Austin wasn't just a football star he first came to attention as track star. In his last three years of high school he won 9 state championships in track and field. As a sophomore he won the state 200 meters dash championship. As a junior he won the 100 meters, 200 meters (again) and the 400 meters state championships. As a senior he repeated it all again winning the 100, 200, and 400.
He isn't just a track star however and has proved electric on the field, putting up over a 1000 yds in each of the last two season at Memphis. To us he looks like an even quicker version of the Ram's Tatu Atwell!